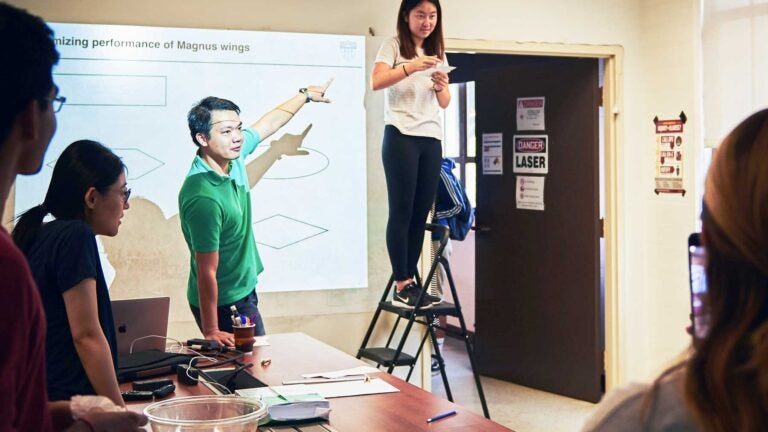 High school students get a firsthand feel for what it's like to be an engineer
USC Viterbi's Department of Aerospace and Mechanical Engineering opens its doors to support STEM education
Some students got a hug from a 300-pound robot. Others started a car engine with the click of a mouse. Another group visited a wind tunnel big enough to stand in.
That's how local high school students learned about the daily work of USC engineers during the STEM Spotlight on the Department of Aerospace and Mechanical Engineering at the USC Viterbi School of Engineering. The semi-annual event was coordinated by the Viterbi Adopt-a-School, Adopt-a-Teacher (VAST) program in an effort to support science, technology, engineering and mathematics education.
"STEM Spotlight events are important so that students from inner city schools can see firsthand how their fundamental STEM coursework ties into the research that is changing the world around us," said VAST manager Katie Mills. "Our goal is to help build self-identity in the students so they start seeing themselves a problem-solvers and, perhaps, even as future engineers."
The two-day event kicked off in early October when students from two Southern California high schools visited the USC Center for Advanced Manufacturing for an open house led by CAM director and USC Viterbi Professor S.K. Gupta.
Visitors toured the facility and interacted with the lab's robots and advanced 3-D printers.
Tours, talks and more
The following week, 120 students visited the University Park Campus to learn about aerospace and mechanical engineering through lab tours, talks by professors and an informational alumni panel. Students also showed off their knowledge of aerodynamics in a paper airplane competition.
"We wanted to show how engineering science is used to design and improve engines, bikes, airplanes, rockets, etc., and to improve our understanding of the world around us," said Professor Julian Domaradzki, chair of the Department of Aerospace and Mechanical Engineering. "A show of hands clearly suggested that this visit made students eager to consider aerospace and mechanical engineering as a career choice. We could not have been happier about this."
In the Biodynamics Lab, led by Professor Eva Kanso, high school students learned about fluid and solid interactions through several demonstrations, including one of how sound waves can alter fluid flows.
I think a big part is just seeing how the students react.

Gabriel Aguilar
In addition to visiting research facilities like the Dryden Wind Tunnel, the Water Channel and the Engine Lab, high schoolers took a look at student design/build project labs like the USC SpaceX Hyperloop Pod Competition Team and USC Formula SAE Racing. They also heard from AME alumni, including Ian McCullough ME '16 of SpaceX and Rachel Morford MS '07 of The Aerospace Corp.
"I think a big part is just seeing how the students react. What are they interested in? What are they intrigued by?" said Gabriel Aguilar, a teacher at Diamond Bar High School. "We took the teachers who I knew would get inspired from this and we're going to go back and debrief and say, 'How can we refine or redesign our course offerings rather than being stuck and doing what we've always done?'"