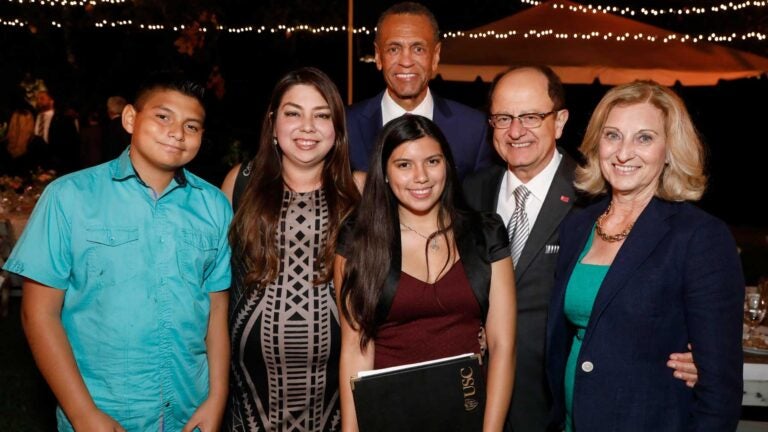 Good Neighbors Campaign dinner salutes Trojans who support the community
Annual event at the home of USC President Nikias honors people whose generosity brings a sense of hope
Yesenia Alvarez has yet to begin college, but she has already worked in a dentist's office after earning a dental assistant certificate. The job allows Alvarez to help support her family while getting an education.
In a few weeks, Alvarez will begin studying biochemistry and molecular biology at the University of California, Davis. Then she plans to study at USC and become a dentist.
Alvarez told her story to USC staff, faculty, friends and family at an annual dinner held Wednesday at the home of USC President C. L. Max Nikias. The event honors Trojans who donate 1 percent of their salary to the Good Neighbors Campaign, which has put $20 million back into the communities surrounding the USC University Park and Health Sciences campuses since 1994.
"Our Trojan Family is building a future in which access to college for our neighborhood children is no dream — it is reality," Nikias said. "Good Neighbors, with the support and generosity of all of you here tonight, works mightily to bring USC's neighborhoods that sense of hope."
Donations from staff and faculty totaled $1.6 million last year. More than 5,000 Trojans — faculty, students, and staff — participate in Good Neighbors projects.
"Good Neighbors is helping disadvantaged kids beat the odds by changing their mindset and giving them confidence," Nikias said.
Golden opportunities
The money funds programs like the USC Family of Schools' Concurrent Enrollment Dental Assistant Program.
USC pays the tuition for students to take a 180-hour class for a dental assistant certificate. The 3-year-old program has served 175 students, with 90 percent of them going on to higher education.
The dental program is one of many opportunities Alvarez received because she attends Francisco Bravo Medical Magnet High School, part of the USC Family of Schools representing 17,000 students.
"Without these programs, I would have been totally lost," said Alvarez, a first-generation college student and recent graduate.
"When I asked Yesenia why she decided to be a dentist, she said she wanted to enable everyone to smile," said Thomas S. Sayles, USC senior vice president of University Relations. "She exemplifies the power of the Good Neighbors Campaign."
20 years of support
For more than 20 years, the campaign has supported education, health, public safety and economic growth in Los Angeles.
The USC Science, Technology and Research (STAR) program on the Health Sciences Campus has put more than 800 high school students to work in research labs at USC. Each of the students went on to college and 97 percent received a scholarship.
The program's pioneers — educators Rosa Maria Hernandez, Dorothy Moote and USC Leonard Davis School of Gerontology Professor Kelvin Davies — along with STAR's first graduate, Mary Anne Morato, were honored at the event.
"This is a quiet jewel in the Good Neighbors constellation," Nikias said.