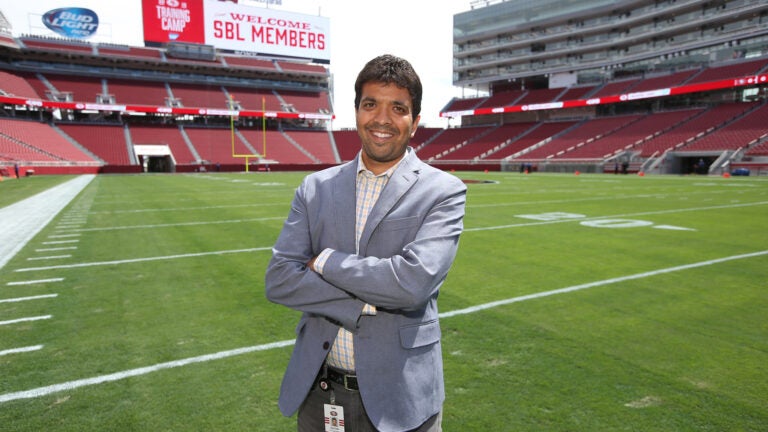 Going to Super Bowl 50? A USC Law alum has an exclusive app for you
Sean Kundu tackles legal and startup development while preparing for the big game
When Sean Kundu '07 joined the legal team with the San Francisco 49ers, he had no idea he'd end up incubating a startup for the five-time Super Bowl champs. But he was ready.
Kundu is currently the vice president of the team's New Ventures group. He focuses on overseeing legal and business development for the team's strategic investment opportunities, but also spends a significant amount of time as the general counsel for VenueNext, a startup technology platform and mobile app company designed for sports teams, concert promoters, theme parks, hospitality venues and hospitals.
For Super Bowl 50, VenueNext created an app for exclusive use by fans attending the game in Levi's Stadium. In addition to providing in-seat food delivery and mobile ordering and delivery for merchandise, the app offers instant replays, the full menu of Super Bowl commercials and a fan cam that will coordinate with the stadium's Jumbotrons.
My career is very different than a typical career out of law school.

Sean Kundu
"It's been exciting and challenging," said Kundu, a USC Gould School of Law alum who added, "My career is very different than a typical career out of law school. I think it shows that you can go down different paths."
Option plays
Kundu said he first realized there were other options outside of practicing law after he completed Professor Lisa Klerman's mediation clinic.
"What I learned there, aside from legal skills, was also the critical skills you need to go beyond traditional legal learnings. Those were the skills that kept me from being pigeon-holed and gave me the opportunity to get to where I am now."
He also credits USC Gould alumni, some he describes as "partners at the largest firms in the country and internationally," with mentoring him while he was a law student. "They were all willing to set aside time for me," he said. "I just called or emailed them and received a 100 percent hit rate. All of them let me pick their brains, which is why I make myself available now to law students who reach out to me."
Kundu remains close to two classmates who are also in the tech sector: Ashley Hu '07, who's product counsel at Google, and her husband, An-Yen Hu '07, a partner at Goodwin Procter. His wife, Megan Kundu '07, whom he met during his first day at USC, works as corporate counsel at Lab126, a research and development subsidiary focused on consumer electronics at Amazon.
Year-round assignments
A longtime 49ers fan from his days as an undergraduate at the University of California, Berkeley, Kundu began working for the team in 2013 as its director of human resources and employment counsel. Challenging work, as the team was preparing to leave Candlestick Park in San Francisco, its home since 1971, for the fan-friendly and modern Levi's Stadium in Santa Clara, located in the center of Silicon Valley.
The stadium upgrade meant that Kundu was tasked to scale up the staff from 120 to more than 1,200 employees, as the new venue was designed to host significantly more events — from outdoor hockey and international soccer matches to Taylor Swift concerts — year round, a big uptick from the 10 home games a season the team hosted at Candlestick.
Despite these formidable duties, it didn't take Kundu very long to find ways to jump into handling transactional legal matters for the team ownership's forays into outside ventures. "I just put on the other hat when I saw the opportunity," he recalled.
For Kundu, who previously served as a litigator with Morgan Lewis and Fisher & Phillips, both in Irvine, it's meant adapting to the world of deal-making, Silicon Valley-style.
In addition to overseeing the VenueNext's recent Series A private equity financing, Kundu was instrumental in completing a joint venture with celebrity chef Michael Mina and opening Bourbon Steak, a year-round restaurant at the stadium.
And aside from the VenueNext deals with National Football League, Major League Baseball and National Basketball Association teams, Kundu is also consulting on a deal that could bring Major League Soccer and a new stadium to Sacramento.
Next up for Kundu and VenueNext is putting together the final details for a deal the company just signed with the New York Yankees to provide the app for use this spring in the Bronx ballpark.