Five business leaders and philanthropists elected to USC Board of Trustees
David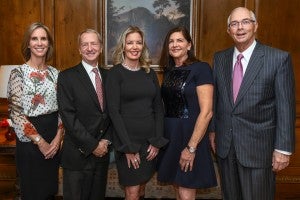 Bohnett, Jeanie Buss, Kathy Leventhal, Kris Popovich and Tracy Sykes bring their experience and expertise to the university.
Contact: USC Media Relations at (213) 740-2215 or uscnews@usc.edu.
(USC Photo/Gus Ruelas)
Five new members have been named to the USC Board of Trustees, adding to the group's diverse body of experienced leaders and philanthropists.
The new trustees are technology entrepreneur David Bohnett '78, Los Angeles Lakers co-owner Jeanie Buss '85, former media executive Kathy Leventhal, community leader and longtime USC benefactor Kris Popovich '65, MBA '70 and physical therapist Tracy Sykes DPT '98. The trustees were elected to five-year terms.
David Bohnett
Bohnett is a philanthropist and dot-com pioneer. In 1994, he founded the media and e-commerce company GeoCities.com, which paved the way for modern social media such as Facebook.
A year after taking GeoCities.com public in 1998, he sold it to Yahoo! Inc. He then started his philanthropic arm, the David Bohnett Foundation, as well as Baroda Ventures, a venture capital firm investing in early stage technology startups.
The David Bohnett Foundation, founded in 1999, has supported hundreds of art, educational and civic organizations in an effort to improve society. The foundation pursues its mission by providing funding, state-of-the-art technology and technical support to innovative organizations and institutions that share its vision.
"David Bohnett's lifelong devotion to public service was evident during his days at USC as an undergraduate, and continues to shine through his career as an entrepreneur, philanthropist and social activist," said USC President C. L. Max Nikias. "USC is very fortunate to have the benefit of his leadership and hands-on involvement in his new role as a trustee."
Deeply involved in the arts, Bohnett is a trustee of the Los Angeles Philharmonic Association, the Los Angeles County Museum of Art, the John F. Kennedy Center for the Performing Arts and amfAR, the Foundation for AIDS Research. The Los Angeles and New York resident also serves on the board of directors of the Los Angeles World Affairs Council.
Jeanie Buss
Buss is co-owner, president and governor of the Los Angeles Lakers and represents the team on the National Basketball Association's Board of Governors. She also is president and chief executive officer of the Los Angeles Lakers Youth Foundation, which supports underserved youth by providing positive experiences and resources in education, health and sports.
With the Lakers, Buss is responsible for running all aspects of the organization, working with her brother, Jim Buss, who serves as executive vice president of basketball operations. She also serves on the board of the Southern California Committee for the Olympic Games, and she supports several organizations that advocate for animals.
"Jeanie Buss is an exceptional leader who has distinguished herself through her professional accomplishments as well as through her dedication to the Los Angeles community," Nikias said. "Her expertise, energy and enthusiasm will be a tremendous asset to USC. I look forward to her contributions as a member of our Board of Trustees."
Buss began working for her father, Jerry Buss, at age 19 as general manager of the Los Angeles Strings professional tennis team. While guiding the team to two league titles, she also created the Forum Tennis Challenge Series — a regular part of the Great Western Forum calendar that attracted major tennis stars to Los Angeles.
After the Strings folded in 1993, she brought professional roller hockey to Los Angeles as owner of the Los Angeles Blades. She also served four years as president of the Great Western Forum, then the home arena of the Lakers. In 1999, she was named executive vice president of business operations for the Lakers, a position she held until her father passed away in 2013. She lives in Manhattan Beach.
Kathy Leventhal
Leventhal is a philanthropist and former media executive who was the founding publisher of Allure magazine. She is a member of the USC President's Leadership Council and a co-chair of the executive board of the USC Parent Leadership Circle.
She and her husband, Richard Leventhal, chairman and chief executive officer of Fedway Associates, are Trojan parents. Their son, Max, earned his bachelor's degree in international relations in 2014 from the USC Dornsife College of Letters, Arts and Sciences, and their daughter, Jessie, is a senior at the USC Annenberg School for Communication and Journalism.
"Kathy Leventhal's leadership and interest in securing vital support for undergraduate scholarships, research and service-learning initiatives across USC has been vital to the success of the USC Parent Leadership Circle," Nikias said. "Her perspective as a parent and a member of the USC community will be invaluable to the board."
Leventhal began her career at Condé Nast Publications in 1983 as sales manager of Glamour magazine, followed by a stint as advertising director at Vanity Fair. In 1990, she became the founding publisher of Allure. She went on to be named publisher of Vanity Fair in 1993 before leaving the media industry to focus on family.
She serves as a trustee of the Stanleys Garden Foundation, named for her late father, Stanley Neisloss. She is also a trustee at the Hospital for Special Surgery in New York. The Leventhals live in Tenafly, N.J.
Kris Popovich
Popovich is a longtime USC benefactor. He and his late wife, Jane Hoffman Popovich '65, built Popovich Hall at the USC Marshall School of Business. Their subsequent gifts established student scholarships and funded faculty and cancer research.
Popovich operated Hoffman Associates, a successor of Western Mortgage, which developed and managed real estate. He also was president and CEO of Hoffman Video Systems, a Los Angeles-based distributor of industrial and broadcast equipment. From 1975 to 1977, Popovich was staff assistant to former President Gerald Ford and was responsible for directing the advance team and coordinating various team groups that supported the president's trips.
"Kris Popovich is a passionate supporter of his alma mater, and USC has benefited greatly from his and his beloved wife's exceptional generosity and guidance," Nikias said. "We're proud to have Kris follow in his wife's role as a trustee, both to honor her legacy as well as to benefit from his leadership and expertise."
A resident of San Marino, Popovich serves with his three daughters as trustee of the H. Leslie and Elaine S. Hoffman Family Foundation. He was instrumental in the formation of a board of directors for the USC Associates and later served as the group's president. Popovich is a member of the USC Marshall Board of Leaders and has helped lead USC Marshall fundraising efforts as development chair. He is also a past board member of the Keck School of Medicine of USC.
An engaged community leader, Popovich is chair of Kidspace, a children's museum, and served on the boards of the YMCA of Metropolitan Los Angeles and the Criminal Justice Legal Foundation.
Tracy Sykes
Sykes is a graduate of the first class in USC's Doctor of Physical Therapy program in the top-ranked USC Division of Biokinesiology and Physical Therapy. As a member of the division's Board of Councilors, she has advanced the division's leadership in physical therapy benefiting children.
She and her husband, Gene Sykes, who is co-chairman of Goldman Sachs' Technology, Media and Telecom group, created the first endowed faculty chair within the physical therapy division. The Sykes Family Chair in Pediatric Physical Therapy, Health and Development supports education, practice and research into physical therapy for children. They have also funded a scholarship and two symposia focusing on the specialty.
"Tracy Sykes has been an exceptional leader within the field of pediatric physical therapy and a passionate supporter of USC," Nikias said. "Her dedication to the university, as well as her commitment to advancing clinical training and preventative care within her specialty, will undoubtedly lead to her valuable contributions to the board."
Tracy and Gene Sykes are avid supporters of higher education and have funded programs for the environment and energy technologies.
Sykes and her husband live in Los Angeles and are volunteers at St. Matthew's Parish School in Pacific Palisades, which their four children attended. At USC, Sykes is a founding member of the physical therapy division's alumni association.