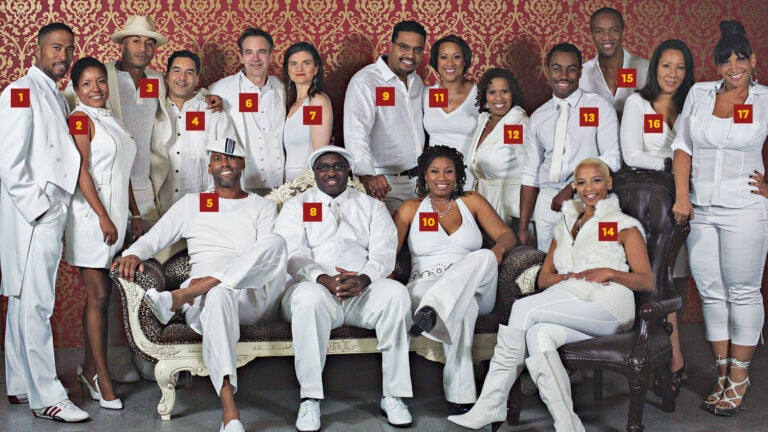 The USC Clique Makes Hollywood Feel Like Home
Two decades in, friendships formed through cinema only grow deeper.
They're writers. Producers. Actors. Directors. Individually, each one of them has name recognition in Hollywood. As a group, though, they have another identity: The USC Clique.
From Dreamworks Animation to Fox TV, these Trojans have the entertainment industry covered. Lifelong friends, they bonded in the mid-1990s through USC's African American Cinema Association. Twenty years on, the 17-member group has spawned three happy marriages, 16 children and hundreds of screen credits.
"Since we graduated college, we have been each other's friends, husbands and wives, cohorts, collaborators and fiercest protectors," says Dayna Lynne North '95, head writer on the VH1 series Single Ladies. "Through it all, we've stayed as tight as we were when we hung out in Webb Tower or Regal Trojan."
The club grew out of USC Professor Todd Boyd's popular course on race and gender in cinema. "We wanted to expand on that and keep the conversation going," North says.
Association leaders organized special screenings, guest lectures and panel discussions about issues in black cinema. Once they staged a basketball tournament with the cast of Boyz n the Hood. Members—who were mostly, but not exclusively, cinema or theater majors—partnered creatively as well. "We held lights in each other's short films, painted sets for each other's plays, stage managed and starred in each other's productions," North says.
Today all the Clique members have successful careers in the entertainment world, whether it's Brooklyn Nine-Nine producer Prentice Penny '95 or Los Angeles Times Calendar section writer Jevon Phillips '93, MPW '96. "Even though everything has changed, nothing has changed," says North, whose writing credits include the television series Veronica Mars and Lincoln Heights.
The group gets together for poker tournaments, board games, karaoke nights and, naturally, Trojan football. Each summer there's a rowdy July 4 picnic at Cochran Ranch, the Valencia, California, home of producer Yolanda '93 and writer-director J.D. Cochran '93. Come Thanksgiving, the Cochrans welcome Clique members staying in town for the holiday.
"The Clique is home. It's family. It's dogged, unrelenting, unapologetic honesty. It's a plethora of opinion and a love of debate," says Yolanda Cochran, executive vice president at Alcon Entertainment, whose production credits include the movies Transcendence and Dolphin Tale.
"In Hollywood, you're up or you're down," North says. "One day you're working, then you're not working. One minute you're being celebrated on the red carpet, the next minute the phone's not ringing. Yet what has been a constant is the love and support and faith that we all have in each other."
Actor J. August Richards '96 notes that it's tough to make friends in the industry. "The friends I made at USC are still my closest," says Richards, currently in ABC's Agents of S.H.I.E.L.D. "I can't imagine surviving in this town without them."
The USC Clique
Voice-actor JAMES MATHIS '96 starred in the VH1 series I Hate My 30s. He's voiced characters for Marvel's The Avengers and Star Wars: The Clone Wars, among others.

---

NICHELLE PROTHO '92 is currently vice president of Sander/Moses Productions (TV) and COO of its sister company, SLAM (digital). Credits include Reckless and Ghost Whisperer and the films Loveless in Los Angeles and Undercover Brother.

---

Actor JAMES LESURE '95, known for his role as Mike Cannon on the hit series Las Vegas, recently starred in TBS's Men at Work. Credits include the films Loveless in Los Angeles and the TV shows Studio 60 On The Sunset Strip and Alias.

---

J.D. COCHRAN '93 is an independent editor and director whose feature credits include Paved with Good Intentions.




---

EDU BLACK '93 freelances in production with the NFL Network, among others.





---

Producer-turned-writer MARK HASLETT '95 wrote the original draft of The Last House on the Left. Television writing credits include SyFy's Helix.

---

CHRISTINE LOJKO HASLETT '96 is a film editor at DreamWorks Animation SKG, with credits including How to Train Your Dragon, Rise of the Guardians and Home.

---

JEVON PHILLIPS '93, MPW '96 is a staff writer/producer for the LATimes.com Calendar section.




---

Actor-turned-writer TERENCE PAUL WINTER '96 has been a supervising producer on Castle.




---

Writer TALICIA RAGGS '94 was co-producer on NBC's Ironside, with past writing credits on Commander in Chief and Saving Grace.




---

Children's author KYMBERLI WINTER is currently working on her first adult fiction novel. Previous children's works include Clyde the Cloud Who Always Cried.

---

Showrunner DAYNA LYNNE NORTH '95 is currently co-writing a miniseries for OWN. She recently served as head writer on the third season of the VH1 series Single Ladies. Writing credits include Lincoln Heights, Veronica Mars and Any Day Now.

---

Executive producer PRENTICE PENNY '95 recently won a Golden Globe for his work on Brooklyn Nine-Nine after stints on Happy Endings, Scrubs and Girlfriends.

---

YOLANDA T. COCHRAN '93 is executive vice president at Alcon Entertainment, maker of such films as Prisoners, Transcendence and The Blind Side.

---

Actor J. AUGUST RICHARDS '96 was a fan favorite on Angel and Raising the Bar before his breakout role as Deathlok on Agents of S.H.I.E.L.D. He also stars in The Lottery and Girlfriend's Guide to Divorce.

---

Entertainment executive ANGELA NORTHINGTON '95 oversees content acquisition for the multiplatform music network startup Revolt TV.

---

Actress TANEKA JOHNSON '94 has had recurring roles on ER, Chicago Hope and Any Day Now, as well as guest stints on Castle, CSI and 24.