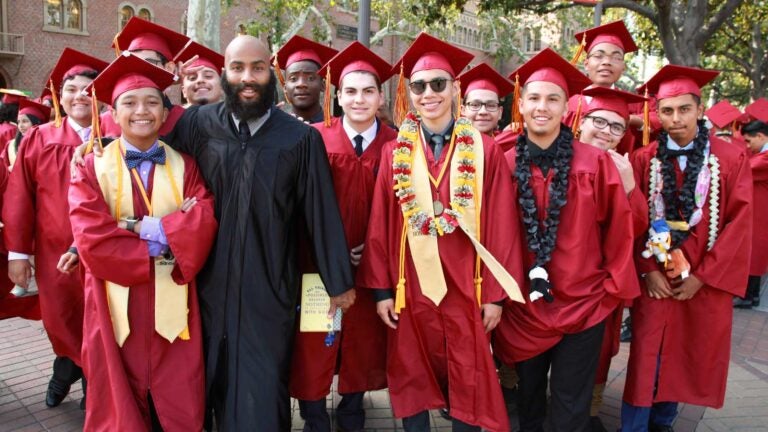 Every USC Hybrid High graduate is going to college — again
The school's second class of seniors learns how to be the best version of themselves
Graduation day for USC Hybrid High School was held at Bovard Auditorium, where the announcement of each graduate's name was paired with the college he or she will attend.
Ninety-seven names, 97 colleges.
The school's second graduating class embraced the challenge laid out by last year's inaugural group by matching its remarkable 100 percent graduation rate with a 100 percent college-acceptance rate.
"[Last year's class] may have been the first, but you all represent the continuation of a tradition," said Karen Symms Gallagher, USC Rossier School of Education dean and chair of the Ednovate board of directors.
The USC Rossier School launched USC Hybrid High in 2012, creating a model focused on meeting the personalized needs of each child through technology and teacher involvement, and established Ednovate as a charter management organization to handle daily operations.
The graduates from the downtown Los Angeles school's 2017 class received 547 combined acceptances to four-year colleges with more than $5 million in combined grants and scholarships. Seven graduates will attend USC this fall: Mayra Blas, Axel Garcia, salutatorian Leslie Hernandez, Astrid Kayembe, Reo Kobayashi, Danielle Mares and Ariana Torres.
Overcoming hardships
Despite multiple pleas to save their cheers until the end of the ceremony, enthusiastic family and friends in the audience couldn't help but voice their support when each graduate's name was announced. After all, there was a lot to celebrate.
Class speaker Kavembe reminded her fellow graduates that they — like their new school — had started out timidly, adjusting to a new model of learning.
"Hybrid High taught us how to be deliberate in all of our actions and become the best versions of ourselves," she said. "Hybrid High is an extraordinary school, and [it] wanted us to be extraordinary students. The struggle to becoming our best selves was not always an easy one, but it was most definitely a rewarding one."
Senior Ailen Salazar spoke about the challenges she faced as an undocumented immigrant who ultimately became valedictorian. Salazar will be attending Cornell University.
"It really wasn't my intelligence but rather my work ethic and my grit that got me where I am today," she said. "I was dedicated and passionate, and unwilling to let my status get in the way of my education."
And Oliver Sicat '01, CEO of Ednovate, noted that every graduate has a story of overcoming adversity through support from family, teachers, advisers, donors and a board that all work to see them succeed.
"After you graduate from college, you will have some privilege, and it's our hope that you will use your privilege to do the same for others who are in need, that you will pay it forward and take your talent in math, science, creativity, humor, art — whatever you're passionate about — and use it to make this world a better place," Sicat said.