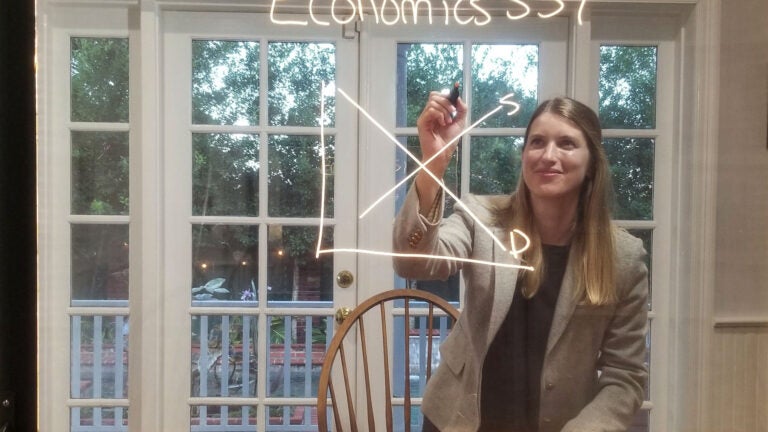 USC professor's DIY online teaching hack to engage students goes viral
Emily Nix wants to excite and captivate the students in her economics course this fall. With less than $60 in materials, here's what she cooked up.
https://youtu.be/RcFyzrSFRMo
Economist Emily Nix realized midway through summer that she would probably soon be teaching all of her USC students online due to the COVID-19 pandemic. Cue the worry and doubt.
"I'm not someone who wants to give my students a subpar experience," she said, echoing the concerns of many educators nationwide. "How can I best replicate the in-person learning experience online and make it engaging and exciting and cool?"
The assistant professor of finance and business economics at the USC Marshall School of Business usually gets rave reviews from students who take her Microeconomics for Business course. She didn't want to rebuild the class from scratch to suit an online teaching environment, so she started hunting around the internet for other options.
That's when she stumbled across the lightboard.
It's a simple setup: a sheet of plexiglass surrounded by a wood frame and LED lighting. Think of it as a glass chalkboard infused with light. When Nix draws on the board, her words and diagrams glow in front of her. She quickly assembled a small prototype and was thrilled with the result. When she posted a short video to her Twitter feed showing off her homemade creation, she expected a muted response. Thousands of people proved her wrong.
"It blew up," she said. "If I had known 50,000 people were going to watch this, I might have not just rolled out of bed. One of my friends did tell me that kind of adds to the appeal, that I just thought this was cool and threw it on the web."
And here is my first lightboard setup!! Note, just 1.5 days ago I learned of the existence of lightboard (and OBS), built my own small test, learned OBS, so my lighting/delivery/backdrop/etc need some work, but I think this could make for fantastic online classes this fall?? pic.twitter.com/mTlCJrntbj

— Emily Nix (@EmilyNix100) July 16, 2020
Her lightboard hack is just one strategy Nix will employ to bring energy and innovation to her course this fall. She also taught herself how to create short and colorful animated introduction videos. She switches seamlessly among her PowerPoint slides, video clips and a live lecture feed. Next, she plans to dive into the world of breakout rooms, polls, online tests and other virtual learning tools — including those highlighted by the USC Center for Excellence in Teaching.
"I have to confess, I was kind of dreading it back in early June when we realized that, for public health and the safety of the students and ourselves, we'd probably have to be online," Nix said. "Now, I think the tech is really cool. I have this fun intro video, I have this lightboard that will replicate a lot of engaging aspects of my course.
"With some extra effort and a little tech, I'm really confident we can all provide a good experience this fall."
USC professor finds low-tech solution to online teaching with a high-tech look
When Nix first discovered lightboards — including professionally built models that run upward of $8,000 — she balked at the price. But then she fell back on her DIY know-how.
The New Orleans native rebuilt a car in high school alongside her father, a pilot and British car restorer, and she already had plenty of tools on hand. How hard could it be? She picked up a sheet of plexiglass, some wood, mounting brackets and LED lighting strips.
"It was under $60 at the hardware store," she said.
I'm much more enthusiastic about the online experience now than I was before I invested in this.

Emily Nix
The outcome is surprisingly slick. And Nix wants to make it even better. She plans to build a much bigger version of her lightboard and hang black curtains in her home office to give her backdrop a polished look. She also wants to find a low-cost lapel microphone so she can roam freely while teaching.
After watching her Twitter video, other college professors have sent messages asking how to build the device. As she constructs her larger prototype, Nix might take some videos or photos along the way to share with others at USC and beyond.
She is also enthused about OBS, an open-source broadcasting program she discovered. As she taught herself the software, Nix got help from unexpected experts: young video game enthusiasts who use it to stream their gameplay online.
"When I got lost, I would Google things I couldn't understand, and I'd find some teenage gamer showing me this cool gaming thing they can do," she said.
Online education can be fun and engaging, with a little extra effort
An economist by training, Nix can't help but slip into the language of her profession as she talks about many courses shifting online at USC this fall. The overall "value proposition" of higher education — the promise that it will pay off in the long run — remains strong.
"You're going to get the benefits from a college degree, especially from a prestigious university like USC that does a good job overall of preparing students for the workplace," she said.
The challenge is the short-term value proposition: Will students still enjoy the experience of college? Although she acknowledges that online learning will be different than in-person classes, Nix is heartened to see her colleagues at USC Marshall and across the university exploring new technologies and teaching tools to keep their students interested and engaged.
"We can't change the fact that the pandemic is here," she said. "But we can help you enjoy and learn the material as well as you could in person. That does take these extra hacks.
"I will say I'm much more enthusiastic about the online experience now than I was before I invested in this and figured out, hopefully, how to do it well."