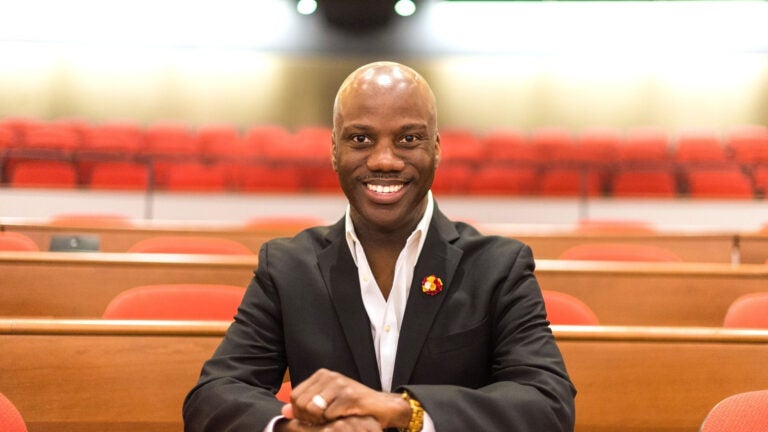 Diversity expert Shaun Harper to lead new USC Center on Race and Equity
The scholar returns to USC in July as the Clifford and Betty Allen Professor in Urban Leadership
When colleges and universities across the nation struggle with racial problems on campus, many turn to the same expert for help: Shaun R. Harper.
Through his own research and with his colleagues at the University of Pennsylvania's Center for the Study of Race and Equity in Education, Harper has become one of the country's foremost scholars on diversity and inclusion on college campuses. At the center, which he founded in 2011, Harper and his associates have interviewed more than 10,000 students, faculty members and staff about race at institutions of higher education across the country.
Now Harper will bring his work to the USC Rossier School of Education on July 1, joining the school as the Clifford and Betty Allen Professor in Urban Leadership.
"USC is one of the finest and most ethnically diverse universities in the world," Harper said. "I most look forward to collaborating with others committed across campus to advance racial equity. I can think of no better place than USC to do the work that Los Angeles and our nation so urgently need."
Coming back to USC Rossier
The move is a homecoming for Harper, who was an assistant professor of clinical education at USC Rossier from 2003-05. During that period, he was instrumental in developing the school's degree programs, including work as founding executive director of the Doctor of Education in Educational Leadership program.
Dr. Harper provided extraordinary leadership more than a decade ago when he served as the inaugural executive director of a program that quickly became a national model.

Karen Symms Gallagher
"Dr. Harper provided extraordinary leadership more than a decade ago when he served as the inaugural executive director of a program that quickly became a national model," said Karen Symms Gallagher, dean of USC Rossier. "We have not been surprised to see him go on to build a career of impact within and beyond the academy. His return marks a pivotal moment not only for USC Rossier but for the entire university, which will no doubt benefit from Dr. Harper's transformational leadership on issues of race, equity and inclusion."
Harper will also launch the USC Race and Equity Center, designed to continue the work he started at Penn. The center will unite dozens of professors across USC's academic schools where scholarship focuses on people of color, racial inequities, immigration and related topics. Faculty will work together across disciplines to study and help solve several of the most pressing race problems in America.
The center will be "the epicenter for interdisciplinary scholarship, resources and meaningful activities," Harper said.
"We are very proud to welcome Dr. Harper back to USC," said USC Provost Michael Quick. "He is the leading voice in the country on race and equity in higher education and brings strong expertise and an exciting vision to our campus. This is a key piece in our overall strategy to maintain a sharp focus on diversity and inclusion.
"Dr. Harper, and the USC Race and Equity Center, will work with our experts across the university to move our diversity and inclusion efforts forward while he also continues his groundbreaking research and teaching."
Improving inclusion
In addition to continuing the type of work Harper conducted at Penn, the USC center will also launch the National Assessment of Collegiate Campus Climates, a quantitative survey instrument that will be annually administered at hundreds of colleges and universities across the country.
The new survey will give institutions valuable quantitative data about students' feelings of belongingness and inclusion, as well as racial climates on campus. To help with that and other center work, Harper will bring with him two colleagues: Charles Davis, who will serve as director of research and a member of the USC Rossier faculty; and Wilmon Christian, who will serve as director of professional learning and campus partnerships.
"Charles, Wilmon and I will quickly assemble a dynamic team of colleagues to launch this important center," Harper said. "With generous support from the USC Provost's Office, our team is incredibly well positioned to do its best work."
Harper earned his PhD in higher education from Indiana University in 2003. After his initial time at USC Rossier, he became an assistant professor of education at Penn State University, before joining the University of Pennsylvania faculty in 2007.
He is the current president of the Association for the Study of Higher Education and an elected member of the American Educational Research Association executive council. In 2015, Harper was named to the advisory council of the My Brother's Keeper Alliance, an initiative launched by President Barack Obama to improve the lives of boys and young men of color.
Harper has published more than 100 peer-reviewed journal articles and other academic publications, as well as 11 books. His twelfth, due out in March from Routledge, is titled Scandals in College Sports. And this fall, Johns Hopkins University Press is publishing Harper's Race Matters in College.