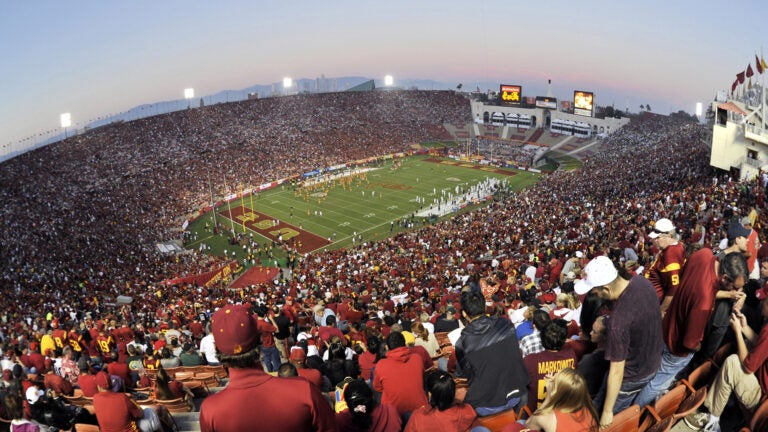 Coliseum sets sights on zero waste game days
The venue's trash cans will serve as containers holding contents bound for Central Valley farms, not the landfill
The Los Angeles Memorial Coliseum's trash cans will be transformed into compost bins this football season, as the 90,000-seat facility attempts to achieve "zero waste" status in collaboration with USC's Office of Sustainability. USC Trojan football fans will either recycle or compost their used water bottles, hot dog holders, plates and cups in all 117 Coliseum trash cans given new life as containers holding contents bound for the farm, not the landfill.
Industry standards define zero waste as diverting 90 percent or more of waste materials from the landfill or incinerator through recycling, composting or repurposing. The initiative builds on the university's efforts to reduce the tons of waste produced each game day at the 92-year-old Coliseum, the ninth largest college football stadium.
Compostable items
Food vendors will use compostable trays, pizza boxes, cutlery, cups and napkins, and food waste will be composted. It takes about three to four weeks for the items to decompose, after which it is sold as premium compost to Central Valley farms.
When the Trojans open their 2015 football season against Arkansas State on Sept. 5, a communications effort including signs and social media will show fans which containers to use for what. Workers will sort through the compost bin contents to screen out inappropriate items such as aluminum foil and plastic corks.
"This is a critical first step for the Coliseum," said Brian Grant, director of operations for the Coliseum. "We will learn a lot through this process, but we are striving to merge the history that the facility has with progressive sustainability efforts. Making the Coliseum zero waste is our goal."
Tailgate Waste Diversion program
Football fans are also encouraged to participate in the Tailgate Waste Diversion program, the goal of which is to increase recycling and composting by making it easier for fans. About 350 peer educators and volunteers help fans recycle by collecting aluminum cans, and glass and plastic bottles. Last season, fans and volunteers recycled nearly five tons of materials.
"The Coliseum's zero waste initiative is a significant step forward in USC's journey toward integrating sustainability into all facets of the university," said Todd Dickey, senior vice president of administration. "Waste reduction is key to our success, and complements our efforts in water and energy conservation, greenhouse gas mitigation and education and research."
USC's Office of Sustainability was created in 2008 to implement sustainable practices on campus while developing innovative outreach and educational programs for the university and local community. Its activities are augmented by the university-wide Sustainability Steering Committee comprised of students, faculty and staff working together on sustainability strategies and institutionalization.
"The USC Office of Sustainability is proud to work with the Coliseum to reduce waste and improve the environment," said Halli Bovia, manager of the USC Sustainability Program. "Zero waste is the latest of several initiatives we have implemented for the betterment of the university and for the greater community."
USC has been a member of the Green Sports Alliance since 2013, a nonprofit dedicated to inspiring sports leagues, teams, venues, partners and millions of fans to embrace healthy, sustainable practices.
The Los Angeles Memorial Coliseum has been USC's home since it opened in 1923. The Coliseum is managed by USC under a long-term contract with the city, county and state, which own the facility.