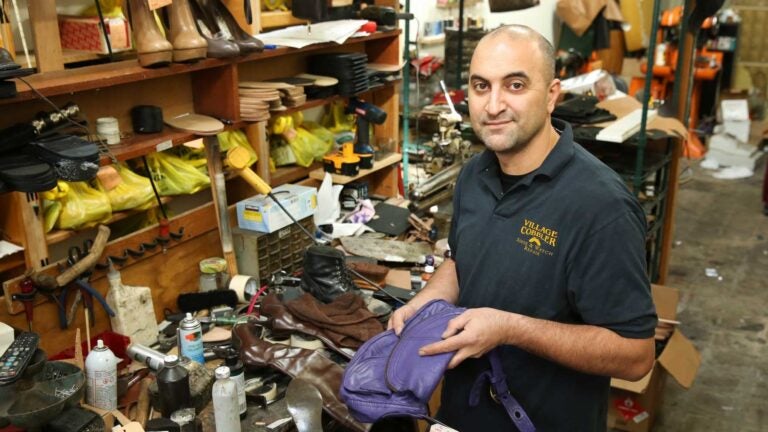 Cobbler will soon be back in business at USC Village
The popular repair shop for shoes, watches and more prepares to open its new space in an old location
Sean Keklikyan was taking a break from repairing shoes, watches, jackets and handbags.
"My father, two uncles, my grandfather — all of them were shoemakers," he said.
The heavy machinery that make his old world craft possible will soon be moved to a new space at USC Village, the massive development opening in August. Keklikyan's shop, the Village Cobbler, has deep roots in the community. His uncle ran the shop for decades at the old USC Village before Keklikyan took over in 2010.
When construction began on the new development, Keklikyan moved to a temporary location a few blocks north on Hoover Street.
Unbreakable bonds
Over the years, Keklikyan developed bonds with young Trojans that lasted long after graduation.
"The students change every three or four years, but some of them won't take their shoes to anybody else after they leave," Keklikyan said. "I have a few who send me shoes from Texas, San Diego and New York to be fixed."
USC Village will offer dozens of retail outlets when it opens in the fall, including Trader Joe's, Target and a number of eateries that will bring new flavors to the neighborhood.
Keklikyan believes the foot traffic will bring in more customers.
"There are going to be lots of stores, lots of students," he said. "That means new customers, so it should be very good for business."
"We're particularly pleased to be bringing the Village Cobbler back to the new USC Village," said Laurie Stone, USC associate senior vice president for real estate and asset management. "Our faculty, staff, administrators and students have all enjoyed the services and quality workmanship provided by Sean and his family before him. We're excited to welcome the Village Cobbler back into the USC Village — they are part of the Trojan Family."
A flair for the dramatic
The USC School of Dramatic Arts is a longtime customer of the enterprise.
Shoes that take a beating during stage production need daily repair from Keklikyan, who also creates footwear for period productions. That often means dye jobs and decorating while making allowances for the effects of stage lighting. For other shows, Keklikyan makes new shoes and boots look old.
"They'll bring in a pair of boots and say 'Sean, can you mess these up, remove half the heel, scratch the leather and make it look worn out?'" Keklikyan said. "I make it look worn out."
"In the context of the play, the shoe has to look broken down, but it still has to be safe," said USC Costume Shop Manager Howard Schmitt. "Some cobblers have trouble with that concept, but Sean gets it."
Keklikyan's stage work extends beyond shoes and bags. For a musical, he modified wristwatches to change their vintage by a decade or more.
"Sean has a great sense of color and attention to detail," said Schmitt, looking over a pair of shoes Keklikyan produced for a play set in the late 18th century. "Sometimes we need the shoes colored to match a dress or we need a turn-of- the-century style with spats. Sean does all that for us."
Long-lasting leather
Keklikyan can fix just about anything, including athletic footwear.
"Even if they paid 20 or 30 bucks for the shoes, if they're comfortable and they like it, it's worth fixing," he said. "It's not a big investment, but good shoes can last you for years. You can renew the sole and heel and keep going. It's worth it."
He can also make painfully stylish footwear comfortable and rejuvenate shoes made from almost any material. Though he occasionally has to tell customers that a pair of shoes or a jacket is beyond repair, he's brought new life to hundreds of shoes that customers thought were beyond salvation.
"Especially with leather shoes, I can touch them up, bring the color back," he said. "You can fix everything."