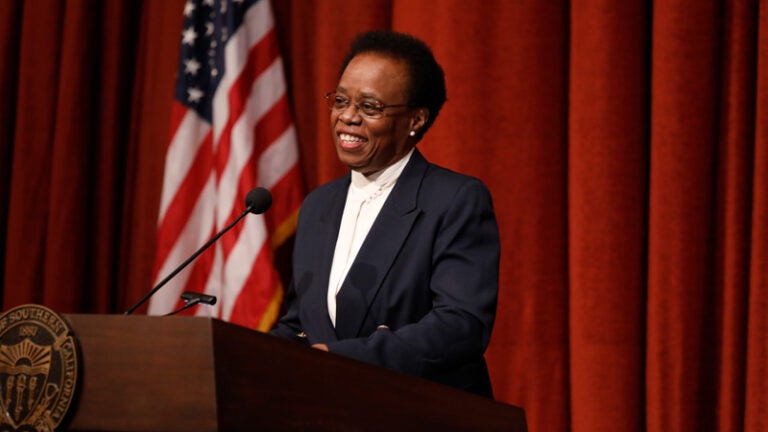 USC 2018 | A year of profound changes for the university
? Year in review: Take a look back at a memorable year in which the university refocused on its priorities and made major changes to reinforce those Trojan Family values
By any measure, 2018 will be remembered by the Trojan Family as a year of profound changes. From new leadership and new programs to a renewed focus on student services, the year has been marked by a dramatic refocusing on the university's core values. Take a look at some of the year's highlights.
---
? Changes at the top
After C. L. Max Nikias agreed to step aside as USC president, the university's Board of Trustees tapped one of its own, retired aerospace executive Wanda M. Austin, to serve as interim USC president. One of her first tasks: meeting with every group of USC constituents she could find, from faculty, staff and students to donors, supporters and friends of the university. "If there's something I can do to help," she told USC News, "I'm glad to do it."
Meet Wanda Austin, the first woman and African-American to lead USC
Barely two months before Austin's appointment, the trustees made another change in the university's top ranks, electing Rick Caruso as trustee chair. Caruso — a real estate developer, civic leader, alumnus and a current parent — succeeded John Mork, who completed his full five-year term as chair. Like Austin, Caruso addressed the situation involving the former student health center gynecologist head on: "What happened to our students is unthinkable and immoral, and there can be no tolerance for not protecting our students," he said. "I am outraged by the failure of this duty, and it ends today."
The trustees also began the long process of selecting the university's 12th president. During public listening sessions at the University Park and Health Sciences campuses, the 23-member search committee of trustees, faculty representatives and other campus leaders sought input on the values and priorities that USC's next chief administrator should embody. More than 500 people attended the three public forums.
Next president should embody university's core values, USC community says
And at the Keck School of Medicine of USC, alumna Laura Mosqueda was appointed dean; she had served as interim dean since October 2017. A widely respected expert in geriatric medicine, family medicine and elder abuse, Mosqueda is the first woman to lead the school since its founding in 1885.
Laura Mosqueda named dean of the Keck School of Medicine of USC
? When problems arise: A new place to turn
As the university took stock, a new office was created to serve as a centralized hub for managing complaints across the university. The USC Office of Professionalism and Ethics will provide greater oversight and accountability to manage complaints of misconduct across both of its campuses. The goal of the USC Office of Professionalism and Ethics is to provide university leaders with the information they need to respond quickly when problems arise.
USC launches new office to oversee complaint monitoring and investigations
New chief of professionalism and ethics wants to instill culture of fairness, integrity
? USC Student Health increases services
Nowhere were changes and improvements more apparent than within USC Student Health. Under the leadership of Sarah Van Orman, a nationally respected leader in college health, the unit expanded staff and services, adding gynecologists and other physicians, additional counselors and sexual violence prevention experts. The goal: set a gold standard in college health on USC's University Park and Health Sciences campuses.
USC Student Health services for women grow as alumna joins staff
New USC Student Health doctor helps shape young adults' well-being
Newest primary care doctor brings specialty in adolescent medicine
New counseling chief increases student access to mental health care
Newly arrived OB-GYN wants to educate and empower USC students
? Trojans helping each other
In the end, the overarching theme of the year is the Trojan Family looking out for each other. Perhaps nowhere was that more evident than in the creation of TrojanSupport, a peer support group that lifts those who want a conversation with someone their own age. It's the university's first student-led peer support program started by students for students.
---