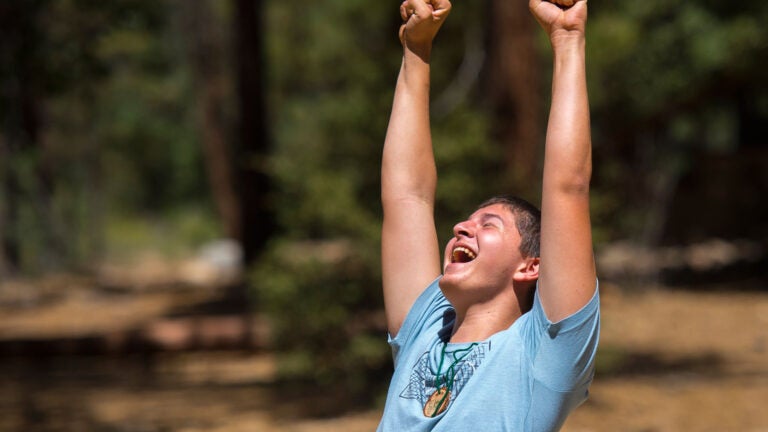 Student-run camp helps kids escape parent's cancer, if only for a week
At Camp Kesem, USC students are the organizers, the counselors and even the fundraisers
[new_royalslider id="135″]
About 70 kids are at sleep-away camp in the San Bernardino Mountains. They're doing typical camp things – canoeing on a lake, performing in a talent show, singing camp songs.
But Camp Kesem is a special camp.
It's for children coping with a parent's cancer. Students at Stanford University started it in 2000 and now there are dozens of university chapters throughout the U.S. – including one a few hours outside Los Angeles, hosted by USC.
[soundcloud url="https://api.soundcloud.com/tracks/279390225″ params="auto_play=false&hide_related=false&show_comments=true&show_user=true&show_reposts=false&visual=false" width="100%" height="450″ iframe="true" /]
Evan Castro, 8, has been coming for a couple of years now.
"It's a place to go and talk about your feelings about cancer and stuff, but it's mostly to have fun and make you forget about it," Castro said at camp in August. "I love it."
The camp is a student-run organization, so USC students are behind every aspect of it. They are the camp counselors, staff and fundraisers. Each year, they raise enough money – $65,000 this year – to send all the campers there for free.
"We want them to enjoy it without the financial struggles because they're already going through a lot at home," said Ryan Cenicola, a USC sophomore and camp counselor.
This is the USC chapter's fourth year in operation and it has its most campers yet, up about 20 from last year. Campers don't need an affiliation to USC – it's open to everyone.
The week is intended to get their minds off life's stresses, and it is jam-packed with activities, such as mountain biking and hiking. But it's also supportive of what they're going through.
At night they have cabin chats, where counselors can check in on them, and on Wednesday they have empowerment night, where they light a candle for their family member.
"That's a powerful moment," Cenicola said. "A lot of the kids, it gets them emotional."
Counselors go through a year of training. There's also a licensed social worker on hand, whom the kids call "Sparky," if anyone needs more support.
Increasing attendance
Alums started USC's chapter four years ago, after one of them lost her brother to cancer. Since then the camp has hosted about 200 campers – steadily increasing their attendance each year.
They hope to expand their outreach. If they raise $100,000 next year, they can have two camps, staffers said.
Suzy Arriola, a mom of two campers, heard about the camp on the evening news about three years ago. At the time, her family was coping with her husband's cancer diagnosis. The doctors had found pancreatic cancer just a couple months after he beat testicular cancer.
"It was hard to tell them the first time, let alone the second time," said Arriola, who lives in Laguna Beach. "They both ended up flunking one class."
Changed their tune
When she dropped the kids off for the first time, they were a little resistant and unsure, she said. But after the week at camp, their tune changed.
"When we picked the kids up from camp the first year, they were so excited," she said. "They were like 'When do they get to go back?' "
Catching up with Ali Arriola, 16, after a game of "prison break" at camp, she agrees it's been a great support for her.
"All of us campers together have a group text. We check in with each other throughout the year and when we get to camp, we just have the time of our lives," she said.
When asked if it's a highlight of her summer, she said: "It's not even the summer, this is the best week – all tops – of the entire year."