California's $8 billion economic engine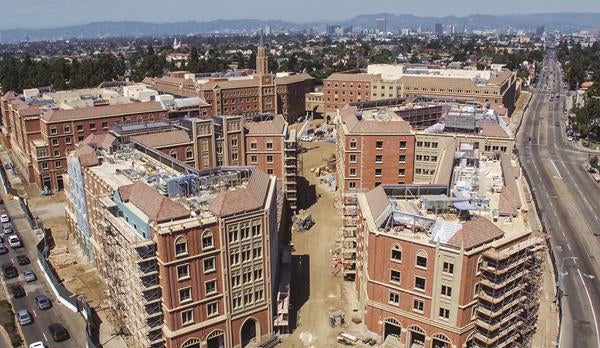 Report released as USC nears opening of USC Village, the largest economic redevelopment project in the history of South Los Angeles
Contact: Eddie North-Hager at (213) 740-9335 or edwardnh@usc.edu
A new independent economic impact study on USC shows that the university is one of California's strongest economic engines.
The study found that USC spurs $8 billion annually in economic activity in the Los Angeles region and California.
"USC is not only the largest private employer in the city of Los Angeles, but also a major economic powerhouse in California," USC President C. L. Max Nikias said. "Our impact extends throughout our region and the state with thousands of local jobs, purchasing power that is invested back into our communities."
According to the report, USC generated:
$7.44 billion in economic output in Southern California.
$3.74 billion in total direct spending in the state.
$2.9 billion in wages in California.
$563 million in USC-related student expenditures.
$514 million on capital projects, such as money spent on construction firms, suppliers, and management and technical consulting, in L.A. County.
$455 million in tax revenues for local and state government across California.
$37.9 million for the local economy through visitors attending USC events, such as football games at the L.A. Memorial Coliseum, the Los Angeles Times Festival of Books and USC Commencement.
53,000 jobs throughout California. Of those, 31,000 jobs are directly supported by USC-related expenditures and 22,000 jobs are through secondary spending by businesses and workers down the USC supply chain.
USC also attracted $697 million in sponsored research to fund studies in biotech, public health, biomedical engineering, cancer and Alzheimer's disease, among others.
The study, commissioned by the university and conducted by Beacon Economics, reviewed the impact of USC's operational expenditures during the 2015-16 fiscal year. The analysis used university-related spending, including capital projects, spending by USC faculty staff and students and expenditures made by out-of-town visitors, as well as the operation of Keck Medicine of USC.
The snapshot indicates the university will contribute well more than $80 billion to the economy over the next decade.
During that period, USC produced about $4.2 billion in total direct economic output, $1.9 billion in indirect economic output and $2 billion in induced economic output for a total of $8.1 billion in economic impact across the state.
"It shouldn't be a surprise that one of the premier private universities in the country has such an outsized impact on the economy of Southern California," said Christopher Thornberg, founding partner of Beacon Economics. "USC is a very significant asset to the region and the state."
The report also highlighted USC's investment in its local community through partnerships and programs.
USC supports more than 400 community initiatives in local neighborhoods around the University Park Campus, located in South Los Angeles, and the Health Sciences Campus, located in Boyle Heights. These initiatives include a bilingual newspaper delivered to 28,000 households, the Boyle Heights Beat; USC Neighborhood Academic Initiative, a seven-year college prep program serving nearly 1,000 local students annually; and the USC School for Early Childhood Education, a Headstart program that serves 4,700 neighborhood children.
"USC is partnering with our neighbors to create a pipeline to higher education for their children and a pathway to employment for them," said Thomas S. Sayles, USC senior vice president for University Relations. "Our education outreach programs impact thousands of children from pre-school to college while our economic programs help small businesses and workers succeed."
The study comes as the university exceeds its goals in one of the greatest fundraising efforts in the history of higher education and the biggest physical expansion in the university's history. Nikias recently announced the extension of USC's campaign as it nears the $6 billion mark 18 months ahead of schedule.
And later this year, the $700 million USC Village opens directly north of the University Park Campus. The massive retail and residential project will enhance campus life for students while opening up an array of new options for the neighborhood. Nikias also announced plans for the construction of a new hospital on the USC Health Sciences Campus, focused on cutting-edge medicine and surgery.
###