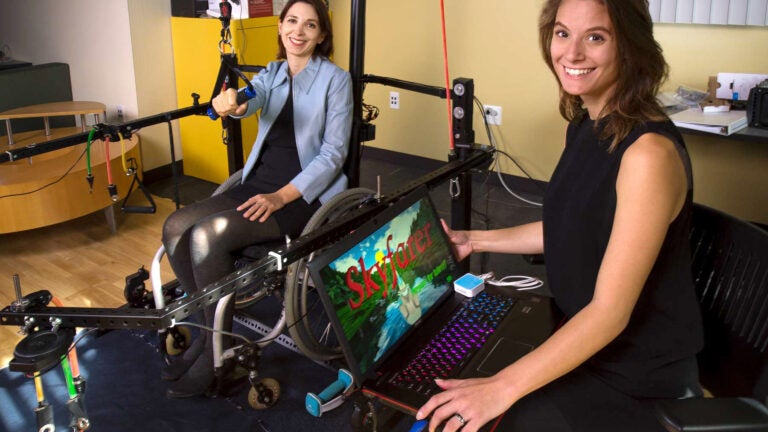 Gaming and physical therapy come together for unique research in the U.S. and beyond
USC's cinema school and physical therapy experts join forces in a new effort to make tedious exercises fun and improve day-to-day life for patients who use wheelchairs
As Christina Lelon was finishing up her bachelor's degree in gerontology, she was getting restless. She didn't want to go the typical routes.
"Your options are basically go to medical school or into home care or nursing homes," said Lelon, 24. "I didn't really want to do either of those. I knew I wanted to do something in tech."
During a stop at the USC Career Center, someone mentioned Marientina Gotsis. She's the director of the USC Creative Media & Behavioral Health Center, a research unit of both the USC School of Cinematic Arts and the Keck School of Medicine of USC. A classically trained artist, Gotsis is known for her work in virtual reality, using it as a means to address health and medical issues — such as a current NIH-funded research project using VR as a way to rehabilitate Parkinson's patients. It's one of only a handful of gaming programs in the world focused on health.
"I was looking at her website, and I was like, 'Wow, this woman is me in 15 years,'?" Lelon said. "I wanted to talk to her about her research and see what she was working on."
Lelon found out that, as an undergrad, she could jump headfirst into research — working alongside Gotsis and other faculty on projects — and apply that work toward a progressive master's degree. Lelon is one of only two students now in the program, which officially debuts in fall 2018. It's offered as an MA and a progressive MA through the School of Cinematic Arts in partnership with the Creative Media & Behavioral Health Center. There's also a new emphasis in games and health available for MFA students in the School of Cinematic Arts.
Gotsis said the two new master's programs could be the first of their kind anywhere.
Much of the programs' coursework is project- and research-based. Lelon has worked with Gotsis on Skyfarer, a grant-funded mixed-reality game that is rigged to a wheelchair attached to weights and resistance bands. It's aimed at helping wheelchair-bound people with spinal cord injuries do physical therapy, with particular focus on their shoulder.
"No one likes to do physical therapy at home," said Gotsis. Without motivation of a physical therapist, she said, it can be "boring and repetitive."
Increasing independence
The idea is to make it fun so people are more likely to do exercises and, in turn, increasing their independence and putting off use of an electric wheelchair as long as they can. "One of the things patients need is lots of repetition," Finley said.
Once in the Skyfarer chair, the player performs the exercises and interacts in the world, such as virtually canoe down a river.
All student-led work is done in partnership with students or faculty from other schools, melding their game expertise with an academic field. One such project is with the USC Glorya Kaufman School of Dance, designing movement-based interventions that could help kids with developmental delays.
Right now, Lelon is partnering with a team of psychology researchers to create a game for empathetic listening. Originally it was tailored for therapists in training because the professor spent a good chunk of time training students on this skill.
"Now we're thinking it could be a thing a lot of people could benefit from," she said. "So often, conflict comes from a person feeling you're not responding the way you want them to. Sometimes it's as simple as saying 'That sucks.'?"
The game would put the player in a therapist-patient scenario and allow the player to enter the patient's mind and look around at his or her memories. They would be given ways to respond to the patient and show the impact — with either the patient getting worked up or the patient getting less anxious and calming down.
Students also use the program as an incubator for their own ideas.
Lelon's hope is to eventually make a game that helps with mental illness, as an intervention for people who face obstacles to getting therapy — such as insurance coverage, cost or time.
"There's all types of reasons people don't access therapy, but I think if people had a game that was non-threatening, that you could do in your own home on your own time — that could be a really good thing for people who might not get care anyway," she said.
Top program
The master's programs are within the USC School of Cinematic Arts, allowing students to also take courses in the game design program — ranked the No. 1 undergraduate program in the nation by The Princeton Review — along with courses in fields such as film or mobile media. USC Games is a joint program of the USC School of Cinematic Arts' Interactive Media & Games Division and the USC Viterbi School of Engineering.
The courses within the programs are open to advanced undergraduates as well, making for a diverse student group with everyone from engineers to game designers and medical students.
For Lelon, it kind of makes sense she found her way to gaming. In high school, she and her classmates developed a mobile-based game for kids in India, in partnership with Sesame Street's Sesame Workshops. The games were aimed at kids who lived in low-income and slum areas of Delhi, who didn't have regular access to schooling. She went to India to hand out mobile phones with the apps pre-downloaded to see how kids responded, seeing firsthand the type of intervention a game can offer.
"A lot of them really loved it," she said. "I didn't know that was a possibility for the rest of my life."