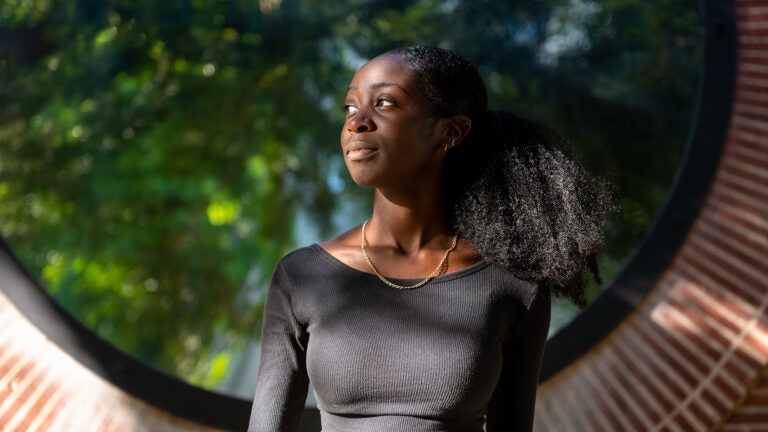 USC senior's artwork gives a voice to the underrepresented
With commencement a week away, graduate Tola Oseni reflects on her use of graphic design, music and video to share untold stories and open the art world to previously excluded groups.
Tola Oseni uses art to tell stories — stories that might otherwise go untold.
A graduating senior at the USC Roski School of Art and Design, she creates photographs, videos and other media that capture the lives of real people who are often labeled, marginalized or misrepresented.
"I want to make sure their stories aren't told in one way," she said. "I want the option to relate to different people in a way that is more enriching than if they just fall into these stereotypes."
At first blush, it seems like a departure for a young woman who once studied business, not art.
The artist who almost wasn't: Trojan rediscovers her ambition at USC
Ask any friend from her home state of Maryland or classmates who caught a glimpse inside her freshman dorm room at Fluor Tower, and they'd tell you Oseni was born to be an artist.
She painted and drew for fun in middle school. Ceramics became her driving force in high school. She even crafted her own take on Humans of New York, the renowned photography project that catalogues the lives of strangers on the city's bustling streets. She snapped images of people around Washington, D.C., Maryland and Virginia, using them as inspiration for drawings and paintings she plastered across the walls of her room.
But after her older sister, Abiola, headed to USC to study business, Tola soon followed and also declared a business major.
"When I got to college, I was more focused on what could give me a career," she said. "I didn't realize art could do that. My mom is a single parent, so I was thinking about stability, money."
Blessed with an analytic streak, she got good grades in her business classes, but her enthusiasm waned. Then she enrolled in her first design course as a sophomore with conceptual artist China Adams. She discovered she relished the in-depth explorations of color theory, composition and shape.
"That three-hour period would flow by," Oseni said. "To me, it just felt right. I was enjoying what I was doing. I wasn't just going through the motions."
Return to form: Passion for art and storytelling drives USC designer
Oseni took more design classes and got valuable feedback on her artwork during a show held by Creative Experience, the art and performance wing of the Black Student Assembly that she now leads as co-director. And her fears about job opportunities dissipated after reassurance from USC Roski's dean, Haven Lin-Kirk.
So with a pounding heart, she dialed her mom's number to gauge her reaction to the plan: switching her major from business to design.
The response: "Do what you want," Oseni remembers. "When I think back, it doesn't even make sense I wouldn't even consider art."
She signed up for three design classes before being officially cleared to change her major. And she quickly returned to the elements of art that had always inspired her.
"I like art because you can bring your ideas into existence, but I think the strongest aspect of it is the storytelling, being able to help people understand something beyond just looking at a visual," she said. "Telling untold stories has always been my thing."
USC senior makes art about and for marginalized groups
Vibrant greens, reds and yellows flood the background of the photographs, an intensely modern splash of color that draws the eye.
Those same vivid hues spill onto the faces captured by junior Caleb Griffen's camera under Oseni's creative direction. Pools of pink shimmer across the features of rapper Clarence the Kid. Shafts of purple and gold illuminate singer-songwriter Zoë Monet. A kaleidoscope of color glows on the glossy jacket of USC student and rapper 24KGoldn.
Oseni created the prismatic designs for posters and social media to help draw hundreds of USC students to Gearfest. The music and fashion festival, hosted by USC's Black Student Assembly this spring at McCarthy Quad, brought R&B, soul and hip-hop artists together with art and clothing vendors, barbers and hair stylists.
It was the perfect opportunity to practice her passion.
Although her work is firmly seated in contemporary trends, Oseni draws inspiration from the black box theaters that emerged in the 1960s. Created in opposition to the highly polished "white cube" galleries of a typical museum, these simple performance spaces made art accessible to people who had been largely barred from the elite art world, including women, people of color and children.
Jason Ellenburg, assistant professor of teaching and design at USC Roski, likened Oseni's style to Afrofuturism, a genre that blends history, culture and technology with the African American experience.
"Not so much in the sci-fi sense, but she's promoting black cultural leaders — young people working as artists, musicians, performers," he said. "She's using these incredible skills she has as a visual designer to promote this beautiful new contemporary voice of what it's going to be like for a young African American in the next 10 years."
He sees Oseni's work as building on the traditions of well-known artists like Mickalene Thomas, Derrick Adams and Kehinde Wiley.
"When I first met her, I remember thinking, oh my gosh, this girl is talented," said Ellenburg, a former art director for LA Weekly. "I feel like soon she's going to be noted within the field of design as somebody to be watched."
With a modern sensibility, USC grad brings new light to forgotten histories
Oseni's portfolio spans graphic design, photography and videography. If there's a common thread across her talents, beyond showcasing black and underrepresented voices, it's music.
In Record Players: GOLDEN WINGS, she takes the viewer on a modern-day journey into the life of DJ Kool Herc, considered the father of hip-hop but largely lost to history. She tells his story in timeline fashion, contrasting muted, grainy shots she filmed in his native Jamaica with clean, vibrant images tied to his young adulthood in the Bronx and later work in a record shop.
Along with bringing renewed attention to DJ Kool Herc's contributions to the music scene, the video maps the broader roots of Jamaican culture in hip-hop through its use of dancehall rhythms and patois, the Jamaican creole language.
In a similar ongoing series, The Sound Of, Oseni transforms an emotion into a 1-minute video with an original music composition. In "Humility," she sets a vibrant Afrobeat beneath her exploration of Chi Modu, the Nigerian photographer who captured multifaceted images of early hip-hop artists.
Another example is Vis-Ads, her reimagining of music in print form. The nine-page paper accordion spreads feature stills from an artist's music videos. The edges of the booklet are perforated, allowing people to detach panels and display them as wall art.
"Again, it's changing this narrative of having to go to a museum," Oseni said. "Instead, you're able to move this art into your own space."
Finding inspiration in other cultures
Asked about artwork that stirs and motivates her, Oseni cites people like Nigerian artist Njideka Akunyili Crosby, who employs paint, collage and photo transfer techniques to create vivid scenes. Her use of traditional African wax fabric prints, designs, patterns, objects and other symbols speaks to Oseni's past.
"I'm Nigerian, too, and seeing her work have such a cultural basis and being so pronounced, even to people who don't identify as Nigerian, was really moving to me," Oseni said. "I could see a lot of my childhood and background in her paintings."
When she heard Akunyili Crosby speak at USC Roski several years ago about her approach, Oseni came away with a desire to develop a deeper understanding of her own goals and what she wanted her artwork to reflect. She wrote a detailed artist statement to help her formulate those ideas.
"Not just creating work that looks good, but understanding why I am choosing the things that I'm choosing," she said. "Being more intentional."
She has plenty of cultural material to draw on for inspiration thanks to many travels across the globe while at USC. Last year alone, Oseni explored art, design and history in Japan, Jamaica, Amsterdam and England, along with two memorable trips to Nigeria with her mother to visit family.
"I definitely want to shoot there," she said. "It's the colors, the people, the fashion, the patterns — it's just so different."
USC design grad wants to redefine media stereotypes
For now, Oseni is an intern at Paramount Pictures in its photography department, where she helps create mood boards to inspire photographers seeking to capture a certain vibe, among other tasks. Her design skills have also drawn interest from a music management company.
Her long-term goal is to become a creative director in the entertainment industry, so she can continue her work countering media stereotypes and presenting new narratives about people of color.
And she's grateful to USC for providing the time and space to rediscover and nurture that ambition.
"I couldn't see myself anywhere else," Oseni said. "I say that to anyone who asks me about USC. It was definitely the right place. The right location, but also the right school to let me figure myself out."