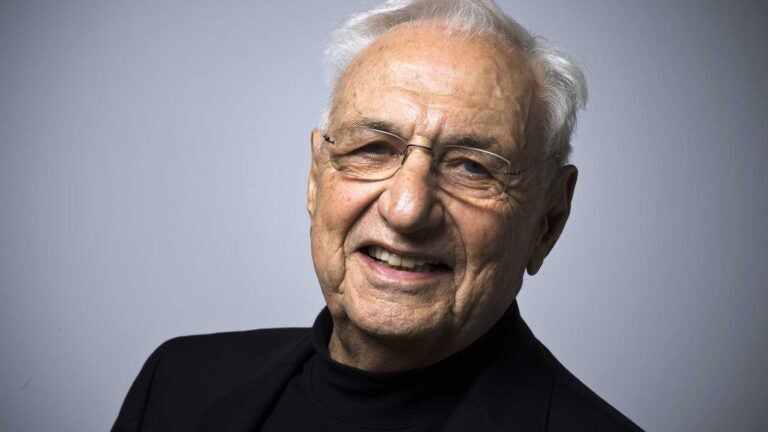 Architect Frank Gehry to receive the Presidential Medal of Freedom
USC alumnus is among the 21 luminaries who will be honored at the White House for their profound contributions to the United States
Frank Gehry '54, one of the world's most influential living architects, will receive the 2016 Presidential Medal of Freedom, the nation's highest civilian honor.
The award highlights men and women who have contributed profoundly to the culture, security or national interests of the United States or to world peace. President Barack Obama will present the honor to Gehry and 20 other luminaries on Nov. 22 at the White House. (Watch the ceremony on the White House website.)
Gehry graduated from the USC School of Architecture in 1954, and his high-profile commissions span the globe. He was named Judge Widney Professor of Architecture at USC in 2011. USC bestows the Judge Widney Professorship only on a select few thought leaders — highly accomplished individuals from the arts, sciences, business and community leadership.
"Frank Gehry is a cultural treasure not only to USC, but also to the world," said USC President C. L. Max Nikias. "His visionary creations have shaped the architectural landscape of Southern California and have become icons in Paris, Bilbao and beyond. We are proud to count him as both an alumnus and a Judge Widney Professor at USC, and we applaud this prestigious honor from President Obama."
Noted Qingyun Ma, dean of the USC School of Architecture: "Frank, with his works, has demonstrated that architecture makes the world worth saving."
His love of art
Gehry discovered his career path, in a way, through trial and error. He immigrated from Toronto to Los Angeles with his family at age 18, enrolling in a junior college and taking a job as a delivery truck driver. He also tried radio announcing and chemical engineering. Nothing fit. Then an idea came to him.
"You know, somehow I just started wracking my brain about 'What do I like?' Where was I? What made me excited? And I remembered art, that I loved going to museums and I loved looking at paintings, loved listening to music. Those things came from my mother, who took me to concerts and museums," he said in a 1995 interview when he was inducted into the Academy of Achievement in Washington, D.C.
Despite failing his first drawing class in college, he stuck with the arts — and soon discovered architectural design at USC. It quickly became apparent that he had found his calling, and he absorbed the words and works of many protagonists of modern architecture during his time at the university.
Finding his artistic voice
In the years since graduating, Gehry explored his vision and voice as an architect, and today his structures of juxtaposed angular slabs and curves are instantly recognizable. Among his many L.A. landmarks are Walt Disney Concert Hall and the Air and Space exhibit building at the California Museum of Science and Industry. Internationally, Gehry is probably best known for designing the Guggenheim Museum Bilbao in Spain, a structure opened in 1997 that has been tapped by many as one of the most important buildings of modern architecture.
At age 87, he continues his creative work, envisioning projects such as the revitalization of the Los Angeles River, and he still lives in Southern California.
Gehry has previously been honored with the Pritzker Architecture Prize — one of the greatest honors in the architecture world — as well as the National Medal of Arts, the Commandeur of the Ordre National de la Légion d'honneur from the government of France and many other accolades.