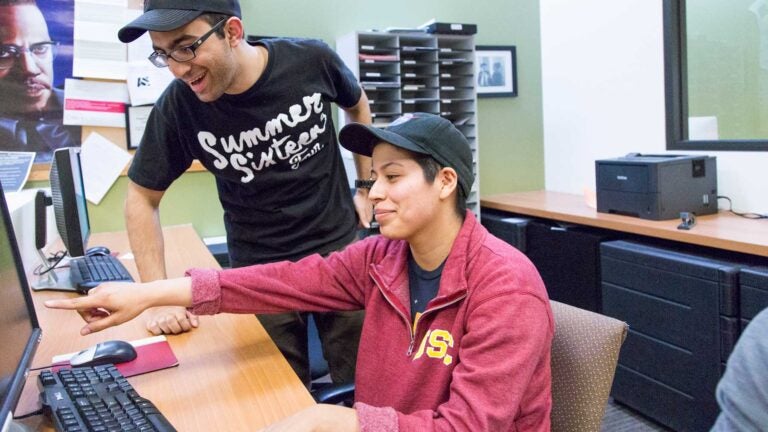 Alumni help humanities majors bridge the gap from college to career
The leader of USC's Career Pathways advises students to start early, making mixers, mentorship and elevator pitches part of their job strategy
Every spring and fall, career fairs crowd Trousdale Parkway. The central campus takes on an unfamiliar formality as job-seeking seniors hit the bricks in hard-soled shoes. Business, engineering, communications and social science majors are well-represented. Humanities majors may be harder to find.
Nationwide, humanities majors are among the least likely to use university career services, according to a 2016 Gallup-Purdue Index that surveyed more than 11,000 U.S. college graduates.
"Some humanities students shy away from thinking about employment or scholarships and fellowships for grad school," said Octavio Avila, who leads Career Pathways at the USC Dornsife College of Letters, Arts and Sciences. "I want them to know, 'This is part of your education. You have your individual purpose, but at some point you'll be leaving us. What is your next step?'"
Start early
Avila believes in starting early, drawing sophomores and juniors into discussions about career exploration. Career fairs, mixers, work attire, networking, resumes, mentorship, internships and elevator pitches are all on the table. He introduces Career Pathways to all humanities freshmen and continuing students at the beginning of each academic year, as part of a push to advance career literacy among USC humanities majors. Avila keeps in touch with a newsletter every two weeks.
"An early start makes it easier to navigate, as opposed to crunching all that in during their last semester before graduation," Avila said. "We have in-depth conversations about how their majors might be related to what they want to do."
Those conversations often start with USC Dornsife academic advisers, who have received intensified training on addressing the career concerns of humanities majors. Academic advisers refer students to Avila or the USC Career Center for additional support.
Avila encourages students to pursue double majors or a minor in a contrasting field.
"A philosophy major can minor in business or take marketing classes," he said. "We also encourage internships where a student can demonstrate leadership, initiative, collaboration and analytical thinking."
A soft approach
Research by Ernest J. Wilson III, dean of the USC Annenberg School for Communication and Journalism, found high demand among employers for soft skills like cultural competence, empathy and intellectual curiosity. Their value is emphasized at career panels organized by Avila, where USC humanities alumni talk about their careers.
"If you can develop emotional intelligence with your peers, you can take that into the workforce," said Marco Valadez '14, one of four panelists who spoke to a room packed with American studies and ethnicity majors in late March.
"Inhabiting a space from a diverse background, you have a place in the business world," said Valadez, a vendor management analyst who earned a double major in American studies and economics.
Other panelists emphasized risk-taking, openness and humility.
Be open and honest about what you know and don't know.

Suzy Jack
"A lot of times, you're not going to know what you're doing at an internship or first job," said Suzy Jack '06, a former American studies and ethnicity major who is now vice president of Public Affairs and Events for the Los Angeles Times. "Be open and honest about what you know and don't know. It takes a lot of guts to say 'I don't know, but I'm going to find out.'"
Some students were given course credit for attending the panel by lecturer Alicia Chavez.
"I want to expose students to critical career advice from Dornsife alums about building careers with Dornsife majors and in particular expose them to conversations about the career value of American studies and ethnicity majors," Chavez said.
A philosophy for marketing
W. Joe DeMiero '05 is management director for Team One, a marketing communications agency that specializes in luxury and aspirational brands. DeMiero earned a degree in philosophy and recently took part in a career panel for philosophy majors.
"I hire hundreds of people every year," he said. "Step one is connecting alumni and students. You meet someone who tells their story and offers a helping hand. Nothing beats that."
DeMiero was drawn to philosophy because he thrives on critical thinking. His professors assumed he would apply for graduate school. Instead, he headed to tech and marketing. DeMiero believes humanities majors stand out in a world where vocational skills are seen as commodities.
"Humanities majors are trained in a way that makes them so appealing to an employer," DeMiero said. "Critical thinking, distilling information into insight, looking at a scenario from multiple directions," he noted. "Employers are looking for that and I look for it when I hire."
Getting down to business
Jessleen Dhaliwal '17 expects a job offer soon. The American studies and ethnicity major started looking for a job in November and turned to Career Pathways. She plans to bring her own perspective to corporate communications.
"The U.S. is made up of different ethnicities and genders, and you have to specialize to market to different groups effectively," Dhaliwal said. "We're in tune with that."
Dhaliwal is making the kind of college-to-career transition Avila would like to see for more humanities majors. Avila strives to ease the transition from college to professional life for humanities majors like Dhaliwal.
"We create forums to talk about purpose," he said. "We create a space for those conversations. That's what I set out to do."