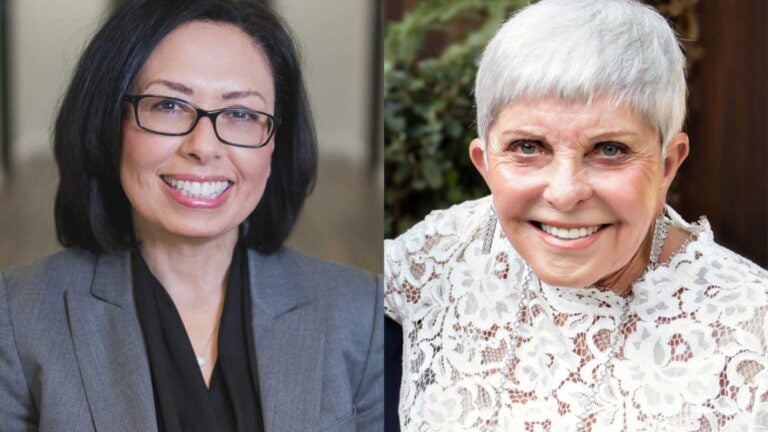 Alumnae leaders named to USC Board of Trustees
AT&T executive Carmen Nava and arts benefactor Dallas Price-Van Breda add community and corporate experience to the university's governing board
Telecommunications executive Carmen Nava '84 and arts benefactor and business owner Dallas Price-Van Breda '54 have been elected to the USC Board of Trustees. The two new members add decades of community and corporate experience to the university's governing board.
Carmen Nava
Nava is an experienced executive who currently serves as senior vice president for premium care and customer loyalty for AT&T Entertainment Group. Throughout her career with AT&T, Nava has been a customer advocate, focused on improving the customer experience. In her current role, she leads a national customer care operation serving AT&T's consumer mobility, DIRECTV and U-verse customers across the country.
"Carmen Nava's estimable record of success makes her an invaluable asset to our board," USC President C. L. Max Nikias said. "She has distinguished herself not only through her many career accomplishments, but also through her commitment to empowering others to flourish as she has. USC is very fortunate to have her guidance and support as a trustee."
Nava started her professional career as a summer intern with Pacific Bell in California while she was a USC student. She has served AT&T and its customers for more than 30 years in a variety of executive roles, including in consumer operations, human resources, external affairs and marketing.
At AT&T, Nava is a member of the advisory board for HACEMOS, the Hispanic/Latino employee association of AT&T, and LEAGUE, the company's LGBT and allies group. These organizations help provide professional development opportunities for employees, engage them in volunteer efforts to improve the community and connect employees with mentors.
She previously served as a member of the USC Alumni Association's Board of Governors and currently serves on the Corporate Advisory Board for the USC Latino Alumni Association.
Outside of AT&T, Nava was named one of the "Top 100 Most Influential and Notable Hispanics" in tech for 2015 and 2016 by Hispanic professionals in the information technology industry. In 2015 and 2016, Latina Style Magazine recognized her as one of the nation's "Top 5 Latina Executives" of the year. She was honored for her professional accomplishments, as well as her work to empower women and the Hispanic community.
She and her husband, Robert Nava '82, earned bachelor's degrees from the USC Marshall School of Business. They reside in Dallas and have one adult daughter.
Dallas Price-Van Breda
Price-Van Breda, elected as an honorary trustee, is an art collector and benefactor recognized for her love of contemporary art and her generous support of artists, art institutions and educational institutions, including Oaks Christian School in Westlake Village and the Museum of Contemporary Art in Los Angeles. Her donation to MOCA in 2000 was one of its largest gifts ever and she is a trustee, founder and president emeritus of the museum.
"Dallas Price-Van Breda is a visionary benefactor of education and the arts whose imprint can be found on eminent institutions within education and the contemporary arts," Nikias said. "I know that she will contribute profoundly to her twin passions of arts and education during her service to USC, all the while supporting our mission of enriching the human mind and spirit."
Among the many Southern California art institutions that have received her support are the Los Angeles County Museum of Art, the Roy and Edna Disney/Cal Arts Theater and the Art Center College of Design in Pasadena. She currently serves on the board of directors of the Blue Ribbon, a women's support group, at the Music Center.
Known as a Renaissance woman, Price-Van Breda's diverse interests and talents extend beyond the arts. An expert climber, she has scaled the Seven Summits, the highest mountains of each of the seven continents. She's also an instrument-rated pilot and former co-commissioner of basketball for the 1984 Olympic Games.
She was vice president and a major shareholder of the American Golf Corp. until the company's sale in 2002. AGC is one of the world's biggest golf management companies. She was also a major shareholder of National Golf Properties, a real estate investment trust.
Price-Van Breda co-owned aeronautical services provider Supermarine at the Santa Monica Airport and is a founder of Oaks Christian School, a private Christian school serving grades 5-12 in Westlake Village.
Born and raised in Pasadena, Price-Van Breda is a graduate of USC Marshall. An active member of the Trojan Family, she is a past president of Town & Gown Juniors and was a member of the Delta Gamma sorority. She is mother of five, grandmother of 11 and great-grandmother to one. She is married to Bob Van Breda.