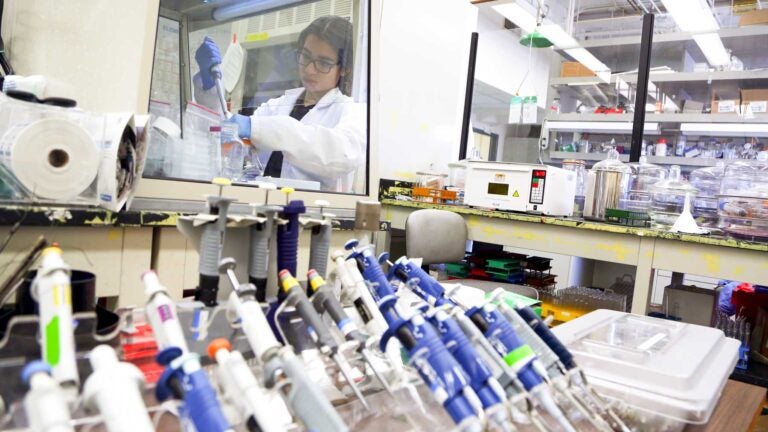 A new microbe goes under the microscope at USC
Community college students from across the country get a rare opportunity to learn about ecology in the lab
It's not every day that a young student gets the chance to help grow and describe a recently discovered life form.
But that's what happened to New Jersey native Raquel Diaz, 19, who came to USC as a participant in the Community College Cultivation Cohort (C4) program offered this summer by the Center for Dark Energy Biosphere Investigations (C-DEBI).
Diaz was part of a team learning state-of-the-art scientific techniques from researchers at the USC Dornsife College of Letters, Arts and Sciences.
Their mission: to characterize a new bacterial species isolated in 2013 off the coast of California's Santa Catalina Island by National Science Foundation postdoctoral fellow Roman Barco. USC Dornsife's Barco, who continues to work with the organism in his research, is also one of the mentors for the C4 cohort.
Students in C4, who hail from community colleges across the U.S., are tasked with learning everything there is to know about this ubiquitous new marine microbe tentatively named "Hydrogenovibrio sp. SC-1": what it looks like, the characteristics of its genome, its temperature limits and so on.
At the conclusion of their research, the students' names will appear on two academic papers categorizing the microbe. Their findings will help scientists better understand the ecology of the ocean's subseafloor. The microorganisms that inhabit the deep biosphere are largely unknown and play an important role in its biogeochemistry.
Jan Amend, C-DEBI director and professor of Earth sciences and biological sciences, oversees the program. He recalled the reaction students had when he conveyed how crucial their work will be to understanding SC1.
"I told them tomorrow you will know more about this organism than anybody on the planet," he said. "They did not believe it."
Filling a void
Prior to attending C4 at USC Dornsife, Diaz, who studied biology and is interested in a career that combines ecology and environmental studies, had never conducted research in a lab. Through the C4 program, she learned how to take samples of microorganisms, grow microbes and use laboratory equipment, among other skills.
My training will translate really well when I move to a different lab, and now I'm not as intimidated by that first step or afraid to ask questions.

Raquel Diaz
"Learning the basic skills have been very helpful," Diaz said. "My training will translate really well when I move to a different lab, and now I'm not as intimidated by that first step or afraid to ask questions."
The National Science Foundation-funded Research Experience for Undergraduates C4 program supports eight undergraduate community college students with a weekly stipend plus lodging and travel funds as they spend nine weeks interning in USC Dornsife science labs.
For many community college students, getting substantial scientific lab experience can be a challenge, which can influence their prospects for studying science down the line, Amend explained.
"One of the big hurdles that community college students face when they try to transfer to four-year schools is they don't have the research experience," he said. "That makes it more difficult to get into a research lab when they come to a four-year school because they're only here for two years, which then puts them behind other students when it comes to applying to graduate school."
C-DEBI, a National Science Foundation–funded Science and Technology Center and flagship hub for scientists who study the marine subsurface biosphere, focuses a significant amount of attention on education outreach programs. Amend and other C-DEBI scientists, seeing an opportunity to fill a void for community college students looking to beef up their research skills, launched the C4 program in 2016.
Thinking ahead
Karla Abuyen participated in the first C4 cohort when she was a student at Cerritos Community College in Norwalk. Now a senior environmental studies and health major at USC Dornsife, she spent the summer as a mentor for the second C4 cohort. The experience has been central to her career trajectory.
"I'm planning on going into graduate school and this opportunity that I've been given — doing research and being able to mentor — is really an introduction into what graduate school or academia will be like," Abuyen said. "The opportunities, guidance and encouragement from the USC C-DEBI community has given me the self-assurance and confidence that a career in research isn't far-fetched."
Meanwhile, Diaz has been admitted to Ramapo College in Mahwah, N.J. She's already begun emailing professors about potential opportunities to work in their labs. She's also thinking ahead to the possibility of attending graduate school.
"Before C4, I didn't understand everything that went into grad school," she said. "Now it's more concrete because I can see how I can actually get there."