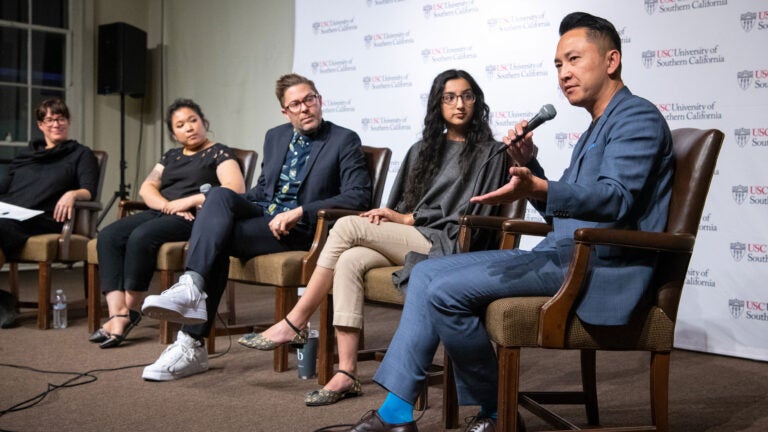 What is the line between cultural appropriation and appreciation?
A panel of experts, including MacArthur "Genius Grant" awardees Viet Thanh Nguyen and Josh Kun, explains the history of cultural appropriation and growing awareness in the digital era
A white Salt Lake City teen wore a red qipao, a traditional Chinese dress, to prom last spring and shared photos of it on social media. At Milan Fashion Week last February, white models wearing the latest Gucci line marched down the runway wearing turbans in Sikh fashion.
Cultural appropriation is increasingly a topic of discussion and debate, magnified by the rise in social media.
On Thursday, panelists at a discussion hosted by the USC Pacific Asia Museum in Pasadena shared their definitions of cultural appropriation, offered examples of it and its historical context — colonialism and genocide.
The panelists included University Professor Viet Thanh Nguyen, MacArthur "Genius Grant" awardee and Pulitzer-winning author of The Sympathizer; Josh Kun, professor of communication and American studies and ethnicity and a MacArthur Genius Grant awardee, as well; Melissa Chan, a PhD candidate in East Asian Studies at USC Dornsife College of Letters, Arts and Sciences currently studying the political messages of Hong Kong martial arts films; and Aditi Mayer, a photographer and journalist who explores ties between artistic expression and social action.
The panelists said cultural appropriation raises a question of ownership on everything from food and music to clothing. Answering questions from event moderator and USC Pacific Asia Museum Assistant Curator Rebecca Hall, the panelists offered ideas about cultural appropriation for an audience of about 65 people.
"Who owns culture? Who has the power? Ownership is a term that gets thrown around. People say we own this or that as a culture," said Nguyen, Aerol Arnold Chair of English and professor of English, American studies and ethnicity, and comparative literature at USC Dornsife. "People are not just getting upset over a song or a dress. It becomes manifest in these outrageous incidents that dominate the news."
Author, artist, curator and journalist Kun, who holds a joint appointment at USC Annenberg School for Communication and Journalism, noted that one other framework also determines appropriation: capitalism.
"Those encounters and those dominant marginal encounters and the removal or theft or extraction happen because those things become marketed or commodified in our culture. It has financial gain attached to it. It's what we might call racial capitalism."
Cultural appropriation and appreciation: Social media's impact
Mayer said that social media has elevated cultural appropriation as an issue, both in positive and negative ways. While users are highlighting culture by sharing photos and thoughts about art, fashion, food and music, they also are subject to scrutiny if they appropriate items or traditions from other cultures.
"We can call people out when they are behind the keyboard," Mayer said, noting that social media users were quick to criticize Gucci for the use of Sikh turbans.
"The internet is also this space where people see themselves differently with culture," said Chan. "You can see this cross-cultural interaction across the internet, but a lot of important information gets stripped out as well."
Chan, who raised the issue of the teen wearing a qipao to prom, said that some people may ignorantly appropriate another culture's art or fashion, but they should be responsible for doing the research. Otherwise, the display is insensitive and offensive.
Selma Holo, interim director of the museum, noted that the Pasadena building in which the museum is located is a 1924 Chinese Qing Dynasty-inspired mansion that has been "appropriated" for purposes of displaying Asian Pacific art collections and enhancing scholarship for faculty and students at USC.
Holo, professor of art history at USC Dornsife and director of the USC Fisher Museum of Art, told the audience that the famous French tale The Little Prince (Il Petit Prince) ends with an important message that indicates how to become more culturally sensitive.
"You become responsible, forever, for what you have tamed," the prince says.