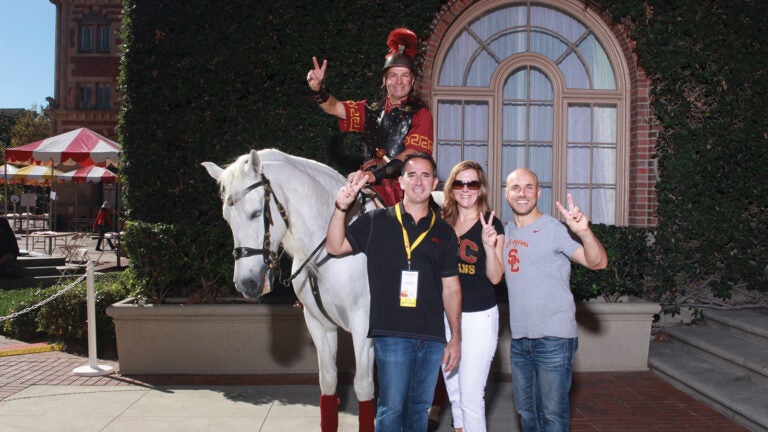 Return to Troy: Celebrate Reunion Weekend 2015
Reuniting feels so good for alumni coming back to University Park.
The University Park Campus buzzed with more than its usual Trojan energy. Alumni Park was festooned with banners as USC welcomed back nearly 1,000 Trojans from the Classes of 2005, 1995, 1990, 1985, 1975 and 1965.
The first order of business at Reunion Weekend last November: reuniting with good friends.
For Jeffrey Benford '05 and four of his buddies from freshman year, the memories started early Friday over breakfast near Trousdale Parkway.
"We just flew in this morning," said the San Jose, California, real estate professional who was surrounded by luggage. Getting the old gang back together took top priority. Checking into their hotels could wait.
Also getting an early start were USC Marshall School of Business alumni Ragaie "Ray" Michael '95 and Grace Rawlins Michael '95, of Denver. The couple strolled around campus reminiscing.
"During finals, we would take turns hanging out with our daughter by the fountains," remembered Ray Michael, an AT&T executive.
"By the time we graduated, she was about 3," added Grace Michael, an IT professional with Western Union. "We have the fondest memory of using Tommy Trojan as a growth stick."
Asked if they left any marks on the Trojan Shrine, they grinned conspiratorially.
"Shhhh. We plead the fifth," Ray Michael said.
Jason Lupei '95, a history teacher in Long Beach, California, couldn't wait to meet up with his brothers from Sigma Phi Epsilon, including best friend Dave M. Lopez '95, an Oklahoma City fast-food executive.
When Lupei and Lopez bumped into Kelly Yurick Coomer '95 in front of Bovard Hall, they swept the Chicago-based IT executive into a bear hug. After 20 years, the three are still close. "We don't get to see each other, but we talk all the time," Lupei said. "We were all Order of the Torch and Pepsters. We pretty much ran the school," said Lupei, a former Mr. USC, with a booming laugh.
On Saturday night, Lopez, a former yell leader, was back on the football field, megaphone in hand, when the Trojans defeated Arizona State.
Fortieth reunion committee member Gerald Mouzis '75 was eager to reconnect with classmates, but the attorney from Tustin, California, had no illusions about his wife's agenda.
"Alejandra is a huge animal lover," he said, as they stood in line for photos with Traveler, "so this is the highlight of the weekend for her."
Liesl Griffin '05 was also thrilled. "Every time I go to football games, I want to take a picture with Traveler, but he's always too busy," said the Tampa Bay, Florida, law student. That day, she got her wish. "I got to touch him," Griffin said happily.
Donna Stanislawski Reisert '85 was also excited to take her photo with the famous horse. This was the Honolulu-based nurse's first time back on campus in 30 years. Reisert admitted to feeling a little disoriented: "Except for a few landmarks, nothing looks familiar. But it's so fun to be back. It's gorgeous."
Luckily, a campus tour was about to begin. As tour guide Olivia Chui, a junior double-majoring in business and communication, began her backward march, reunion-goers admired all the sights – from a freshly renovated Heritage Hall to the rising USC Glorya Kaufman International Dance Center. Chui described them one by one. When she mentioned taking the DASH bus to go downtown, Pamela Philipp Mathews '65 chuckled: "In my day we rode the trolley." The Palmdale, California, retiree was one of 80 reunion attendees to join the venerable Half Century Trojans community this year.
As the weekend closed, 50th reunion co-chair Sally Jobgen Edwards '65 summed it all up: "Perfect weather, big turnout. We had such a great reunion!"