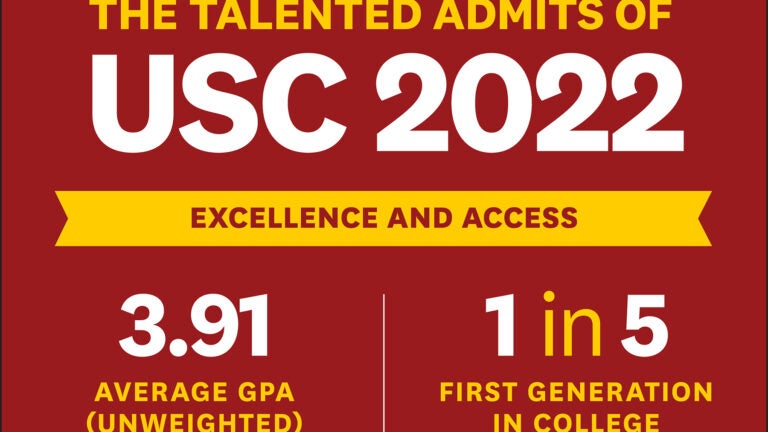 USC's incoming class shows continued progress in diversity, first-gen representation
Admission offers are out to almost 8,200 would-be students around the globe.
The hashtag #IGotIntoUSC began trending March 25, when some of USC's soon-to-be students found out they'd been granted admission into the university.
"Congratulations! I am pleased to offer you admission to the University of Southern California," the message said. "This offer is being extended to you as a result of your outstanding achievements, both in and out of the classroom."
For students around the world, the message was a long-sought achievement. For the university, the offers represent sustained progress.
"Each year, there's a sense of renewal as we welcome what we hope will be our newest scholars," said Kedra Ishop, vice president for enrollment management at USC. "We're seeing some of the university's long-term efforts toward access and inclusion pay off. Financial aid and a holistic approach to our process are key to that success."
Behind the warm welcome were hard decisions, given the number of outstanding applicants:
69,000 applications were received.
A 65-person team from the Office of Admission looked at each application.
Over five and a half months — and 30,000 hours of reading and reviewing — went into the selection process.
Just under 12% of those who applied were accepted, fewer than last year by half a percentage point.
The university has been setting records for several years, as the number of applicants and admitted students reached historic highs. This year, the respective volumes evened out. Applications dropped just under 3% compared to last year, while the size of the admitted pool was reduced by 7%.
USC admissions: Numbers stay strong
Diversity and access continue to take priority, with the percentage of first-generation college students notching just above 20%, its highest-ever rate. Among those offered admission:
3 out of 4 identify their ethnicity as Black, Latinx, Native American, Asian and Pacific Islander, or multiple ethnicities.
9% are Black students, an increase over last year.
As in past years, the most represented state was California, with 38% of admitted students. New York, Texas, Washington, Illinois and Florida followed.
The number of international students increased, hitting 18%. China, India, Canada, South Korea and Brazil are the most represented countries.
The average unweighted GPA is 3.91, which represents a historic high.
Increasing investment impacts USC admissions
Forty-three students from the Leslie and William McMorrow Neighborhood Academic Initiative, USC's signature college prep program, were offered admission. This year, NAI affiliated Foshay Learning Center, which is less than a mile from the USC campus, received more offers of admission than any other high school. It has consistently placed among the top five feeder schools to USC since 2016. NAI students also come to USC from Lincoln and Wilson high schools, which have become increasingly represented in the university's admission pool since NAI's expansion to these campuses a few years ago. NAI is a partnership between USC and the Los Angeles Unified School District.
Students from the USC Bovard Scholars program, a pipeline to top-tier universities for students with financial need, received 28 offers of admission.
The USC admission process is need-blind, meaning financial need is not a factor in admission. Undergraduate financial aid from all university sources exceeds $460 million annually.
Last year, more than 800 first-year students benefited from USC's Affordability Initiative, which was announced by President Carol L. Folt in 2020. Under the initiative, students from U.S. families with an annual income of $80,000 or less attend USC tuition-free.
Note: As enrollment commitments from students are due May 1, the makeup of the enrolled class may differ.