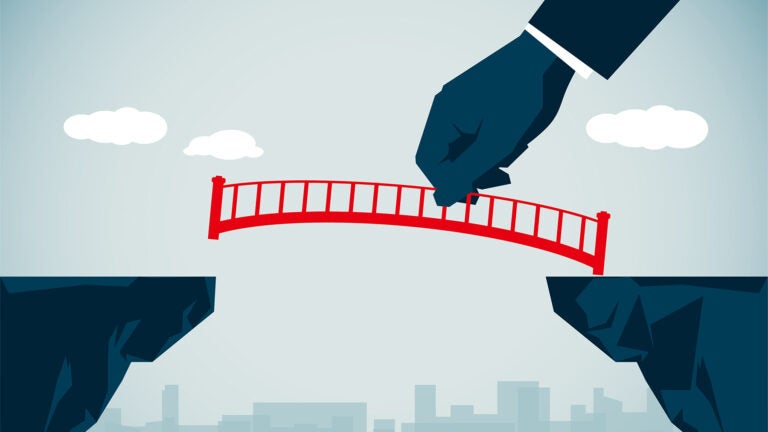 New Unchained Scholars leaders look to carry on their predecessor's message of hope
They weren't seeking leadership roles, but Tangela "Tangie" Griffin and Myra Waters stepped up when the president of the group — which supports formerly incarcerated master's and doctoral social work students — died unexpectedly.
By the time they arrived as master's students at the USC Suzanne Dworak-Peck School of Social Work in fall 2020, both Tangela "Tangie" Griffin and Myra Waters already knew how to handle adversity. Both had spent time incarcerated in their younger years — Griffin in the Bay Area, Waters in Los Angeles — and both had overcome those early difficulties and earned their bachelor's degrees. But even after gaining admission to USC, the women both say that they would have found the school intimidating — if it hadn't been for Unchained Scholars.
Started in 2018, Unchained Scholars is a group of formerly incarcerated master's and doctoral social work students that works to dismantle the barriers faced by people affected by the criminal punishment system. Griffin and Waters joined the group as soon as they arrived on campus, and both say that Evan Moore, president of Unchained Scholars, was an inspiring figure to them, one who constantly reminded everyone in the group that their own past incarcerations did not have to define their futures.
When Moore died suddenly right before the start of the fall 2021 semester, the Unchained Scholars group was left with a giant void to fill.
"It affected all of us mentally, emotionally, and just really rattled our community," Griffin said. "But we were fortunate enough to get a lot of support from the USC faculty, the USC mental health department, and then also Evan's family."
I felt like after knowing Evan, he would just lead me through spirit.

Myra Waters, Unchained Scholars president
While the group was mourning, several Unchained Scholars and mentors to the program approached Waters and Griffin about picking up where Moore had left off. Though neither of them had been seeking a leadership role, both agreed to step up to help their fellow students.
"Something just came over me, and I felt like after knowing Evan, he would just lead me through spirit," Waters said. She took on the role of president of Unchained Scholars, while Griffin became the vice president.
Formerly incarcerated students help each other succeed at USC
Growing up in the Bay Area, Griffin saw poverty and drug use from an early age, and her own drug use led to her incarceration. Waters grew up in South Los Angeles, where her first brush with jail came at 18 years old. She'd spend the next six years in and out of jail for a variety of offenses, including theft and prostitution, but at age 24 she decided to make a change.
"A conviction is something that happened to you, but it doesn't define all of you," Waters said.
Waters earned her bachelor's degree in sociology from California State University, Los Angeles, while Griffin earned her bachelor's in sociology and urban planning from San Francisco State University. However, even after all the hard work and dedication it took to obtain their degrees, both women originally felt that USC was still a long shot, and that even if they were admitted, they worried that they wouldn't fit in — until they heard about Unchained Scholars.
"My journey has been rocky, but I knew that education would be the thing that would take me out of that previous lifestyle," Waters said. "When I got accepted to USC, I was like, 'This is going to be what gets me out of poverty.'"
Now, Waters hopes to use her experiences and education to assist those within South L.A. who are in the same position she was in. Waters is interning with Alcott Center for Mental Health Services, an L.A.-based nonprofit that provides therapy, case and medication management, crisis intervention, trauma-informed studio art classes and supportive housing for people navigating mental health challenges or justice-involved reintegration.
Unchained Scholars: Encouraging people to ask for help
Having developed an expertise in mental health and wellness during her studies at Cal State L.A., Waters wants to see more people in her community ask for help when they need it.
"People in the Black community don't talk to a therapist," Waters said. "It has a negative stigma around it, and we stay away from it because that's what we were told. But I'm seeing a difference now where people are feeling OK to speak to a therapist, and I appreciate that, because there are a lot of people in my community who can really benefit from therapy if they give it a chance."
Griffin, who is studying remotely from the Bay Area, said she is hoping to stay in her hometown and work in a substance abuse program and eventually be in position to have an impact on people's lives.
"I do plan to create social change and policy change on the county and city level because it really starts with them, in terms of program development, budgeting, and services that are available in the community," Griffin said.
Susan Hess, a faculty adviser to Unchained Scholars, explained that the women's lived experience has fueled their passions around transformative practices to promote community healing.
"Myra brings much reflection and compassion around the importance of telling her story as we know stories liberate, educate and disrupt," Hess said. "Tangie recognizes the importance of improving mental health services inside prisons and implementing alternatives to incarceration — she is an agent of change."
There's a sense of kinship here.

Tangela "Tangie" Griffin,
Unchained Scholars vice president
Part of what unites everyone within Unchained Scholars — which has about a dozen members — is their shared passion for helping others in the communities they came from, or who have lived the same experiences. But both Griffin and Waters see how the group can expand its reach. Whether the group is helping students pay for caps and gowns for graduation or expanding their membership to include students who were in group-home settings or foster care, Unchained Scholars ultimately aims to help more students understand that their pasts do not define them.
"Unchained Scholars has been very effective in creating a platform for students who were affected by the judicial system at all levels," Griffin said. "There's a sense of kinship here."