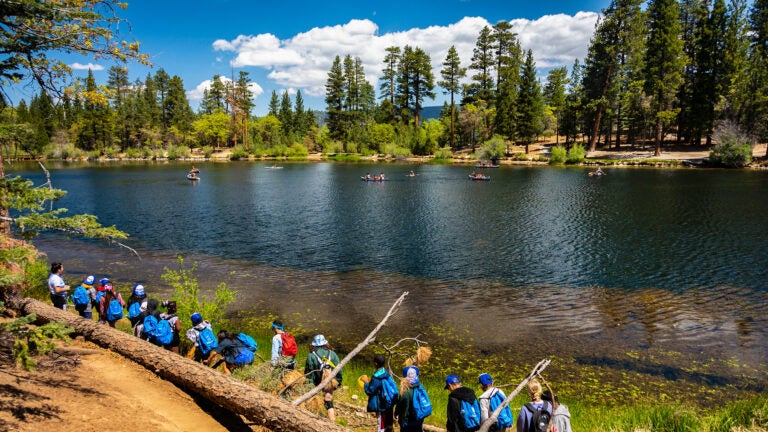 USC Troy Camp's annual gala: Celebrating 75 years of friendship
Alumni from Troy Camp's 75-year history reunited for their first fundraising gala since 2019.
On a recent evening during the spring, USC Troy Camp hosted its 14th annual fundraising gala with over 100 guests gathered at the base of the San Gabriel Mountains in La Cañada Flintridge. Together, they celebrated 75 years of friendship.
"I attended Troy Camp for the first time as a camper in 1968, and my Troy Camp experience made it one of my best summers ever," said Allyson Allen, a former camper who went on to graduate from USC and is now a special exhibitor, lecturer and instructor for Mancuso National Quilt Shows. "The amazing role models I encountered while at Troy Camp influenced so many of my choices in life — decisions like becoming an educator, working with the California Youth Authority, teaching and mentoring incarcerated youth."
Troy Camp is one of USC's oldest and largest student-run philanthropies, providing comprehensive, long-term mentorship for South Los Angeles students. It offers educational, extracurricular and leadership programs to foster personal growth and instill the value of learning.
Troy Camp relies on grants and donations
To fund camp and yearlong programming, Troy Camp relies on grants and donations from alumni and supporters. In the fall, the group hosts its annual "Pass the Can" event at the Trojan homecoming football game. Over 500 volunteers pass hundreds of milk jugs for money collection through the crowd at halftime. Last fall alone, Troy Camp raised over $80,000.
The annual gala serves as Troy Camp's spring fundraiser — and, notably, as a reunion.
After a cocktail hour at sunset, guests perused silent auction offerings. During the meal, guests enjoyed speeches from an assortment of speakers, all of whom have contributed to the success of Troy Camp.
One of the evening's honorees was Otis Healy, who founded USC Troy Camp in 1948. USC President Carol L. Folt introduced Healy via video, recognizing his achievements as a USC trustee from 1989 to 1995 and president of the USC Alumni Association in 1990-91.
"Otis, thank you, thank you for your lifelong service to your Trojan family and to the Troy Camp family, and please accept my congratulations on tonight's recognition," Folt said. While Healy was unable to attend the event, two of Healy's children — USC alums Michael and Bridget Healy — were in attendance.
In 1948, founder Healy and 14 other counselors took 45 boys from South Los Angeles for a 10-day summer camp. Those original traditions have evolved and grown in the passing decades. Today, Troy Camp takes 200 campers from South Los Angeles on a weeklong camp in Idyllwild Pines each May. To this day, Troy Camp remains free for all students.
Recognizing outstanding Troy Camp campers
Troy Camp recognizes outstanding campers through the Carlos "Hedgehog" Segovia Award. Segovia, who passed away in 2016, was a dedicated member of the Troy Camp family for nine years, first as a camper and then as a student leader, recognized for his selflessness, perseverance and motivation. Segovia was an important role model as a junior counselor in Troy Camp, a volunteer at L.A. on Cloud 9 and a member of the U.S. Marines. Troy Camp honors his legacy through this award given to a graduating high school senior.
This year's Hedgehog Award was given to Mireya "Cupid" Valentín, a high school senior who has participated in Troy Camp programming since the fourth grade. She served as a junior counselor for Troy Camp for two years during the COVID-19 pandemic and volunteers for a Summer Bridge program, which helps members of the Latino community enter STEM fields.
In her acceptance speech, Valentín recalled memories from her time as a fourth grade camper, winning the "Sister Sweeps" award given to the cleanest cabin. She appreciated Troy Camp's weekly middle and high school programming, working with counselors who gave her immense support.
"I want to continue giving back to young people, and I plan to become an engineering teacher so I can help underserved communities," Valentín said. "So thank you all for this scholarship, for sponsoring Troy Camp, for giving me a chance to find this group of wonderful people."