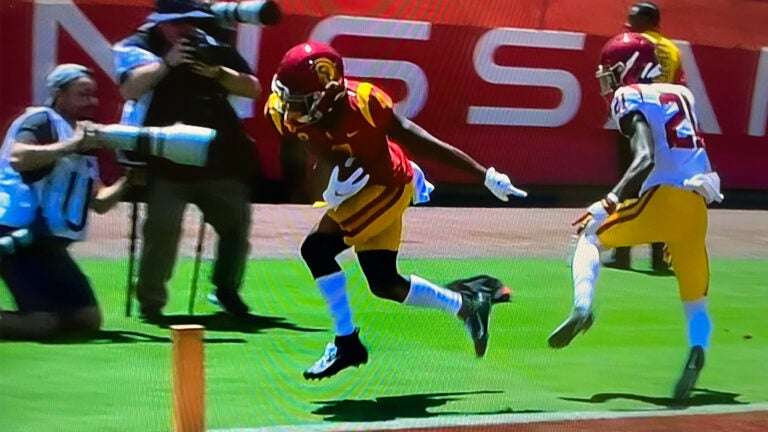 USC spring football game gives Trojan fans, and the country, their first look at the Lincoln Riley era
There's a palpable sense of excitement in the Coliseum — and the largest crowd ever at a USC spring game — as the new-look Trojans make their debut.
The last time USC took the field at the Los Angeles Memorial Coliseum was a 35-31 loss to BYU that saw the stands half empty by the final whistle. Compared with that, Saturday's scene was a complete 180 – sunny, 70 degrees, a new coach, a new quarterback and new sense of excitement.
Lines wrapped around food trucks and merchandise tables, crowds gathered to have their pictures taken with Traveler, and a sea of cardinal and gold flooded through the Coliseum gates as fans eagerly awaited a first look at the Lincoln Riley era at USC.
"This is just the beginning — this is just a step," Riley said.
"We're really excited about our progress and getting an opportunity to put it on display for our fans, and really put it on display for the whole country with a national broadcast, was a great step for us, but there are a lot of big steps left to go."
While the stands might not have been completely full for Saturday's spring game — a scrimmage between the offense and the defense — they rivaled anything the Coliseum saw towards the end of last season. The scrimmage was even televised on ESPN, the only spring game to be televised on the sport's flagship channel (reigning national champion Georgia's spring game was bumped to ESPN 2).
Impact of USC spring football game spotlight
"I think it's a significant and symbolic move on ESPN's part," said Jeff Fellenzer, associate professor of professional practice at the USC Annenberg School for Communication and Journalism.
"It really sends a message that this program merits attention."
When Riley left the University of Oklahoma to become the 30th head football coach of USC, a feeling of hope spread through Trojan Nation, while shaking up the rest of the college football world. USC had seemingly plucked one of the best offensive minds in the country from a blue-blood program — one that Riley had led to four conference titles, three College Football Playoff berths and a 55-10 record overall.
From there, Riley was also able to bring in some high-profile transfers, including All Pac-12 running back Travis Dye from the University of Oregon and Heisman favorite Caleb Williams from Oklahoma.
"It was awesome to get out here in front of a couple fans and have ESPN," Williams said of his first time playing in the Coliseum.
"We're showing the public what we're going to be, though we're not even close to what we're actually going to be."
With the offense in the home cardinal jersey and the defense in white, the spring game gave Trojan fans a taste of what Riley's offense is capable of. Though it was a shortened game at two 15-minute quarters and the defense started with a 21-0 lead, the first- and second-string offenses were able to rally and win by a final score of 34-30. Judging by the sheer number of fans in the stands — officially 33,427, making it the largest crowd to attend a spring game (the last pre-pandemic spring game drew about 2,000 people) — the score of the game seemed to take a backseat to the overall vibe of the Coliseum.
USC spring football game excitement reminiscent of Pete Carroll days
It's a level of hype and excitement not seen since the early 2000s under head coach Pete Carroll, according to Fellenzer.
"At that time, it was hard to find a good seat in the Coliseum," Fellenzer said.
As a Heisman Trophy voter with more than three decades of experience in sports management and news media, Fellenzer said this new era under Riley feels like a completely different animal, with the prominence of the transfer portal and name, image and likeness (NIL) deals.
"This hire of Lincoln Riley happened at the same time that we're going through a period where it really is the college version of free agency," Fellenzer said. "You have a big-money deal for a big-name and very well-regarded coach, and then that's triggering the movement among players to want to come and play for the coach."
But more than just the contracts and big names, the one constant that every player mentioned in the postgame press conference is the "culture" under Riley. It's something that is hard to describe, even for players, but could still be felt by everyone in the Coliseum on Saturday afternoon.
"If you're in this city and you don't feel the momentum of this program," Riley said, "you're not paying attention."