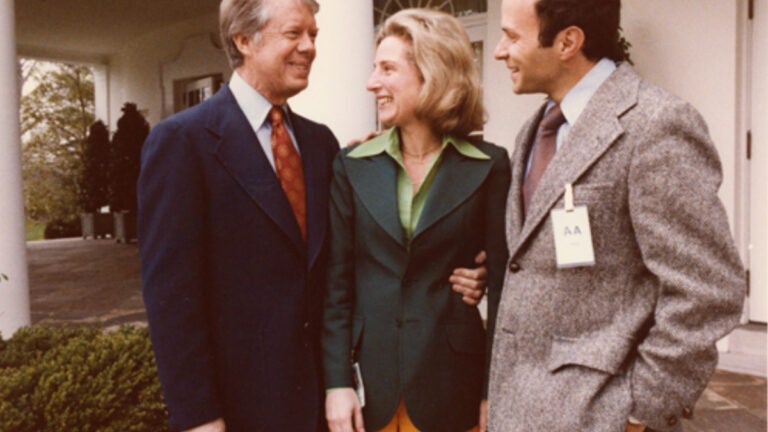 USC Price Scholar-in-Residence Jane Harman reflects on Jimmy Carter
The former congresswoman served as deputy secretary of the Cabinet in the Carter administration.
Early in her career, former U.S. Rep. Jane Harman, a Presidential Scholar-in-Residence at the USC Price School of Public Policy, served as the deputy secretary of the Cabinet in President Jimmy Carter's administration. Carter, who at 98 is the longest-surviving president, recently entered hospice care. Harman, who is a USC honorary trustee, reflects on his place in history.
What do you think was President Carter's most important contribution to the country during his presidency?
Carter is a great example of moral leadership. He added human rights as a plank of U.S. foreign policy, and, after his presidency, he led the Carter Center to cure two diseases in Africa, build affordable housing, and he personally taught Sunday school until very recently.
What do you think will be his greatest legacy as an individual, post-presidency?
That moral leadership is not out of fashion — despite the cynicism and performative politics we now see.
Can you give us a glimpse of his personality from your time working closely with him? His sense of humor?
He had a great wit. He also took personal interest in staff (like me) and personal credit for my relationship with Sidney Harman (we met in the White House) and our subsequent marriage.
Do you have any thoughts about his faith? He is very famously a man of faith, but very different from many other Christians in politics.
His faith is central to his life.
Anything else you would like to add about his legacy?
His presidency was largely viewed as a failure.?It is now being (rightly) reconsidered, and hopefully he knows this. His post-presidency has attracted universal praise, and he has inspired subsequent presidents like Bill Clinton and George W. Bush to focus more on good works after they leave the Oval Office.