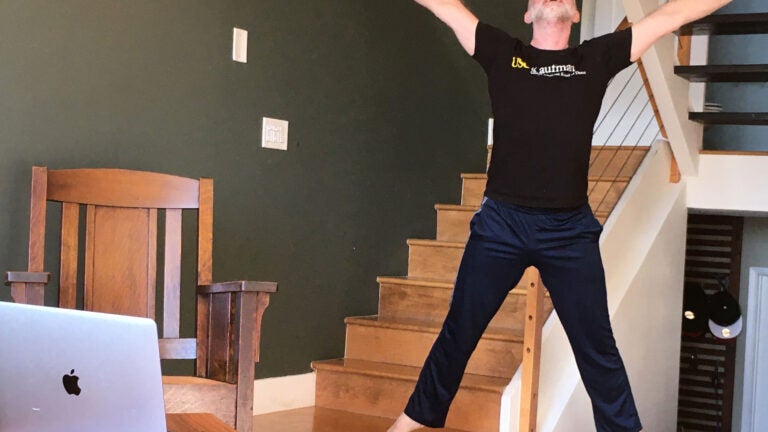 Can you teach ceramics and theater on Zoom? Yes, and here's how
Architecture, drama and other hands-on courses may be tough to teach remotely, but these USC professors are making it work.
There's no kiln for Thomas Mueller to fire ceramics. Patrick Corbin has no studio for his dance students. And student field trips to architectural sites are a thing of the past for Alexander Robinson.
But that hasn't stopped these USC professors and their colleagues throughout the university from finding ways to teach remotely during the COVID-19 pandemic, even when their subjects seem impossible to adapt to videoconferencing.
Instructors shared tips and scoured the internet to translate their classroom instruction into meaningful online educational experiences. That was especially true for those in hands-on disciplines like the arts. Many credited USC's test run with online classes, held several days prior to the mid-March break, for preparing them for this new reality. But it hasn't been easy.
"I've been literally tearing my hair out," said Mueller, associate professor and chair of 3D art at the USC Roski School of Art and Design. "I'm in L.A. at my house, not too far from school, but it feels like I'm a million miles away."
Ceramics is a tactile learning experience with students, Muller explained: "You literally hold their hands." Also, some ceramics students left campus so abruptly that they forgot to take their clay home. Students had trouble finding supplies, he said, because "art stores aren't exactly essential businesses."
Yet the challenges of teaching 3D arts online are bringing USC Roski colleagues closer together as they develop new teaching strategies, he said. Instructors now use cardboard instead of wood and wire instead of metal because they're easier and safer to work with at home. Mueller's ceramics students raid their kitchen cupboards for bowls and plates to use as molds.
"It's nice to know that we're all in the same boat," he said. "We're all alone together."
Dancers, actors and other arts teachers find new ways to approach online classes
Thankfully, dancers carry their "equipment" with them everywhere they go, said Corbin, associate professor of practice at the USC Kaufman School of Dance. Finding space to dance poses a challenge, though. Some dancers are confined to a tiny dorm room. Others live at home with their extended family members, which can mean little privacy.
But students are making it work no matter where they are. That is an important skill that dancers often learn after they graduate, Corbin said.
"If you're working in the professional commercial world or concert world, you often use a hotel room to warm up," he said. "These are transferable skills. They're just getting them a little sooner."
With the switch to online classes, Corbin said he dances along with his students much more than he did in USC Kaufman's studios. Although it can be hard to achieve an emotional and spiritual connection using videoconferencing technology, the dancers find a way.
"We touched on it," Corbin said of a recent class using Zoom, the university's videoconferencing tool. "I did feel, when we were all dancing together, that we had a moment of—transcendence."
Theater instructors share similar challenges. Actors share energy when they practice their craft together, and USC School of Dramatic Arts professors are figuring out how to move that energy into Zoom, said David Bridel, the school's dean. In the acting classes he teaches, students practice movement exercises as a group, he said. Now, Bridel asks his students to record themselves doing exercises, and he later reviews the footage during online class discussions.
Bridel echoed a colleague's recent remarks that "this is where the real teaching begins." As the world faces the novel coronavirus crisis, he said, professors can use the opportunity to influence their students' lives in new and unexpected ways.
"Let's remember that one of the great strengths of USC as an institution is the dimensionality of the student experience," he said. "This circumstance really tests how deep that dimensionality has gone."
USC instructors in architecture, cinematic arts and music test teaching strategies
USC School of Architecture students visit important buildings, parks and structures as part of their education. But stay-at-home orders stopped those trips. That's why Robinson, an associate professor in the school's landscape architecture and urbanism program, developed a "social-distancing field trip" to the Madrona Marsh Preserve in Torrance during the spring recess. (The preserve is now closed to all visitors.)
Robinson used his iPhone to film a guide — from about 10 feet away — as she provided an intimate tour of the marsh. Days later, students watched the video, complete with closeup shots of a blue heron. The guide then joined his class on Zoom for what Robinson called a "fantastic discussion."
Taking classes online "makes you think of every moment you have in class and think about its value and function, educationally and socially," he said.
Professors who reworked instructional plans to move courses online could learn lessons from professionals working in the film and television industries, said David Isaacs, professor of screen and television writing and interim chair of the John Wells Writing Division in the USC School of Cinematic Arts.
To work in the entertainment industry, "you need to adapt to survive," he said. "You need to adapt to create."
Isaacs, whose writing credits include Cheers and Mad Men, described the sudden shift to online classes as "a great object lesson in adaptation" for the school's students. That especially applies to those working on USC Comedy Live, the university's sketch comedy show. The Saturday Night Live-style program is typically broadcast live in front of a studio audience in the Zemeckis Center for Digital Arts on the University Park Campus. But the pandemic spurred students to write "Zoom sketches" and create short films at home to air during the show, Isaacs said.
Even though students now live many time zones apart, cinematic arts faculty strive to structure their online classes so they still feel familiar to students, Isaacs said. Students who feel uneasy because of the pandemic may find that focusing their creative energy on class provides an outlet, he added.
That might be a reason, faculty members say, that some students pay more attention now that they're online than when they sat in studio or class. One of those educators is Peter Erskine, professor of practice and director of drumset studies at the USC Thornton School of Music and a Grammy award-winning jazz drummer.
Today, Erskine's students record and send their performances to him for critiques. He uses a medley of digital tools to teach, from YouTube to a jazz essentials play-along app he developed and provided to students for free. Some tools, though, remain old school. In the division's percussion classes, some students have no drumkits at home, but Erskine's teaching assistants found a solution. Lauren Ellis created a video to teach her students how to make beats on kitchen countertops. Erskine drummed out rhythms using his hands and feet.
Robert Cutietta, dean of both USC Thornton and USC Kaufman, said faculty members have avoided trying to duplicate their classes precisely, and instead have found new, creative ways to deliver instruction. In some instances, he said, faculty have discovered methods that work even better online than in person.
Among the unanticipated benefits of online learning, Cutietta said, have been the extraordinary guest lectures by celebrated artists for students whose ensemble performances have been canceled. For example, this semester faculty arranged a videoconference for USC Thornton Chamber Singers featuring Grammy-winning composer and conductor Eric Whitacre.
Erskine said his fellow professors have found a way to teach, no matter the circumstances, because they want the best for their students. "We're rooting for them," he said. "We want them to succeed."