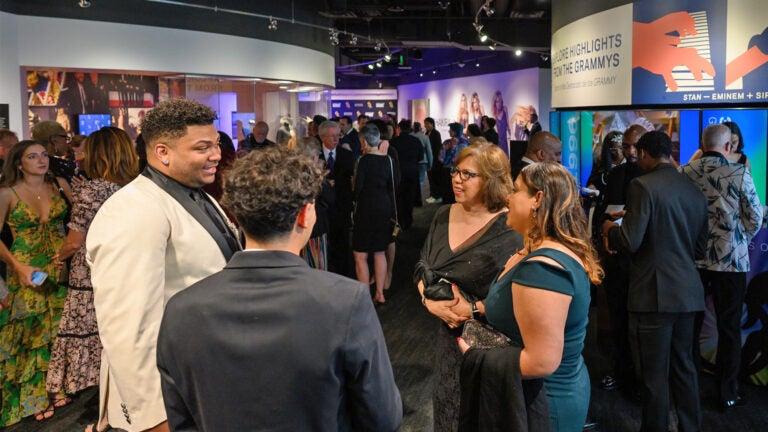 After 30 years, USC Lambda LGBTQ+ Alumni Association continues the good fight
The group honored students, faculty, allies and alumni at its 30th anniversary scholarship gala.
A sold-out crowd of 250 people gathered on the rooftop of the Grammy Museum in downtown Los Angeles on Saturday night to celebrate the 30th anniversary of the USC Lambda LGBTQ+ Alumni Association and to raise scholarship money for a new generation of Trojans.
The current wave of anti-LGBTQ+ legislation in statehouses across the country — much of which targets transgender youth — gave an urgency to the evening and resulted in a recurring theme of vowing to stand strong against such bills.
"I'm terribly surprised that we're still fighting these battles," USC President Carol L. Folt said to the crowd. "We know what's happening out there. So, the work that you do becomes even more important."
We know what's happening out there. So, the work that you do becomes even more important.

Carol L. Folt, USC president
USC Lambda, which connects Trojan alumni with students for networking and mentoring opportunities, awarded scholarships to 11 USC students at the event. In the past three decades, the organization has awarded more than $500,000 in scholarships to more than 150 students who have demonstrated academic achievement and a strong commitment to the LGBTQ+ community.
"We will continue to embrace the community with open arms," Folt said. "With all of your help, we will continue to make it grow and do even more good for our students, our faculty, our staff, our alumni and communities."
A courageous start
Among the award recipients, graduate student Lucille Warren of the USC Price School of Public Policy was presented with the Outstanding Scholar Award, while USC Alumni Relations Associate Vice President Danielle E. Harvey received the Community Ally Award.
USC Lambda founder Donald Gabard received the Alumni Association Legacy Award — which has now been renamed in his honor as the Donald Gabard Legacy Award.
Original USC Lambda board member Amy Ross, now a member of the USC Board of Trustees, said of Gabard, "He led us forward, he rallied our spirits and he fostered a camaraderie that is unique to USC Lambda."
USC Lambda Executive Director Brandon Kyle also paid tribute to Gabard and other founding board members for displaying "both perseverance and courage" when they launched the grassroots organization 30 years ago — a time when it was especially challenging for LGBTQ+ people to live openly and proudly.
"It's the story of trailblazing queer alumni and supportive USC allies who came together to knock down barriers and explore incredible possibilities," Kyle said. "They demanded equality and equity for our communities on and off campus."
'We have to do more'
When Associate Professor Alexandra Billings of the USC School of Dramatic Arts was presented with the 2023 Trailblazer Award, the well-known transgender actress and activist used her acceptance speech as a call to action to protect trans youth, who are at far higher risk of suicide than their peers.
"Here's the deal: We have to do more," said Billings, who shared that she was suicidal in her youth. "I want you to think about how many young lives we've lost since you sat down to eat."
Billings said being visible as an LGBTQ+ person or as an ally is crucial for younger people to see.
"If they don't see you, they might go away," she said. "Make yourselves heard."
Photographic memories
One of the most moving parts of the evening came when Folt shared with the audience a collection of 18 black-and-white photos of a wedding between two men that took place in Philadelphia in the 1950s. The couple never got to see the photos because they were confiscated by the store where they were taken to be developed.
In 2012, the photos found their way to ONE Archives at USC, the largest repository of LGBTQ+ materials in the world and part of USC Libraries. Last year, students and alumni at the USC School of Dramatic Arts came together to write and act out scenes inspired by the photographs.
"We will not erase history of any sort," Folt said. "We will continue to find new ways to shine light on the truth … and share with future Trojans who will follow in all of our footsteps."