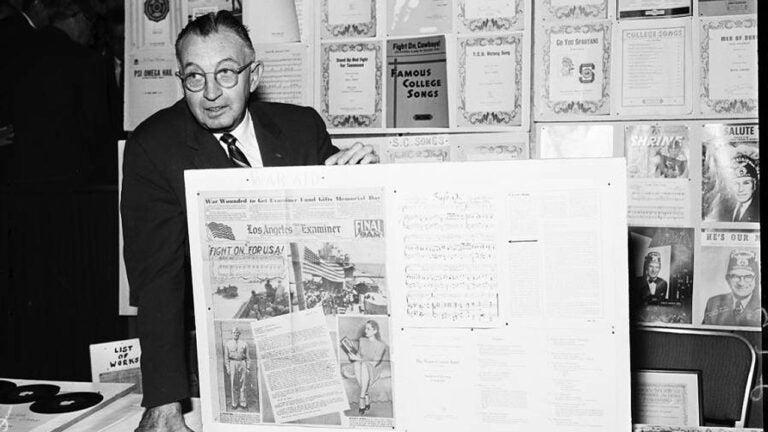 100 years of 'Fight On!': Legendary USC fight song nears a milestone
It's the fight song that begat a motto for an entire university, and this year it turns 100. Learn more about the history of the song — which didn't win the university fight song contest.
It's the fight song that begat a motto for an entire university — and this year it turns 100.
On. Nov. 26, the Trojan Marching Band will celebrate the centennial of its iconic fight song, "Fight On!," at USC football's regular season finale at the Los Angeles Memorial Coliseum. Although now considered one of the greatest college fight songs, when the song's composers entered it into a campus song contest in 1923, it came in second.
The story of "Fight On!" dates back a year earlier, to 1922. Vaudeville-performer-turned-dental-student Milo Sweet was playing the song's melody on a piano at USC's on-campus YMCA when religious studies major and USC band saxophonist Glen Grant passed by. Listening in, he told Sweet the tune would make a great fight song. Grant helped Sweet write the lyrics, and "Fight On!" was born.
Most traditional fight songs are written in a straightforward 2/4 or cut-time meter, suited to musicians marching down the field. "Fight On!" was uniquely composed in the compound 6/8 time signature. This provided more opportunity for rhythmic and melodic variation and gives it its jaunty lilt.
Traditionally, three choruses of the song are played. The first chorus has the trumpets leading the melody, the second chorus is led by the sousaphones and drums keeping time and the third chorus hands the melody to the trombones with high brass and woodwinds playing flourishes underneath.
In November 1923, "Fight On!" was entered into a song contest held by USC's Rally Committee. Thirty songs were evaluated by the committee, including "Cardinal and Gold" by Al Wesson. Earlier that year, Wesson had written what would become the university's official alma mater, "All Hail," and was on the committee to find a song that would "generally represent the school, one that will be adaptible [sic] for all occasions and not characteristic of a season or single game," according to the Daily Trojan.
Wesson's entry ended up winning the contest and the $100 grand prize, but he later confessed the best song didn't come out on top. Wesson, who went on to be USC's first sports information director, admitted as much in a 1965 letter to the Los Angeles Times.
"To show how nuts people can be, the music committee awarded first prize to my song and second to 'Fight On!' 'Fight On!' has become probably the equal of the Notre Dame fight song in the country," he wrote. "As a campus musician, I was on the committee, and I'm glad to say I had sense enough to vote for 'Fight On!' over my own piece."
Within a few years of its composition, "Fight On!" had become USC's most popular fight song and a rival nationally to older, more established anthems like the "Notre Dame Victory March," "On, Wisconsin!" and Michigan's "The Victors." Unlike those songs, "Fight On!" transcended its musical origins to become a motto for USC students and alumni. USC's sports teams had been nicknamed Trojans in 1912 because of their athletes' "fighting spirit" against teams who were "bigger and better-equipped," according to Los Angeles Times sportswriter Owen Bird. Accompanied by fingers formed in the shape of a V for victory, a verbalized "Fight On" became a greeting, an expression of encouragement and a farewell in the Trojan Family vernacular, one that captured the reputation of the ancient Trojans as fighters no matter the odds.
USC fight song goes to war
In 1943, "Fight On!" became legendary outside the university when it inspired U.S. troops to capture an island in the Pacific theater of World War II. As the task force motored ashore to Attu in the Aleutian Islands, music suddenly rang out over the waves. Capt. Hubert D. Long, a USC alumnus, described the scene in a 1944 letter.
"On the deck of our transport our commanding officer had ordered the band to play," he wrote. "I could hear a cheer in some of the other assault craft, but I could not identify the song until the wind changed. Then I heard, and never again will I ever have such a lump in my throat. Over the waves there came the song that I, that none of us who ever spent our school years at S.C. will ever forget. It was our 'Fight On' song. Many, many of us were from California. As all the men heard it, a tremendous roar went up, for here was something tangible. Here was something American to the core, something that pictured to us that for which we fight, and that which we love above all else. We won the island."
Sweet was proud of his contribution to the war effort and even after he established a successful dental practice in South Pasadena, he continued to write fight songs for other schools. Sweet Music publishing still exists and holds the copyright to numerous songs. After graduating from USC, Grant became an ordained Methodist minister and was serving in the U.S. government as national supervisor of recreation when he passed away in New York in 1941.
In the 1950s, as college football began airing on TV, "Fight On!" became recognized around the country. It was the soundtrack of sunny California at Rose Bowl games on New Year's Day while the rest of the country was blanketed in snow. It also was featured numerous times in movies and on TV. "Fight On!" was famously included on the soundtrack to Disney's 1973 film Robin Hood and has been recorded many times over the years.
USC fight song: Part of the band's 'choreography' at football games
When Arthur C. Bartner became director of the Trojan Marching Band in 1970, he incorporated the song into the band's "choreography" of football games, tailoring musical cues to corresponding action on the field. "Fight On!" became the song that punctuated USC's offensive drives.
The copyright to "Fight On!" has stayed in the Sweet family through three generations of Milo Sweets. Sweet Music has protected the song and carefully chosen which productions they allow to use the song in media. Milo Sweet III is now the custodian of Sweet Music and also a parent to daughter Sydney, a senior at USC.
USC's fight song is not only iconic for its meaning to this institution but is as thrilling a march as any composed by John Philip Sousa.

Jacob Vogel, band director
"Every time I'm with her and we're walking around campus and we're seeing all the 'Fight On' stuff and I'm always like, 'Hey, without your family, that wouldn't have existed,'" says the senior Sweet. "I think she's starting to understand it at this point that it's a big deal."
Milo Sweet III and his daughter will be recognized by the Trojan Marching Band on the field at halftime during Saturday's Notre Dame game. Band Director Jacob Vogel, like his predecessor, is cognizant of the importance of "Fight On!" to the university.
"With any collegiate job, there are traditions and elements that you inherit when you take over a program as lasting as this one," says Vogel. "I truly am lucky that USC's fight song is not only iconic for its meaning to this institution but is as thrilling a march as any composed by John Philip Sousa. We're excited to honor its centennial this Saturday."