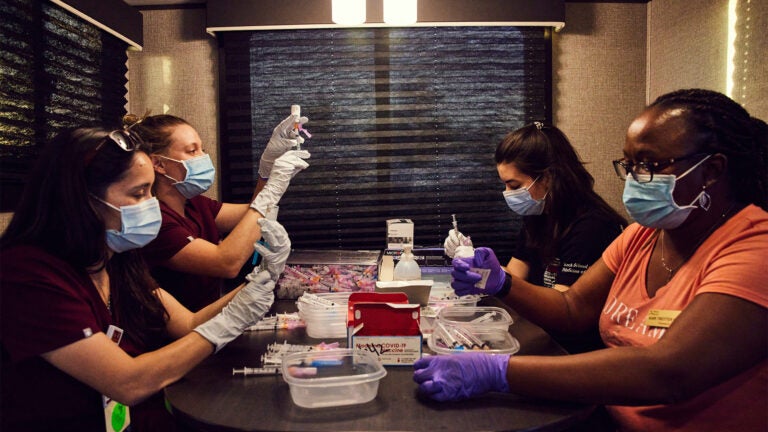 Photos of Trojans on L.A.'s Vaccination Front Lines
See USC health professionals help roll out one of the country's largest COVID-19 responses.
One million doses.
That's how many virus-fighting shots had gone into arms at the city of Los Angeles' public vaccine sites by mid-April. Behind each dose in this milestone stood an army of dedicated health care providers from government agencies, nonprofits, community groups, the USC School of Pharmacy and the Keck School of Medicine of USC. And they're still going strong. They're the driving force behind one of the country's largest mass vaccination efforts and part of the largest public health response in modern medicine.
USC's pharmacists and health care workers have been on the ground since the start, helping launch vaccination sites at Lincoln Park, Dodger Stadium, USC and beyond. Their pop-up clinics brought the vaccine to Los Angeles Football Club matches and SpaceX headquarters. More than half of L.A.'s first 1 million doses were delivered at sites administered by USC. Providers also have taken vaccines directly to those most at risk.
As of June 1, more than 755,000 people have received a dose at city sites staffed by USC health workers, and the critical public health effort continues. Health officials are redoubling efforts to encourage the unvaccinated to book an appointment online or walk in at any site for their shot.
Here is an inside look at how they do it, one shot at a time.
Special Delivery: USC Receives its First Doses of COVID-19 Vaccine
Fill Up: USC Health Workers Prepare Vaccine Shots
Drive-Through Service: USC Experts Help Out at Mass Vaccination Site
Glamour Shots: USC Vaccination Clinic Draws Celebrities
House Call: USC Doctor Brings Vaccines to Patients at Home
Cold Storage: Health Workers Keep Vaccines Cool Until Needed
Road Work: Street Medicine Team Delivers Vaccines to Homeless Residents
Team Effort: USC Experts Help with Vaccination Drives in Los Angeles
[new_royalslider id="238″]