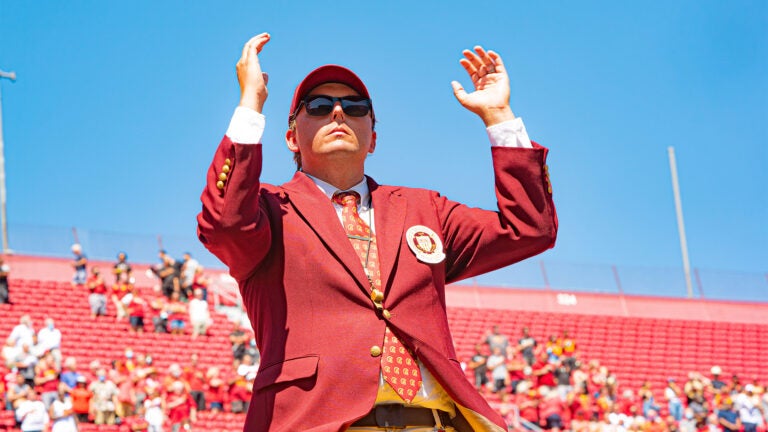 Trojan Family gets up-close introduction to new band director at spring concert
The USC Concert Band's spring concert on Sunday, "Inspirations," features music with a personal meaning to Director Jacob Vogel.
During the last football season, the Trojan Family watched the USC Trojan Marching Band's new director, Jacob Vogel, from afar conducting on the field at the Los Angeles Memorial Coliseum. On Sunday, guests at the USC Concert Band's spring concert, "Inspirations," will see him up close onstage at Bovard Auditorium and come to know Vogel personally: Every piece of music chosen for the program has personal meaning for the band's new leader.
"The music, the selections of this concert, are really reflective of my musical upbringing," says Vogel. "They're reflective of moments in my life that are just like burning candles in the darkness. Like these are moments that I remember so vividly that by all accounts are just unimportant."
Vogel assumed the post of band director in January 2021, taking over for Arthur C. Bartner after 51 years. Vogel's appointment followed a 12-year career in the program as he progressed from teaching assistant to arranger to associate director while working on a Master's and Doctorate in Music Teaching and Learning (Education) at the university. Long before that, Vogel's road to USC began on summer vacation while listening to music on long car rides with his maternal grandparents.
"I have these very vivid memories of driving up these country roads," Vogel says. "In the pickup truck was a six-CD changer, and in the changer were three discs from Elton John. It was always exciting when 'Crocodile Rock' came on. And that's when my grandmother would put these little nuggets in my mind, just these little thoughts of, 'You sing well, you sing like Elton John. Listen to the words. He didn't write the words, somebody else did. He just wrote the music. You could probably learn that if you learned piano.'"
With the support of a musically inclined family, Vogel taught himself to play piano – with an Elton John songbook, of course. Since junior high, he had performed a variety of instruments at Sunday services at Faith Lutheran Church in Hesperia. His father had played at the church since he himself was a teenager but had passed on the gig to Vogel and his brother. But before he could take up the duties, his father sat him down:
"He said: 'You're going to learn to transpose,'" Vogel says. "And I didn't leave the table until I knew what I was doing, basically. He explained to me how important it was that I know what I'm talking about and that not only do I understand the transposition of the instrument, but that I understand what other people are saying when they're talking to me about music."
With this level of musical indoctrination, it was natural Vogel would continue in his studies in music after high school. At Chapman University in Orange, he not only progressed in his musical education but met his future wife, Jessica, who matriculated to USC and soon brought him with her.
USC band concert: from the classics to cinema
The first half of the concert is the story of these formative years. Beethoven's "Egmont Overture" was the first piece he learned to conduct at Chapman, and James Swearingen's concert piece "The Light Eternal" features the church music that was so instrumental to his development as a musician. The first act closes with a selection of Elton John pieces as a tribute to the rock icon (and supportive grandparents) who began his journey as an arranger.
The second half will paint a different picture of a young Jacob Vogel. A confessed "huge movie nerd," the films of his childhood planted the seed of orchestral music.
I really liked Beetlejuice, I watched it a lot. I really liked 1989's Batman. And so the music, the Danny Elfman scores, started to creep into my mind.

Jacob Vogel, band director
"When I was little, I would sneak out of my room at night and watch movies," Vogel says. "I really liked Beetlejuice, I watched it a lot. I really liked 1989's Batman. And so the music, the Danny Elfman scores, started to creep into my mind."
Concertgoers will enjoy music from the masters of Hollywood's blockbuster era from Elfman's bombastic Batman soundtrack to the lush, throwback score to 1998's The Mask of Zorro by James Horner. Of course, no discussion of film composers would be complete without John Williams. The USC Concert Band will perform music from his scores to Jurassic Park and the Star Wars films. The second act will close with music from Marvel's Avengers films by Alan Silvestri. Vogel worked with Silvestri to bring the music from the Infinity Saga to the Coliseum in 2019 for a halftime show with Silvestri himself conducting the Trojan Marching Band.
The fact that "Inspirations" will be the USC Concert Band's first spring concert in three years is not lost on Vogel. He's excited to bring his young musicians back on stage after working with many of them remotely for two years during the pandemic.