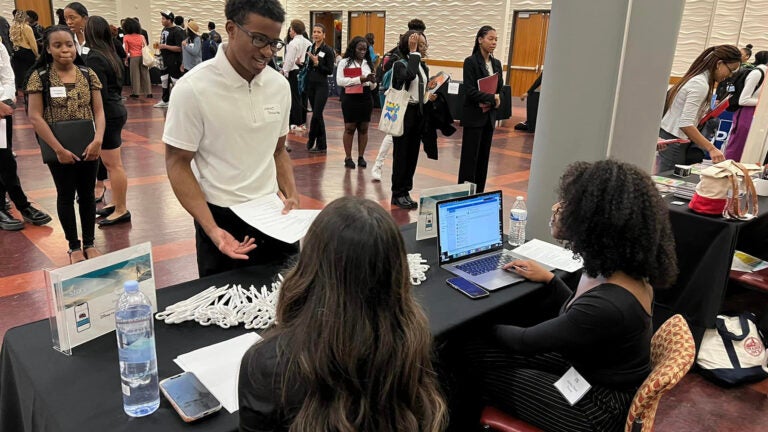 USC students have plenty of questions — and résumés — for recruiters at Black Career Fair
More than 300 Black Trojans meet with companies that say they are committed to a diverse workplace.
Once the doors of the Trojan Grand Ballroom in the Ronald Tutor Campus Center opened at 5:30 p.m. Wednesday, freshman Makai Singleton made a beeline for The Walt Disney Co. booth to find out how he could land an internship at Disney-owned ESPN.
"I want to go into sports broadcasting," the USC Annenberg School for Communication and Journalism student said as he secured fourth place in line. "I'm really happy that they are actually doing a job fair just for African American students here."
Singleton was among the more than 300 students to participate in the USC Black Student Assembly's first Black Career Fair. The event was organized to provide an opportunity and a safe space for Black-identifying students to talk to recruiters about career opportunities and discuss topics such as workplace culture.
"It's to have those genuine conversations and have people tell the truth about what it's like being a person of color in a particular industry," said assembly Co–Executive Director Candace House.
"That's why we wanted our own space. I feel like you wouldn't get to have those conversations at a career fair where it's the whole school because some students might not feel like it was a safe space."
Leading companies at USC Black Career Fair
In addition to Disney, other participating companies included Boeing, Paramount Global, the National Football League, McKinsey & Co., Deloitte, Guess, HOK Group, KPMG and Riot Games, among others.
USC Annenberg student Nia Mitchell said the event is an opportunity for companies to show they embrace diversity, equity and inclusion.
"There are still systemic issues that make things not as equal as you think that they are," Mitchell said as she waited in a long line to chat with representatives from the NFL. "I think it's cool they're recognizing that the experiences of us being Black students still might not be similar to the experience of other students on this campus."
Taylor Perkins, director of business development and strategy for Paramount Games and Emerging Media, was proud to be representing her company at the fair because she has personally seen the need for more diversity in the game industry.
"When I'm on calls with different partners, I'm often the only Black woman that I see on Zoom," she said. "I would just love to see more people of color get into the game industry, and Paramount is such a great place to do that. I'm just hoping that we can really expand our outreach and that we have more Black people in games."
You want to be present and say, 'Hey, we want you to apply. We're looking for you.' I hope everyone here feels that they're wanted.

Taylor Perkins, Paramount
Perkins said it is important for companies to make their commitment to diversity known to potential hires. "You want to be present and say, 'Hey, we want you to apply. We're looking for you,'" she said. "I hope everyone here feels that they're wanted."
The line at the Paramount booth was among the longest throughout the three-hour event, which took place on the first day of Black History Month.
"This is definitely beyond what we imagined," House said as she looked around the packed ballroom. "We told companies there would be maybe 200 students. But everyone is looking for internships right now and full-time jobs. The fact that we got some big-name companies also helps."
USC Black Career Fair: Aiming to be an annual event
House, a USC Marshall School of Business and USC School of Cinematic Arts junior, said the Black Student Assembly wants to make the Black Career Fair an annual event as it strives to do more career-based programming.
"Some companies have shared that they haven't been able to recruit that many Black students in their internship programs," she said. "So, I believe an event like this is a win-win."