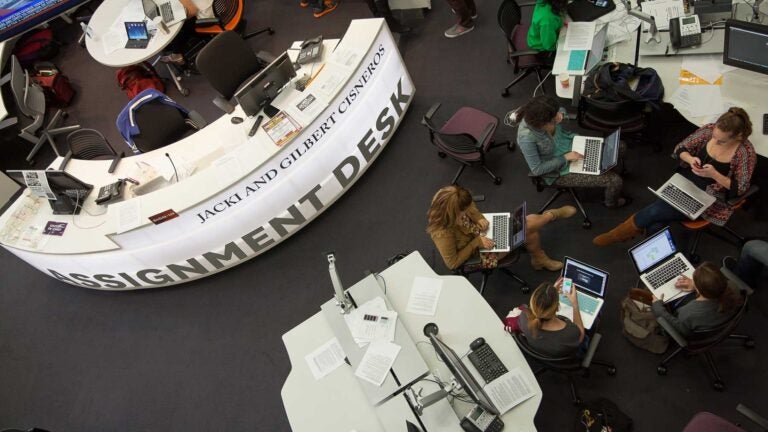 USC Annenberg, Fandango team up for Rotten Tomatoes Fellowship in film criticism
The fellowship will support partial tuition for graduate students in USC's master of arts journalism program, fostering the next generation of critics and storytellers
Fandango, the parent company of film and TV editorial site Rotten Tomatoes, and the USC Annenberg School for Communication and Journalism are partnering to create a hands-on fellowship for students.
Over the next several years, the Rotten Tomatoes Fellowship will support partial tuition for students enrolled in USC Annenberg's master of arts journalism program, a graduate program for the next generation of entertainment and culture storytellers.
The fellowship will combine academic coursework from USC Annenberg and across USC's six arts schools with on-site experience working with Rotten Tomatoes' editorial staff and leaders across their online, mobile and social platforms.
As the next generation of journalism and media contributors, our arts journalism students are poised to redefine arts and entertainment criticism.

Willow Bay
"As the next generation of journalism and media contributors, our arts journalism students are poised to redefine arts and entertainment criticism," said Willow Bay, director of the School of Journalism. "We are thrilled that our top students will have the opportunity to work with an innovator like Fandango, and their movie and TV platform Rotten Tomatoes, to expand their impact on the industry, while pursuing their masters of arts journalism degree."
Both USC Annenberg and Fandango will benefit from the new partnership, Bay added. Students gain professional experience and tuition support. At the same time, the media company gets access to forward-thinking students who are versed in emerging media platforms and audience engagement strategy, and also have access to state-of-the-art experimental resources at a leading research university.
"We are excited to partner with USC Annenberg to support rising stars in the field of entertainment journalism, while helping expand film and TV criticism in the ever-changing media landscape," said Jeff Voris, vice president of Rotten Tomatoes. "We look forward to working with the talented students and faculty at USC Annenberg to create innovative digital content that represents the diverse opinions of our audience."
The first fellow
Launching in the 2017–18 academic year, the first fellowship has been awarded to Rosemarie Alejandrino, a first-generation college student graduating from the University of California, Berkeley in May with a bachelor's degree in English and American studies with a concentration in popular culture and American media. She is currently the arts editor of UC Berkeley's Daily Californian; she also headed up marketing for Caliber Magazine. A Filipino-American, Alejandrino speaks Spanish and Tagalog.
"I'm so grateful for the opportunity to collaborate with Rotten Tomatoes and to utilize the resources that are available to USC Annenberg students," Alejandrino said. "I know this is the best option for what I want to do — work that is based in cultural context, attempting to understand popular culture and its relationship to the world around us."
Sasha Anawalt, director of the arts journalism program, notes that this fellowship is designed for students precisely like Alejandrino, who seek to advance and experiment in the field of journalism while straddling both the academic and professional worlds.
"The fellowship provides working arts journalists like Rosemarie with the amazing foundation to use and strengthen her social media and digital skills while answering some of the most pressing questions Rotten Tomatoes has about how to capture, magnify and spread people's interest in film. I can't wait to see what she achieves."
USC Annenberg faculty and students are looking forward to working with Rotten Tomatoes and explore new possibilities for film criticism, said journalism professor Amara Aguilar, who helped develop the fellowship's digital scope.
"This offers the perfect chance for us to put our heads together to dream up, produce and execute ways to expand and re-invent film criticism," she said.