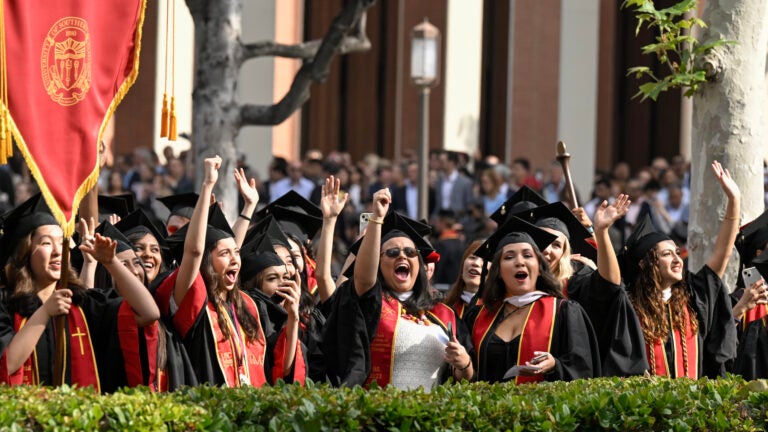 After years of uncertainty, members of the Class of 2023 finally enjoy their moment in the sun
COMMENCEMENT: Family and friends fill the University Park Campus as a record 20,000 degrees are conferred. It's a day to remember.
As trumpets blared across the University Park Campus on Friday morning, the clouds in an overcast Los Angeles sky parted to make way for the Southern California sun. The sea of black gowns and red sashes descended upon Alumni Memorial Park for USC's 140th commencement, and a sense of relief, accomplishment and pride joined the emerging sunshine: The Class of 2023 had made it.
It's a class that has seen its fair share of dark clouds during the past four years. A presidential election, civil unrest, war in Europe and a global pandemic have transpired since this group joined the Trojan Family in 2019.
"As I marvel at the distance we've traveled together, I'm reminded of the power of the unexpected, of nature's capricious turns and events outside our control, to alter our best-laid plans," USC President Carol L. Folt said to the crowd of students, faculty, staff and loved ones.
The 8:30 a.m. ceremony kicked off a day of celebrations for USC's Class of 2023, including more than 20 events for the university's individual schools. Some 70,000 people attended Friday's ceremonies to watch 20,000 degrees be conferred — a record for USC.
Folt has a special connection to this year's class, as she also started her USC journey in 2019.
"I was just as excited as you, filled with Trojan spirit, a bit nervous and raring to get going," Folt said.
Though the Class of 2023 has endured much since first stepping on campus, Folt made sure to highlight many accomplishments of the past four years. The world met numerous challenges with innovation, including the development of the COVID-19 vaccine, justice reform and the development of AI, with 90% of all digital data created in just the last two years. And the Trojan Family rose to overcome these challenges as well.
From student-athletes competing in empty stadiums, to students holding virtual dance classes for elementary school kids and recording messages and songs for Keck Medicine of USC front-line workers, Trojans adapted to ever-evolving changes with optimism and compassion.
"These unexpected times have in many ways been transformational for USC — and you all have been a crucial part of it," Folt said. "Those times prepare you for what's ahead. Discomfort with ideas and lack of certainty are critical to learning — turmoil and hardship often spur innovation."
Kevin Feige encourages Trojans to continue to adapt, create and say 'yes'
USC alumnus, president of Marvel Studios and honorary doctorate recipient Kevin Feige shared his own underdog story. A lifelong film fan, Feige grew up dreaming of attending USC and graduating from the USC School of Cinematic Arts. He accomplished the former, but the second proved harder to achieve: He was accepted into the USC Dornsife College of Letters, Arts and Sciences with an undecided major, but it took him six tries to get into the School of Cinematic Arts.
"Failure is never the end of the story," the 1995 USC graduate said. "The knowledge that you can weather any setback and emerge stronger will help you to navigate the ups and downs life can throw your way."
Feige — introduced with the Avengers theme song — relished his platform as a commencement speaker, not only for the honor but also as the next step in his USC journey. Feige said that he never attended his own commencement, so he made sure to invite his entire family to share the moment.
"This is the first time my parents have seen me in a USC graduation gown," Feige said as he pointed to his family. "One thing about waiting 30 years to do it is people like my boss and my wife and my kids could be here as well."
As someone who worked countless mundane jobs in Hollywood before his time at Marvel, Feige exhorted graduates not to be discouraged by failure — because that's how all good stories start.
"A good story always moves forward," Feige said. "Not getting your first choice might be the greatest thing to happen, because it's not about getting your first choice, but the right choice."
Lessons learned, perseverance and a fitting end at USC 2023 commencement
Valedictorian Isha Sanghvi addressed her own brushes with self-doubt and failure in her commencement speech. As a freshman, Sanghvi wanted to join an a capella group but was too scared to audition. Her roommate pushed her to give it a shot; with that encouragement, Sanghvi tried out for nearly every a capella group on campus — and didn't get into a single one.
"I may not have gotten into an a capella group, but I remember calling my mom a week after and saying, 'I have a really good feeling my roommates and I are going to be the best of friends,'" Sanghvi said. "I've come to find that college is about falling in love with your friends, and somewhere along the way, their confidence and support help us fall in love with ourselves."
Sanghvi stressed the importance of that "ecosystem of support."
"During the pandemic, when we didn't have that shared, physical space to call home, our relationships created spaces that transcended time zones, geography, boundaries," she said.
Those relationships helped Sanghvi and the rest of the Class of 2023 persevere and come out stronger, not just as graduates taking their next steps into adult life, but as people who can positively influence the lives of others.
"Beyond just the work we choose to do, I hope we also think about who we choose to be — the kind of friends and mentors we are for others," Sanghvi said. "May we all be the people waiting outside audition rooms, and may we never forget all of those who stood outside for us."