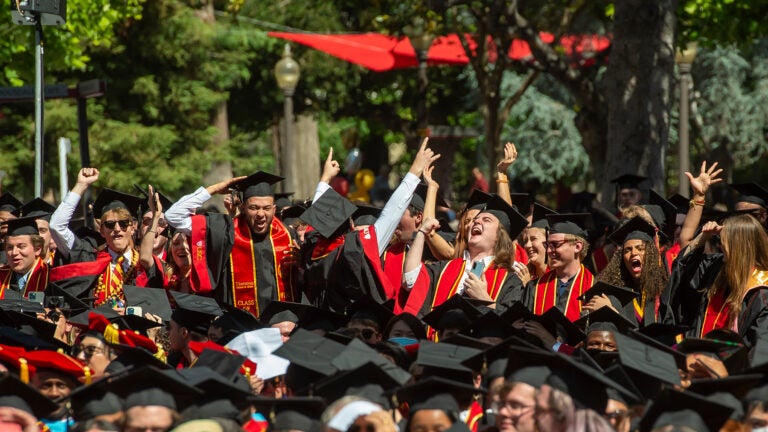 A return to normal and a proper sendoff: Class of 2022 is urged to live 'a life of purpose'
COMMENCEMENT 2022: A class tempered by the uncertainty of COVID-19 crosses a finish line during USC's 139th commencement ceremony — where a new passage awaits.
As doves soared across the sky above Alumni Park on Friday morning, thousands of new USC graduates tossed their caps in the air and a roar of applause arose from the new alumni, their friends and family gathered for USC's 139th commencement.
"We're here in this glorious place, taking part in a university's most historic pageant of celebration — graduation," USC President Carol L. Folt had said earlier in the ceremony. "And we're fully in person and we're proudly wearing our colors and marks of distinction.
"And most of all, we're all together after times none of us ever imagined."
The 8:30 a.m. ceremony kicked off a day of celebrations for USC's Class of 2022, including more than 20 events for the university's individual schools. About 70,000 people attended Friday's ceremonies to watch more than 19,000 degrees be conferred.
At USC 2022 commencement, a call to be stewards of 'our natural world'
After hosting a virtual commencement in 2020 and a socially distanced ceremony at the Los Angeles Memorial Coliseum in 2021 because of the COVID-19 pandemic, Folt led USC's traditional commencement. Tapping into her background as a biologist, she encouraged graduates to be stewards of "our natural world" and create a more sustainable future.
"Sustainability is all about our collective passage through this world," Folt said. "These days, I see it even more about our collective will, our will to sustain the wonders of our planet, for our children, our children's children and those who are yet to come."
She also told students that whatever their next steps are — whether they involve work with sustainability issues, social justice, educational inequality or health care access — they should always define their truth north and choose a path defined by purpose.
"Your USC education and the wonderful relationships you have formed here are very precious and will serve you brilliantly," Folt said. "You're not afraid of facing society's challenges — I have seen you embrace them with confidence and with optimism. And your faculty, staff, family and your friends … know you have the tools, the passion. You have the ability and the commitment to dive in and make a difference."
Olympian tells USC 2022 commencement about finding her voice
Olympian and USC alumna Allyson Felix delivered the commencement address, speaking about growing up as the daughter of a Trojan, the trials of her first few days as a student and how she felt at her commencement.
"When I was sitting in the seats where you guys are today, I was excited to pursue my passion — I wanted to win gold medals and to be the best," Felix said. "But what that led to was finding my purpose."
The most decorated women's track and field athlete in Olympic history also talked about her own experiences with sponsorships and how those sparked her mission to support women athletes. After going to four Olympic Games and racking up medals and records, Felix said the one thing she still wanted was a family. She married her longtime boyfriend and started a family.
But she worried about her sponsorships. "In track and field, getting pregnant has been called the kiss of death," Felix said.
Her contract with Nike was renegotiated to 60% less than she previously received. Felix then fought for maternity protection, which Nike gave her, but she wondered whether that was a deal that every athlete would be given.
"I was staring at a contract that provided me with exactly what I was asking for, but in a way that would only benefit me and not all of the women who came after me," Felix said. "I thought about my daughter and the world I wanted her to live in."
Felix eventually wrote an op-ed for The New York Times detailing her experience, and weeks later, Nike announced it would change its maternity policy. Felix went on to be sponsored by the female-led and female-focused Athleta, and eventually she and her brother started Saysh, a lifestyle brand for women.
"There are times when you'll ask for change, and there are times when you'll have to create it," Felix said. "Each one of us can create change. You don't have to be an Olympian to do so or have life all figured out. We all can start exactly where we are."
A moving reminder of events overseas
Each of the day's addresses commented on courage, including that of valedictorian Adam Karelin.
Born in Israel to a Ukrainian-Jewish family, Karelin used his platform to call attention to the war in Ukraine. Rather than lecturing about what must be done, Karelin left his classmates and the Trojan Family with a poem about the day Russia invaded Ukraine.
After reciting the last line, he gave his classmates a small yet powerful piece of advice: "May we all find the strength to face evil with light."