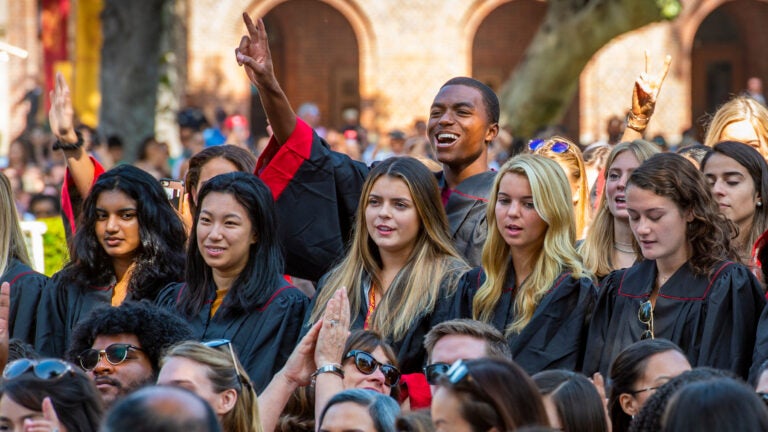 More than 8,800 offered fall admission to USC, from historically large pool of applicants
Diversity and academic achievement distinguish the newest Trojans, including a record number of first-generation college students.
This week, 8,804 outstanding students are being welcomed to USC. The university selected them after carefully examining an unprecedented number of applications.
"They showed resilience, determination and optimism throughout," Timothy Brunold, USC's dean of admission. "We're honored to welcome these remarkable students to our campus."
The challenge of selecting students for admission was made even more difficult as the number of high-achieving, first-year students seeking admission rose to 70,971 — a historic high that is 7% more than the previous mark (set in 2019) and 20% more than last year. The resulting admission rate is 12%.
Among those offered a spot at USC, a record-high 1,760 (20%) are first-generation college students, up 3 percentage points from last year. The percentage of students from ethnic groups traditionally underrepresented in higher education, including 18% Latino and 8% Black students, increased significantly as well.
USC 2021 admissions: Internationally diverse yet L.A. focused
Average GPA held steady at an impressive 3.88 unweighted, with more than a third earning straight A's throughout high school. Due to the pandemic, students were not required to submit standardized test scores with their applications during this admissions cycle. Earlier this year, USC announced plans to extend this test-optional approach for another two years.
International student representation matched last year's 14%, with admits offered to students in 88 different countries. Sixty percent of admitted students were from out of state, and all 50 states, the District of Columbia and three U.S. territories are represented.
2021 is shaping up as another big year for USC's signature college prep program, the Leslie and William McMorrow Neighborhood Academic Initiative. Offers of admission went to 62 of its graduating seniors — a jump of 50% compared to 2020. Those students are graduating from Wilson and Lincoln high schools in the city's Eastside, along with Foshay Learning Center near USC's University Park Campus.
Foshay, a top performer with USC, received more admission offers than any other high school. Of the 11 high schools that received the highest number of offers, 10 are public.
USC's Bovard Scholars program, which empowers outstanding high school students with financial need to pursue admission at top-tier universities at no cost, also made a strong showing with 44 offers.
---
Note: As enrollment commitments are due May 1, the makeup of the enrolled class may differ.