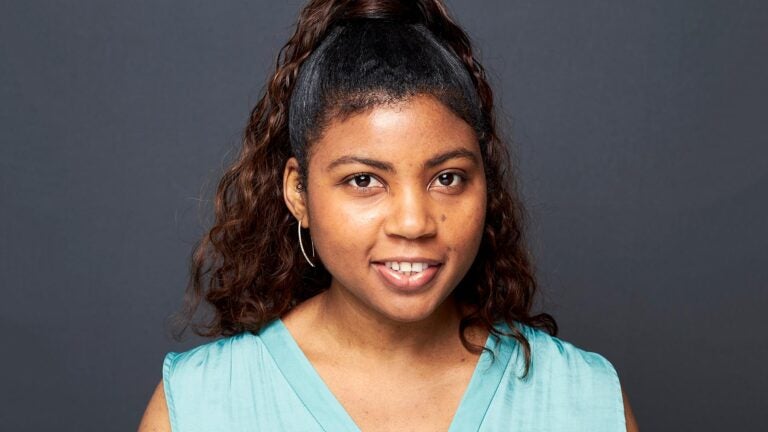 Her father's mistakes don't define this Trojan
With help from the student support group Unchained Scholars, Monique Bingham writes a narrative that's very different from that of her father: He spent much of his life behind bars.
Monique Bingham only really knew her father from behind bars.
For much of her life, she didn't talk about her imprisoned father or go into detail about her family: She didn't think anyone would understand, especially at USC. But to her surprise, she met a group of people who knew exactly where she was coming from.
The group, Unchained Scholars, showed her that she did not have to hide her story or be defined by the mistakes of her father. Because of the group, Bingham found solace through education and community, eventually earning her master's in social work from the USC Suzanne Dworak-Peck School of Social Work in August.
USC social work alum helps others with incarcerated parents
Now a mental health therapist with the Anti-Recidivism Coalition – a California-based non-profit that provides a support and advocacy network for and by formerly incarcerated individuals – she works with families who are in a similar position to the one in which she grew up.
I am a firm believer in redemption through the power of human connection and loving kindness as an alternative to punishment.

Monique Bingham,
former Unchained Scholars chair
"I am a firm believer in redemption through the power of human connection and loving kindness as an alternative to punishment," Bingham said.
The Unchained Scholars is a group of formerly incarcerated social work master's and doctoral students working with ally members to dismantle the barriers faced by people impacted by the criminal punishment system. Bingham is one of the few members who was not personally incarcerated, but that most certainly doesn't mean she wasn't affected by the same system.
Growing up in South L.A., Bingham was 4 years old when her father was sent to prison, leaving her and her siblings to be raised by their mother and grandmother. With her father incarcerated in Northern California, for 20 years their relationship consisted of a few visits and annual birthday cards he would send until he was released in 2014.
"I honestly don't think there's any way that I can explain what it was like to grow up without that father-daughter relationship, especially because he came back," Bingham said. "When someone dies, it's final, but when someone comes back from being in prison for so long — I'm honestly still processing it."
Between processing her father's absence and return, as well as financial strains within the family, pursuing her undergraduate degree became an 8-year endeavor. Eventually, she graduated from California State University, Northridge, in 2018 and began her Master of Social Work studies at USC in 2019, where she lost her grandfather and then grandmother. Unchained Scholars helped her push through, and eventually she took on a leadership role as chair of the group.
"It's really a place that is nonjudgmental, where people come out and share their stories," Bingham said. "I'm grateful for a place where people feel safe enough to share those things that are less glamorous and make them so encouraging."
For Susan Hess, a faculty adviser to Unchained Scholars, Bingham's lived experience has fueled her desire to provide support and resources to individuals, families and communities impacted by the criminal punishment system.
USC social work alum 'leads with her heartbeat'
"As the Unchained Scholar chair, she consistently ensured that [other] Unchained Scholars had resources as many struggled with mental health, addiction, racism, carceral trauma, historical trauma and generational trauma," said Hess, who is also a clinical associate professor of field education at the social work school.
"Monique is a relational organizer who leads with her heartbeat."
Now, through the Anti-Recidivism Coalition, she can take her experiences and those of her fellow Unchained Scholars and serve as an agent of change for anyone seeking a new life through education:
"It's definitely something that I wanted to do, and I'm just really grateful that I get this opportunity because it's with a population that I'm passionate about working with, those who have experiences with incarceration."