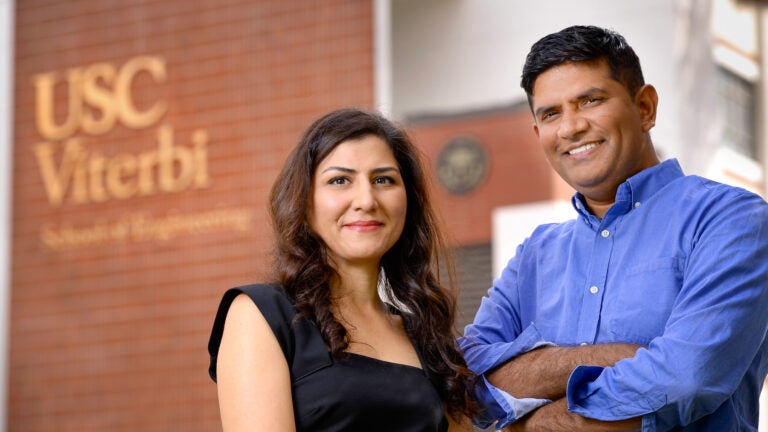 Engineering professors among the Popular Science 'Brilliant 10'
Honorees are 'well on their way to making the world a safer, smarter place' for their research of wireless networks and brain-machine interfaces
Bhaskar Krishnamachari and Maryam Shanechi of the USC Viterbi School of Engineering are included among the Popular Science "Brilliant 10" for their contributions to the areas of wireless networks and brain-machine interfaces, respectively.
"At Popular Science, we believe many of the world's most challenging problems can be solved through brilliant science and engineering," said Executive Editor Jennifer Bogo. "Our 10 honorees are at the bleeding edge of their fields and are already well on their way to making the world a better, safer, smarter place."
This is not the first time that USC Viterbi faculty members have appeared on the list. In 2013, Professor Andrea Armani of the Mork Family Department of Chemical Engineering and Material Science was honored for her research in materials, optics, photonics and biodetection.
Wireless information
Krishnamachari is developing techniques to reduce the cost of wirelessly sending information to cars and other vehicles. His work is highly relevant since nearly all car manufacturers currently offer connectivity to their cars for various information services, such as General Motors' On Star and Ford's Sync, and new cars such as Tesla's Model S, which can be upgraded using wireless software updates.
His research focuses on a completely new paradigm of vehicle-to-vehicle communications in which information is exchanged between cars. The more cars are on the network, the quicker information will transfer. This is the exact opposite of cellular networks, where information transfers become slower as the number of users rises.
"While I feel thrilled and honored, I credit this recognition to the amazing Ph.D. students I have the privilege to work with in the Autonomous Networks Research Group at USC Viterbi," said Krishnamachari, who in 2011 was named one of "the world's top 35 innovators under 35" by Technology Review at the Massachusetts Institute of Technology.
Neurological disorders
Shanechi, director of the Neural Systems Engineering and Information Processing Laboratory and holder of the Viterbi Early Career Chair in Electrical Engineering, conducts research that straddles the line between engineering and neuroscience. She, too, was named to the Technology Review list of top global innovators in 2014. Shanechi works at the interface of control theory, statistical signal processing and neuroscience to develop brain-machine interfaces (BMI) that address various neurological injuries or disorders such as paralysis or depression.
While prior BMIs for restoration of movement have largely controlled external prosthetics, she has developed the first BMI that allows paralyzed subjects to move a native arm in two dimensions using their thoughts alone. She has also developed BMIs that allow subjects to control a prosthetic significantly faster than the state-of-the-art systems. This work earned Shanechi the NSF Career Award in February, which Krishnamachari received in 2004.
"My lab focuses on developing brain-machine interfaces that address various neurological disorders," Shanechi said. "These have the potential, for example, to one day restore movement to paralyzed patients or to help patients with depression."
It is a really exciting time for engineers to help understand the brain's mysteries.

Maryam Shanechi
Shanechi is also developing the next generation of BMI systems that offer the possibility of controlling neuropsychiatric disorders, such as depression and PTSD, as part of a DARPA program and the Obama BRAIN initiative. Her system would electrically stimulate the brain to revolutionize treatments for these disorders, which are currently approached with psychotherapy and medication.
"I am thrilled to be included in this year's list," Shanechi said. "It is a really exciting time for engineers to help understand the brain's mysteries and develop neurotechnology to treat the brain's disorders."