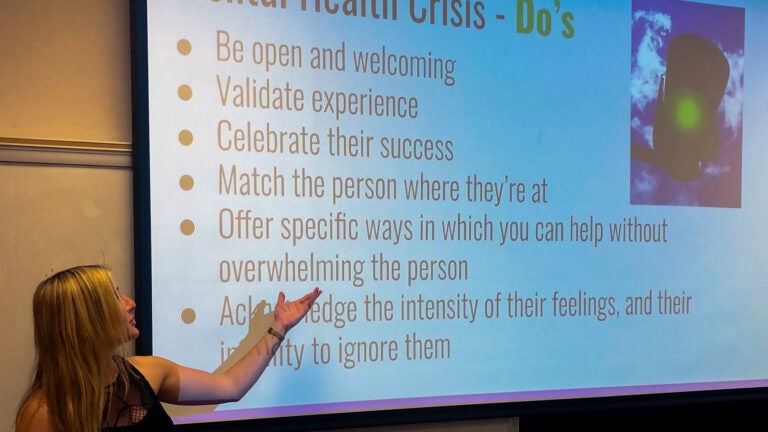 Student group now offers peer support and training for all Trojans
The TrojanSupport peer-to-peer group is now in its second year and has expanded to include graduate students.
About a dozen USC students recently spent seven hours of a Saturday absorbing information on college mental health, learning how to recognize distress signs in a peer and memorizing the breadth of USC support resources. The students weren't there for any academic or professional purpose; they simply wanted to be better at supporting their fellow Trojans.
TrojanSupport, a student-led organization formed to give students nonprofessional peer support, is in its second year at USC and growing. And this semester, it has expanded its reach to include USC's largest student population — graduate students.
The organization was created after its founder, USC neuroscience senior Armand Amini, tried to help a friend who was struggling with mental health. The friend was receiving professional therapy but sought the immediacy of confiding in a peer.
At the end of the day, our goal is to refer people to the vast array of mental health resources already available on campus.

Armand Amini
Amini tried to fill that role but soon recognized he could benefit from a primer on mental health and campus resources to better help his friend. Since then, TrojanSupport has amassed about 40 student volunteers who undergo "mental health first aid training" in consultation with USC Student Health and make themselves available for chats with any students who may be stressed, distressed or just having a rough week.
While training includes an overview of college mental health issues and a boot camp of sorts on campus resources, Amini emphasizes that his team can in no way replace the services of a clinical professional. They are just students, after all, willing to act as non-judgmental sounding boards and allies for other students.
"We're just listening, and we'll recommend any technique we learned in our training to cope with anxiety or depression and give personal recommendations," Amini said, adding anyone can book an appointment with a volunteer of their choice. "At the end of the day, our goal is to refer people to the vast array of mental health resources already available on campus."
The need for peer-to-peer-support
Gulnaz Kiper, a social psychology doctoral student, calls TrojanSupport a "peer-to-peer support system." After learning about the organization, Kiper immediately reached out to Amini about bringing it to USC graduate students.
"Graduate programs are difficult, time-consuming and not conducive to a culture of well-being, and I saw that my peers — even those training to be counselors — were experiencing burnout, anxiety, isolation and imposter syndrome," Kiper said. "And there aren't as many eyes on us as on undergraduates. It's like, you're adults now. You're in grad school, so you're supposed to be stressed. Deal with it."
Kiper spent the last summer and fall recruiting and training TrojanSupport's new graduate student volunteers and says she's proud to now offer peer support to all advanced degree seekers at USC: "This feels so meaningful to me, and it energizes me to be doing something for my community."
TrojanSupport: "We're always here for you"
Amini agrees that the students who are part of TrojanSupport are uniquely passionate about helping others. He hopes that, as the organization expands, more USC students will seek their support.
His direct appeal to his peers at USC: "If you want to talk to someone your own age who can relate to what you're going through and you're not ready to go to a professional, please reach out to us. We're always here for you."
It's our responsibility as a community to be there for each other in times of need.

Amini
TrojanSupport is also now offering a one-hour peer-to-peer training for any USC students who want to learn how to support their friends, whether or not they participate in the student organization. Training includes mental health crisis do's and don'ts, key warning signs, and practice scenarios to sharpen their peer support skills, Amini said.
"We don't have to be experts, but if we are better informed as a community, there will always be someone in your circle who knows what to do," he said. "It's our responsibility as a community to be there for each other in times of need."
For more information, visit the TrojanSupport website.