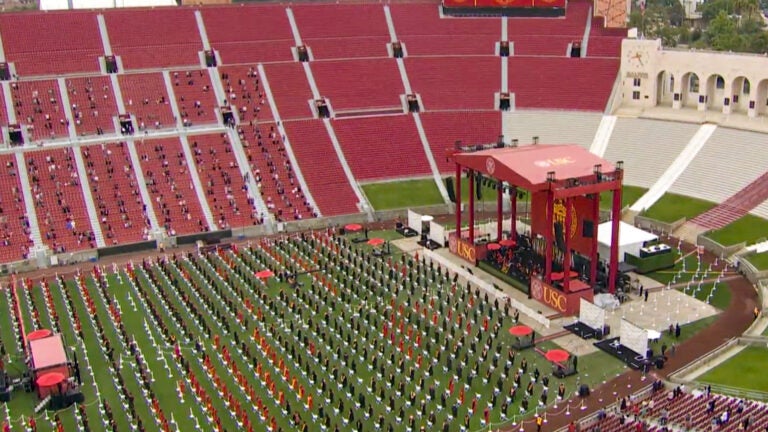 The top USC stories of 2021 that you couldn't help but share
Year in review: From a much-awaited series of commencements for two classes to a special homecoming and more, check out some of this year's most popular stories.
It was the second "year like no other" in a row, but at least 2021 started to look a little more normal. Take a look at some of the most popular USC News stories you were talking about all year.
---
? Finally, commencement
"Whatever its impact, COVID didn't derail or defeat you, and it certainly didn't define you. You wouldn't let it, and we wouldn't either."
— Carol L. Folt, USC president
A commencement two years in the making begins: Classes of 2020 and 2021 walk the Coliseum stage
---
? How housing might change
"I think there are going to be fundamental changes, almost infrastructural changes, in the way we live and work because of COVID and because of the way we've been exposed to working at home."
— John Dutton, USC School of Architecture
---
? Another diverse group
"They showed resilience, determination and optimism throughout. We're honored to welcome these remarkable students to our campus."
— Timothy Brunold, USC dean of admission
More than 8,800 offered fall admission to USC, from historically large pool of applicants
---
? Memories set to music
"This Homecoming celebration for the Trojan Marching Band alumni is about friendships forged years ago. For one brief weekend, we're all back in the band and all friends again. The cast of characters who played such a prominent role in my college experience are all the same, though a little grayer and a bit more wrinkled."
— Christian Gunning, USC vice president for communication and Trojan Marching Band alum
For Trojan Marching Band alum, this halftime feels like the first time
---
? COVID vaccinations in the community
"It's our privilege to help in this effort and actively partner with the city and [L.A. Mayor Eric] Garcetti to fight this virus. This center will help bring vaccines into communities most impacted by COVID-19."
— Carol L. Folt, USC president
A shot at equity: USC vaccination site aims to expand access to immunization
---
? Entertainment tomorrow
"Ultimately, more people will end up watching movies on Netflix at home because we have gotten used to that."
— Wendy Wood, USC Dornsife College of Letters, Arts and Sciences
Predicting the future of the entertainment industry after COVID
---
? New places for diverse communities
Sometimes you need a space to relax and call your own. That's part of the thinking behind the remodeled USC cultural centers and new student lounges that opened on the University Park Campus this fall.
See where many USC students will hang out — and find a place to belong — this fall
---
? Your favorite spots
"I was at USC in the late 1950s. Mudd Hall's library was my spot: quiet, serene, smogless."
– Jim Creber, Class of 1961
---
? New faces in important positions
Finally, meet some of the new leaders that joined the Trojan Family in 2021:
Kyle Henley to join USC as senior vice president of communications
Emily Roxworthy, champion of diversity and interactive theater, named dean of USC School of Dramatic Arts
Thanassis Rikakis, educational innovator, named dean of USC Iovine and Young Academy
Dana Goldman takes on deanship at USC Price School of Public Policy
https://news.usc.edu/192895/marty-sargeant-ceo-keck-hospital-usc-norris-cancer-hospital/
Carolyn C. Meltzer named dean of Keck School of Medicine of USC
---
USC 2021 | A LOOK BACK — See more of our year-end package: