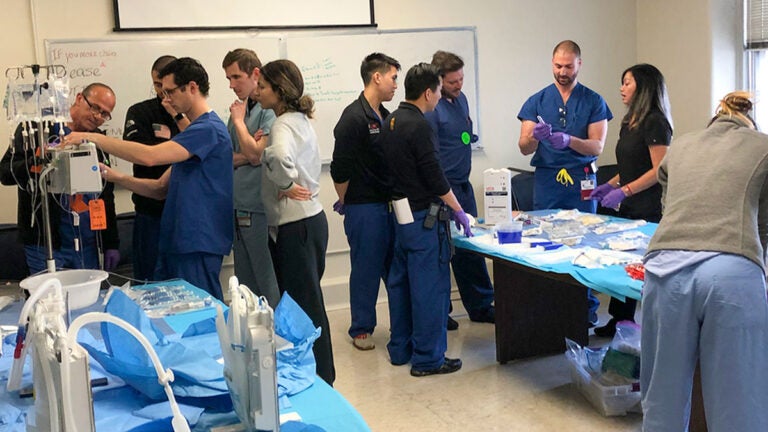 Surgeons-in-training learn important skills to back up key allies during the coronavirus pandemic — nurses
Keck School of Medicine of USC surgical residents have embraced learning nursing skills. With more caregivers knowing how to draw blood and insert IV lines, medical teams will have the flexibility to better care for growing numbers of COVID-19 patients.
With hospital teams nationwide bracing for a flood of sick patients due to COVID-19, some USC physicians recently learned vital skills usually reserved for their allies in care: nurses.
Trainers from Los Angeles County+USC Medical Center held a series of workshops on critical care nursing for surgical residents on March 20. Surgical residents are doctors who completed medical school and are undergoing specialized training in surgery.
Learning nursing skills — like putting in intravenous lines — supplements the physicians' normal training, explained Meghan R. Lewis, associate director of the LAC+USC Surgical Intensive Care Unit.
"This will allow them to augment the critical care teams as we deal with the increased demand from this pandemic," she said. "We have a typical workflow and work patterns, but with the level of need we anticipate, there's a lot of room for stepping in, especially with an overlap in skills. It's time to look at things differently."
The training goes back to some observations made by Keck Medicine of USC's Kenji Inaba, chief of the Department of Surgery's trauma and critical care surgery division. When surgical residents had to fill in for overburdened critical care nurses, Inaba said, "none of them, when we checked in, could hang an IV bag or adjust a ventilator."
Lewis quickly designed a curriculum to teach the surgeons-in-training.
Surgical residents adapt fast to nursing duties
Many outside of health care believe that doctors' and nurses' knowledge has a lot of overlap. That's true to an extent, but surgeons and critical care nurses each have different, highly specialized training, said Maura Sullivan, associate dean of simulation education in health sciences.
"They're all educated in medicine and patient care, but surgeons and nurses have roles that complement each other, so they have very different skill sets," she said. "Surgeons can't just jump into a nurse's role without some additional training."
Sullivan, an experienced critical care nurse, was impressed with the surgical residents' adaptability.
"Our surgical residents are all smart individuals who just needed the training," she said. "Their attitudes were amazing. Everyone wants to help."
Surgeons can't just jump into a nurse's role without some additional training.

Maura Sullivan
Surgical residents learned skills such as performing blood draws, administering medication and handling the machinery of the ICU.
"We give orders for things like titrating medicine and ventilator settings, but we don't typically carry them out," said general surgery chief resident Christopher Foran. "This has been eye-opening for the residents. It has helped us all understand the nuances of ICU nursing care and gain a new appreciation of the work that critical care nurses do."
Nursing training can help residents beyond COVID-19
When the health care teams realized the residents could benefit from training, caregivers across Keck Hospital of USC, LAC+USC and the Keck School of Medicine of USC quickly put together the training sessions. Stephen Sener, LAC+USC's chief of surgery, and Dan Donoho, a chief resident in neurosurgery, came up with the idea on March 17. They spoke with Lewis and Foran the next day, and the workshop was ready to go at 10 a.m. March 20.
Both Lewis and Foran had praise for the nurses who ran the training: LCDR Lorelie Flinn, Nofal Kahwaji and Ramona Paolim. They also credited staff at the surgery department's Surgical Skills Simulation and Education Center — Mike Minneti, Angela Martinez and Maura Sullivan — for putting the event together so quickly.
Kahwaji was pleased with the workshop. "This is a great example of the two disciplines taking their collaboration to a higher level. These surgical residents are taking a broader approach and stepping up to support the nursing staff if the demand requires it. I was delighted to see their level of engagement and eagerness to get this hands-on training. I hope this collaboration continues and spreads to other departments."
The physicians agreed. "We feel much better prepared," Foran said. "And this kind of training helps us stay adaptable. It's easy to get into a one-track mind during your residency. There is a lot of value in going beyond what we have been doing every day."
Lewis, an experienced acute care surgeon, agreed that this out-of-the-ordinary training would benefit the surgical residents beyond COVID-19. "This is an unparalleled experience," she said. "They will be more prepared for disaster-type scenarios for the rest of their careers."
Resident training inspires other medical schools
Foran is proud of how fellow physicians embraced it. "This has brought out the best in our residents," he said. "Everyone raised their hands when we asked who wanted to do this. This is one more indicator that we have one of the best residency classes in the nation."
This is one more indicator that we have one of the best residency classes in the nation.

Christopher Foran
Lewis noted that the participants are setting an example across departments. "We're hearing from residents and medical students everywhere that want to do this," she said. "This is about coming together to increase our capacity to care."
Other U.S. medical schools want to follow suit. Within days of the workshop, a resident at the University of Texas Southwestern Medical Center had contacted Inaba to potentially implement the training at the Dallas-based campus.