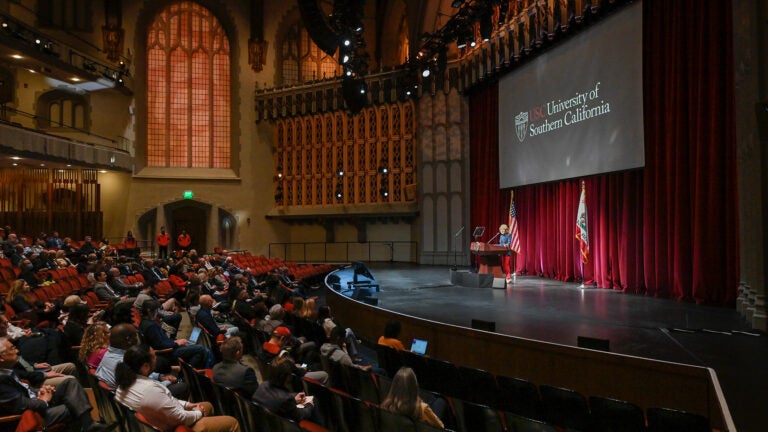 State of the University: President Carol L. Folt extols the breadth of USC's excellence
"Our work together matters more than it ever has, and I'm honored to be your president," she says in the first of her two State of the University addresses.
USC President Carol L. Folt opened her annual State of the University address on Tuesday morning with a nod toward the Academy Award-winning film Everything Everywhere All at Once. That title, she said, perfectly captured the "tenor of our times," as new technologies, shifting demographics, the changing nature of work and pioneering discoveries in STEM and other fields collide on college campuses.
"One of our countless privileges is that we're tasked to help our students and society transform this frenzy into work that improves humanity and helps build lives of purpose," Folt said, speaking to the crowd gathered in Bovard Auditorium on the University Park Campus. "Our work together matters more than it ever has, and I'm honored to be your president."
2022-2023: A year of purpose and push
Folt went on to praise the diversity and ambition of USC's students, including last week's round of undergraduate admissions to the "largest and strongest ever" cohort of students. She said that USC's first-ever "student commitment" highlights the kind of campus she hopes these students will be entering in the fall semester.
Folt described the commitment — which was shaped by feedback from thousands of Trojans, including students who served on the advisory team — as a blueprint for "living USC's unifying values" of respect, integrity and being responsible neighbors. Other developments in the past academic year, including a revamped Student Judicial System and two new Accountability Offices, promise to create new modes of operation that are anchored in USC's shared values.
The president also took a moment to celebrate new faculty and staff appointments, including USC Department of Public Safety Chief Lauretta Hill, Senior Vice President for University Advancement Scott Rabenold, incoming USC Thornton School of Music Dean Jason King and USC's inaugural vice provost for the arts, Professor Josh Kun of the USC Annenberg School for Communication and Journalism.
She stressed that it is the combination of funding, research, innovation, collaboration and individual effort that makes USC stand out.
(Story continues below video)
"It's national leadership, community service, new businesses and technologies that — together with the success of our graduates — drive USC's reputation for excellence and really extends our impact," Folt said.
Referencing that national leadership, she described researchers at the USC Viterbi School of Engineering as "Avengers for the social good" for using a National Science Foundation grant to develop personalized prototype interfaces — enhanced by artificial intelligence — to make coding accessible for those with disabilities.
She also highlighted the new Center for Generative AI and Society, a research center exploring AI's impact on culture, education, media and society, as well as USC's many long-lasting collaborations with K-12 schools, the local public health system and Los Angeles businesses. This past year, she noted, saw the opening of the university's eighth Head Start Center, and the Keck School of Medicine of USC's Street Medicine teams have become a national example of providing health care to the unhoused.
A blueprint for action
Folt encouraged Trojans to look back at the university's mission statement for proof that USC is well-positioned to embrace change and stay relevant in a fast-changing world. "You see this in our student pledge and new SJACS [Student Judicial Affairs and Community Standards] rules, in our commitment to workplace flexibility, our work on Title IX, our expansion of mental health services and so much more," Folt said. "As ever, realizing our mission depends on us having a powerful contemporary vision — a blueprint for action."
For the president, that looks like making USC the international model for innovation in collaborative learning and the top choice for faculty, students and staff "who seek purpose-driven work and lives."
"With our breadth and our excellence, we can rewrite the roadmap for higher education in so many ways," Folt said. "We can transform professions, make belonging and mattering in our community real and partner with our communities and neighbors to improve health, fairness and prosperity in ways that other cities can then emulate."
Bold strategies for missions impossible
Folt used the last minutes of her address to update attendees on the status of the university's ambitious moonshots, opportunities for national leadership and cross-campus collaboration.
USC Competes: Under USC Competes — the university's affordability and recruitment initiative — the student financial aid pool is expected to grow by another 7%. The university continues to enroll more Pell Grant-eligible undergraduates than most private universities, and Folt promised a stronger focus on increasing support for graduate programs and financial aid for transfer students, an issue dear to her as a former community college and transfer student herself.
USC 3.0 — The transformation of USC Health Sciences: Folt highlighted the alignment of USC's health-related schools under the leadership of Senior Vice President of Health Affairs Steven Shapiro.
She also described the ambitious reimagining of a $230 million gift from physicist, inventor and former USC Trustee Alfred E. Mann to endow the newly named USC Alfred E. Mann School of Pharmacy and Pharmaceutical Sciences and the Alfred E. Mann Department of Biomedical Engineering at USC Viterbi.
Reimagine Athletics: With the university's move to the Big Ten Conference next year, Folt noted that she looks forward to USC having a strong voice in "the national dialogue on sports that is taking place right now." Folt also mentioned the renaming of the main track field to Allyson Felix Field, after the proud USC Rossier School of Education alum and most decorated U.S. track and field athlete in Olympics history. She praised the hiring of coaches such as Lincoln Riley of USC football and the inspiring Heisman Trophy win of quarterback Caleb Williams.
Folt briefly mentioned additional moonshots that are still developing, including a "10-year, billion dollar-plus initiative to accelerate advanced computing at USC," and the sustainability commitment Assignment: Earth, a framework for a greener campus.
Overall, Folt stressed that USC and its students, faculty and staff are well-prepared to lead in a fast-paced, ever-changing future.
"Our nation needs education, research and health care institutions with the size, the excellence, the flexibility and culture of collaboration that is needed to drive real change in the face of such heavy turbulence," Folt said. "Not only is USC uniquely positioned to address these tectonic shifts — we're primed to expand our reach in ways that are important to humanity's future."