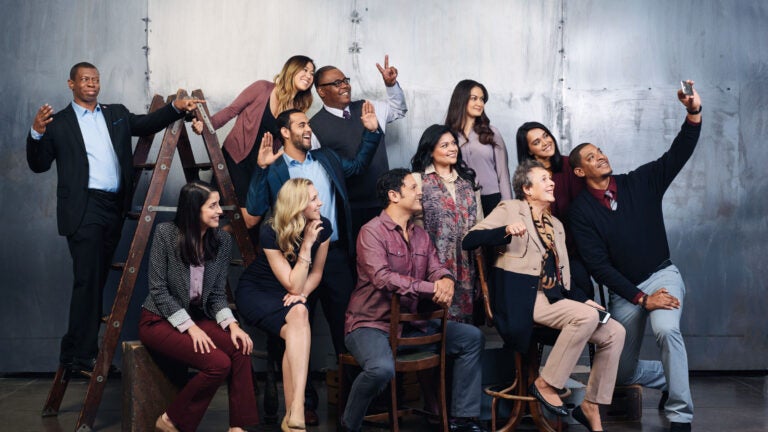 Meet the Social Work Students
It's a social work selfie to remember.
PHOTO BY CODY PICKENS
In the Spring 2017 issue of USC Trojan Family Magazine, we featured a behind-the-scenes snapshot taken during the cover photo shoot with USC Trustee Suzanne Dworak-Peck. Excited to meet their school's namesake, students from the USC Suzanne Dworak-Peck School of Social Work were happy to take a few selfies.
Meet the Students
Back row, left to right:
Will Hill, MSW student, Adults and Healthy Aging: Veteran Mental Health Counseling
Alison Yee, MSW student, Community Organizing and Business Innovation
Eric Woolridge, MSW student, Military and Veterans
Crystal Arellano, dual-degree masters student: MSW with a health concentration; MPH, Health Education and Promotion
Sumala Haque, dual-degree masters student: MSW with a health concentration; MPH, Health Education and Promotion
Middle row, left to right:
Anil Arora, MSW student, Children, Youth and Family: Veterans concentration
Katherine Lopez, MSW student, Children, Youth and Family
Front row, left to right:
Jenna Rumberger, MSW student, Adults and Healthy Aging: Medical Social Work and Homelessness
Chelsea Bowers, MSW student, Community Organizing and Business Innovation
Alonso Fuentes, MSW student, Children, Youth and Family
USC Trustee Suzanne Dworak-Peck
John Beverly (holding the phone), MSW student, Adults and Healthy Aging: Veteran Mental Health Counseling