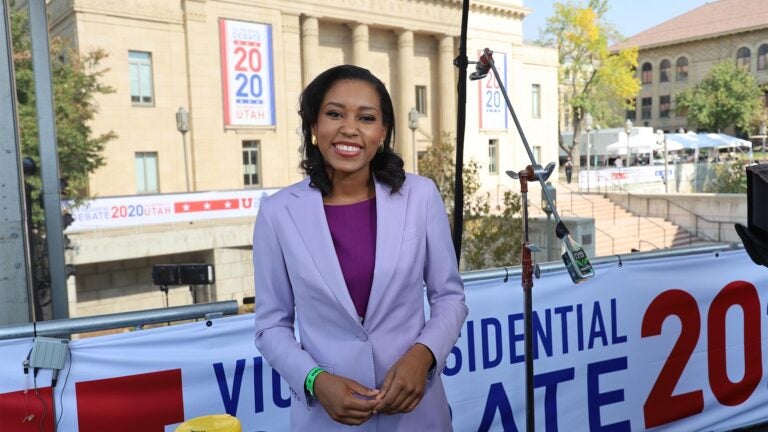 One Trojan's journey from USC Annenberg to D.C. correspondent for ABC News
ABC News congressional correspondent Rachel Scott is using skills gained at USC to make a name for herself — and make a difference — in Washington.
Rachel Scott reached a career milestone last summer that only a select few journalists ever attain: For the first time as an official White House correspondent, she asked a direct question of the president of the United States.
The scene was an impromptu news conference in August at President Donald Trump's Bedminster, N.J., golf club, Scott — a USC Annenberg School for Communication and Journalism alum who had been named an ABC News White House correspondent a few weeks earlier — asked the president to comment on what date Americans would see the COVID-19 relief he was promising to provide by executive order.
"Very soon, they're going to see it very soon," Trump responded.
"'Very soon?' Thirty million Americans are out of work, sir," pressed Scott. The president moved on to other questions.
Scott, who last month was named the network's congressional correspondent, is quickly becoming a fixture on ABC News programs like Good Morning America and World News Tonight with David Muir and on the network's digital platforms as well. And if her life and career have taught her anything, it's that she has a responsibility to ask tough questions of those in power.
"We're there on behalf of the American people," said the Southern California native. "There's such value in not only having a seat inside that press briefing room and being able to ask the president questions but also to be out on the other side of the White House gates, talking to Americans who are being affected by the economic turmoil, by the pandemic, by the racial strife in America."
USC alum's family inspired her journalism career
Scott credits her father, a police officer with the Los Angeles Police Department, for sparking her interest in journalism.
"He is such an avid consumer of news," she said. "Sundays in my household were spent watching 60 Minutes and the nightly news and getting pop quizzes on what was happening, not only in America but internationally."
I always wanted to learn more about civil rights, about communities that were fighting for equality.

Rachel Scott
Her grandparents also inspired her to learn more about history and how it's told.
"My grandmother participated in the March on Washington, so I grew up hearing stories about civil rights," Scott said. "My grandfather was the son of farmers; his grandparents were the last generation of my family born into slavery. For so long, I heard so many stories from him about spaces and places that he could not exist in because he was a Black man in America. I always wanted to learn more about civil rights, about communities that were fighting for equality — and to be able to pose questions about those issues to people that are in power. That's how I realized that I wanted to be a journalist."
Growing up in Los Angeles, Scott zeroed in on USC Annenberg as the place where she wanted to develop her skills as a reporter and storyteller.
"At Annenberg, you learn how to do everything, every single skillset," said Scott, who earned a bachelor's degree in journalism in 2015. "I remember being in front of the camera, anchoring, going out and shooting my own stories, setting up the tripod as a one-man band, coming back and writing a story for the online digital version, doing a voiceover for radio. All those skillsets are easily transferable when you make your way into a newsroom."
Rachel Scott works her way up to ABC News congressional correspondent
Scott had an opportunity to embark on her newsroom journey when, during her senior year, James Goldston, president of ABC News, came into the USC Annenberg's Media Center on a tour with USC Annenberg Dean Willow Bay while Scott was working there. At the end of the tour, she asked him about an entry-level job.
"Having the opportunity to directly pitch yourself to the president of a news organization — those opportunities are rare for student journalists," Scott said. "Annenberg gives you that face-to-face time with movers and shakers, with innovators, with leaders in this industry."
In this case, the connection paid off for Scott — but her early duties as a production associate in New York City were hardly glamorous.
"I made the copies. I made the coffee," she said. "During the 2016 election cycle, I was making briefing books and printing cards for anchors, ordering lunch and dinner, helping out in the control room and making graphics."
Annenberg gives you that face-to-face time with movers and shakers, with innovators, with leaders in this industry.

Rachel Scott
Knowing that she would need to get on-camera experience, she volunteered to work weekends as an on-air reporter at an ABC affiliate in Connecticut. She worked Monday through Friday as a producer for GMA Digital, then commuted by train to New Haven and back every weekend. "That's the hunger and the drive that you get from being an Annenberg grad: to constantly want to do better and learn as much as you can," she said.
That drive earned her a position as a multiplatform reporter at the network itself, covering the 2018 midterm elections, Hurricane Irma and the tornadoes that struck Alabama in 2019. In 2020, she covered the nationwide protests against police brutality after the killing of George Floyd, as well as the COVID-19 pandemic and the presidential campaign.
Before moving on to the congressional beat, Scott noted a special civic duty as a working journalist covering the presidency.
"It is remarkable for me every day that I, as a Black woman, have a press badge to report from a White House that was built by slaves," she said. "To be in that briefing room to be able to pose questions for the American people is a responsibility that I don't take lightly."
---
An extended version of this story appears on the USC Annenberg website.