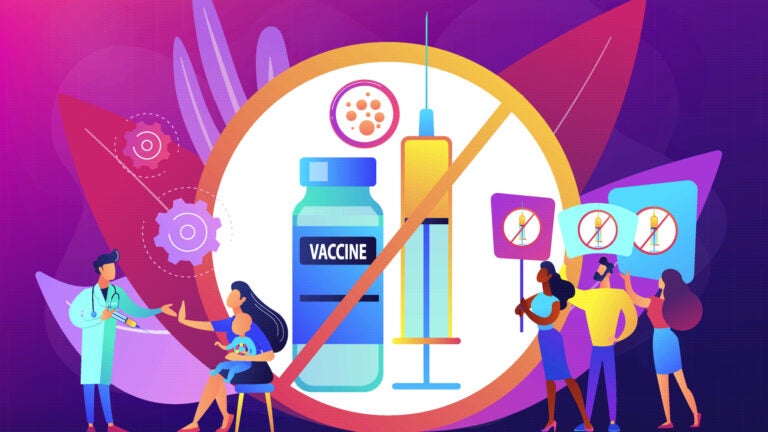 The latest public health challenge: getting more Americans vaccinated
About 40% of eligible Americans ages 12 and up remain unvaccinated for COVID-19, according to the CDC. USC researchers explain who the unvaccinated might be, as well as the challenges in persuading people to get their shots.
Social media conversations about the rise in COVID delta cases are full of assumptions about the 50% of Americans who are not yet fully vaccinated for COVID-19. USC researchers have been studying who they are, as well as the various reasons that are holding them back from vaccinations.
"We are entering a new phase of the pandemic, and delta is the new game. It is remarkably more infectious and it's winning the race against public health protection at this time because it's coming faster than what we've seen before," said Paula Cannon, professor of molecular microbiology and immunology at the Keck School of Medicine of USC. "Until more people are vaccinated, we will remain at risk of new variants like this emerging that are more difficult to control."
Forty-one percent of American Indians — their communities devastated by the first waves of COVID — have been vaccinated, followed by an estimated 38% of Asian Americans, 34% of whites, 32% of Latinos and 26% of Black Americans, according to data from the Centers for Disease Control and Prevention. Similar differences in vaccination rates by ethnicity appear locally in Los Angeles.
"Unfortunately, many of those who remain unvaccinated in Los Angeles tend to be Latinos and African Americans under 39 years of age," said Lourdes Baezconde-Garbanati, a professor of preventive medicine and associate dean at the Keck School of Medicine who directs the Center for Health Equity in the Americas.
For many Black Americans and Latinos, factors like where they live and whether or not they have access to a car or transit are keeping them from getting vaccinated.
"Unequal access to the vaccine can potentially explain vaccine behaviors among some African Americans and can send a signal that our lives are not as important as the lives of others," said Karen Lincoln, an associate professor and senior scientist at the Edward R. Roybal Institute on Aging at the USC Suzanne Dworak-Peck School of Social Work.
"For example, pharmacy deserts are more prevalent in predominately Black neighborhoods than in white ones. And because African Americans have less access to care and are more likely than whites to rely on public transportation, getting access to a COVID vaccine outside of their neighborhood can increase their perceived risk of exposure to the virus, and increase vaccine hesitancy or resistance."
The other pandemic: unreliable information
Disinformation on social media is a viral contagion. Fake news and conspiracies are passed from user to user; on Twitter, they are often propagated by foreign-run bots — automated accounts that tweet and follow users. Lincoln noted that a high percentage of Black Americans use Instagram and are more likely to trust social media as a source of information.
"Suspicion about medical research by African Americans, the lack of accuracy and reliability of information on social media about COVID and the vaccine, as well as the difficulty that people have in discerning which content is true or false before they share it, exacerbate the problem of the unintentional dissemination of highly inaccurate and misleading information," she said.
Computer scientists and engineers at the USC Information Sciences Institute and the USC Viterbi School of Engineering have analyzed tweets to better understand who is likely unvaccinated. Led by Associate Professor Kristina Lerman, the study last month in Future Internet showed political leanings and race were factors in scientific belief.
"Political partisanship — specifically, the share of Trump voters — was strongly associated with the county's share of anti-science [Twitter] users, but race and psychological factors were also found to be important," the collaborators wrote.
"Specifically, places with a larger share of non-white population had more anti-science users and places outside of large metro centers where users expressed anger … were associated with more anti-science users," Lerman and her co-authors wrote. "We also found that anti-science attitudes in large metropolitan areas are associated with significantly lower COVID-19 vaccination rates."
The brain digs in its heels
Jonas Kaplan is a cognitive neuroscientist and associate professor of research at the Brain and Creativity Institute at the USC Dornsife College of Letters, Arts and Sciences. His brain scan studies have explored which networks are active in the brain when religious or political beliefs are challenged.
Although he hasn't led any such study specifically on vaccination beliefs, he thinks the results would be similar: People who feel passionately for or against the COVID vaccine would react with disgust when their beliefs were challenged.
"What we feel when encountering challenges to our deeply held beliefs may be related to disgust and just feeling negatively in general," Kaplan said. "It is a rejection impulse. It's similar to how we respond to something like spoiled food: it's disgusting and you just want to get it out of your body."
Convincing loved ones who are not vaccinated to get their shots is no easy task. For some, their beliefs about vaccination are part of their identity and help them feel part of a community. Kaplan said scientists have yet to find a tried and true method that persuades someone to change strongly held beliefs. "That's the million-dollar question," he said.
Get a shot, win a million: Will prizes convince Americans to get vaccinated?
A chance at winning a million dollars could be the carrot on the stick. Some states, such as Ohio and Massachusetts, have gone so far as to host a regular lottery with high winnings to boost their vaccination rate. Ohio's rate is nearing 50% while Massachusetts' is nearly 74%. "While the Ohio Vax-a-Million lottery was not a true experiment, it is likely that lotteries are helping persuade some people. And at this point in the pandemic, there is need for creative incentives and thoughtful messaging," said Jason Doctor, an associate professor at the USC Price School of Public Policy who co-directs the Behavioral Sciences Program at the USC Schaeffer Center for Health Policy & Economics.
"Some vaccine-hesitant individuals are worried about the small chance of a bad outcome," said Doctor, who holds the Norman Topping Chair in Medicine and Public Policy. "We call this the 'overweighting of small probabilities.' For these individuals, why not focus their attention on the small probability of a good outcome — like winning the lottery? Then, hopefully, vaccines will prevail for these folks."
While the United States inching toward 60% vaccinated, the virus has plenty of opportunities to morph. Science, though, may now keep pace, Cannon of the Keck School of Medicine said. "The good news is that we have the technological ability to produce vaccines that can be tweaked to be an even better match to delta or any other variants."