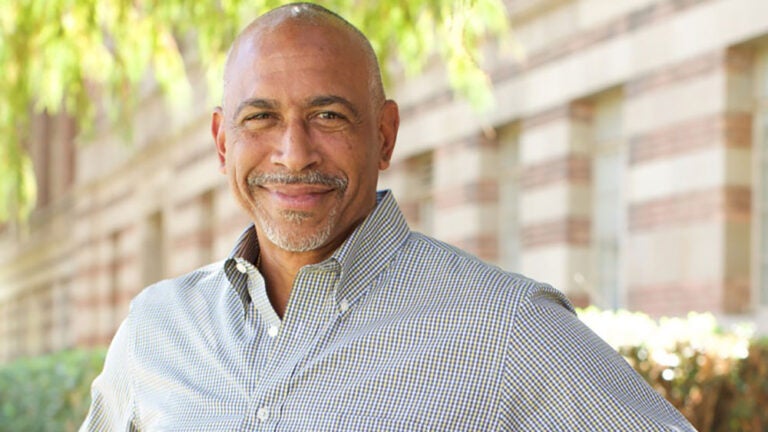 Prominent sociologist Pedro Noguera named as USC Rossier School of Education dean
One of the nation's top experts in urban education and social inequality will lead USC's education school beginning July 1.
USC leaders have selected renowned education expert Pedro Noguera as dean of the USC Rossier School of Education.
A sociologist, education researcher and former public school teacher, Noguera specializes in how social, economic and demographic factors influence schools and student achievement. He will be the Emery Stoops and Joyce King Stoops Dean at USC Rossier, starting July 1.
"Pedro Noguera is a highly respected professor who is one of the nation's leading voices on education issues," USC President Carol L. Folt said. "His prolific scholarship and passion for advocacy will be critical as he leads USC Rossier forward in its mission of preparing outstanding teachers and educational leaders. We are excited to welcome him to the USC community."
Noguera has served as Distinguished Professor of Education at UCLA's Graduate School of Education and Information Studies since 2015. He previously held tenured and endowed positions at New York University, Harvard University and the University of California, Berkeley.
"Dr. Noguera is uniquely suited to USC Rossier because of his vast expertise in urban education and his complete dedication to students," Provost Charles F. Zukoski said. "We are confident that he will provide innovative and informed leadership as we work to deepen our community partnerships and raise USC Rossier's profile as a national model for schools of education."
In his new role at USC Rossier, Noguera plans to draw on his 30 years of experience in various education-related roles, including classroom teacher, school board member, policy adviser and researcher.
"I want to build on the work that's been started, particularly with schools in Los Angeles," he said. "I've been really impressed by USC's deep commitment to schools in South Los Angeles. The needs are so great there. I want to build on that work to increase our impact and make sure the professionals we train, the administrators and teachers, are ready to make a similar impact in schools like those.
"I believe we can make a difference in Los Angeles and throughout the country and world."
Noguera praised Karen Symms Gallagher, who steps down after 20 years as dean of USC Rossier to rejoin its faculty, for guiding the school's emphasis on equity, urban education and social justice. She brought him to USC decades ago as a consultant to help develop that vision, Noguera said.
"That really impressed me, to see that come to fruition and to see how Rossier has become such a significant entity here in Los Angeles and throughout the country," he said. "It was appealing to have the opportunity to build on that legacy."
New USC Rossier dean views education as powerful tool to address poverty, inequity
A New York native, Noguera grew up with five siblings. His parents, neither of whom attended college, emphasized the importance of school and ensured all six of their children earned college degrees.
"I want to make sure more children have that opportunity," he said. "It always appealed to me that through education, you can make a difference in a very concrete way in the lives of people. I continue to be inspired by the power and potential of education. That's part of what attracts me to this role at USC."
Before his academic career, Noguera taught in several public schools in Providence, Rhode Island and Oakland, Calif. He said the experience deepened his interest in and commitment to education, particularly his time teaching in a low-performing high school in Providence.
"What I found was if you could get kids motivated and engaged, you could do great work, even with kids who came from very impoverished backgrounds," he said. "I have direct experience working in some of the most challenging schools and seeing that it is possible to use education to make a difference. That's why I continue to feel so passionate about this field and the work we do."
New USC Rossier dean brings extensive background in research and policy
Noguera holds undergraduate degrees in sociology and American history and a teaching credential from Brown University. He completed a master's degree in sociology, also at Brown, before earning his doctorate in sociology at UC Berkeley.
Noguera spent a decade teaching in the Graduate School of Education at UC Berkeley, where he also directed the Institute for the Study of Social Change. He later held a tenured faculty appointment at Harvard's Graduate School of Education, where he was the Judith K. Dimon Professor of Communities and Schools from 2000 to 2003.
At NYU, he served as the Peter L. Agnew Professor of Education from 2003 to 2015. He held other leadership roles there, including executive director of the Metropolitan Center for Urban Education and co-director of the Institute for the Study of Globalization and Education in Metropolitan Settings.
Noguera's expertise in education policy earned him an appointment as special adviser to the governor of New Mexico in 2019, and he also consults with the departments of education in Nevada, Oregon and Washington. From 2009 to 2012, he served as a governor-appointed trustee for the State University of New York.
Noguera has authored, co-authored or edited 13 books, most recently co-editing The Crisis of Connection: Roots, Consequences, and Solutions and Race, Equity and Education: Sixty Years from Brown. He has also published more than 250 research articles, book chapters, research reports and editorials.
Among many leadership and service roles with local and national organizations, Noguera is a board member of the Economic Policy Institute, National Equity Project and The Nation magazine. He is a regular commentator in the national media on education-related issues.
This month, Noguera was elected to the American Academy of Arts and Sciences, one of the nation's oldest honor societies. He is also an elected member of the National Academy of Education and Phi Delta Kappa honor society. He has received seven honorary doctorates from American universities and earned numerous other awards for his advocacy and research.