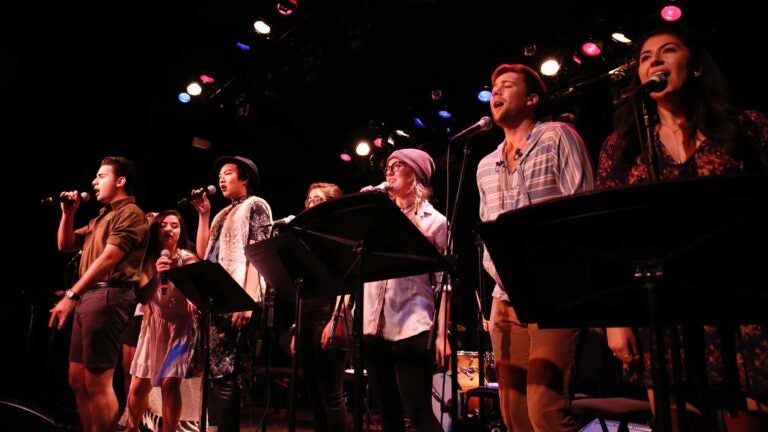 OK, kids, you have five days to learn 15 musical numbers for a USC workshop
Bringing the new musical Hipster Sweatshop to a stage turns out to be a liberating experience for a talented cast of fresh faces
For acting challenges, it's hard to top this.
Twelve USC School of Dramatic Arts students had five days of rehearsals to learn 15 musical numbers and create original characters for Hipster Sweatshop, a new full-length musical.
After this wham-bam schedule, which consisted primarily of evening rehearsals held after the actors were in classes all day, the cast presented two performances to audiences in Tommy's Place on the University Park Campus.
Although the actors read from scripts and had minimal blocking, the songs were mostly memorized. Four professional musicians backed up the students with a pop-rock score.
Hipster Sweatshop was the second workshop of a contemporary musical in development that the school has sponsored this year in the new series LiveRead@SDA. During the fall semester, the musical Emojiland had a similar workshop residency on campus.
LiveRead@SDA epitomizes the school's commitment to new theater, new opportunities for its students and new networks to benefit theater professionals and students. The latter received no class credit or pay but, to an actor, were thrilled to get the opportunity.
"If you only have a week, it forces you to make serious choices," said freshman Emma Kantor, who made some funny choices as a bored, deadpan employee in a hip jewelry showroom. As the creative director of LiveRead@SDA, VP Boyle pointed out, the actors can't get insights by listening to a cast album.
"We are the first ones and we get to create these characters," Kantor said.
Nobody's perfect
Master of Fine Arts actor Brett Wyman said the brief time for rehearsals meant actors had to surrender to the idea of making mistakes, which was liberating. (Truth be told, the performances were surprisingly polished for what was little more than a cold reading.)
Hipster Sweatshop is the product of a creative trio that has been working on the book, music and lyrics for three years. Kyle Puccia, Kurtis Simmons and Darryl Stephens were on campus from casting through performances.
During the two performances, they gauged audience reaction, making mental notes on the onstage action and asking audience members to fill out digital surveys afterward to help the creative team refine the show.
"I'm like a proud poppa," Stephens said. "I'm more nervous than the actors are."
Trial and error
The students brought unexpected ideas, fresh perspectives and improvements to the production, he said. For example, David Shadman, who played one of the lead characters, a UPS delivery man, turned out to be an experienced beatboxer — a talent that made its way into the show.
Series creative director Boyle said successful musicals emerge after much trial and error.
"You can't skip a step," he said. If there's a troublesome character or a song that doesn't work, "you can't cut it out in post." It has to be worked out in workshop after workshop.
It is rare for universities to offer intensive workshops for new musicals.
For this year's two workshops, Dean David Bridel and Boyle reviewed a portfolio of industry recommendations, referrals and curated proposals, choosing projects that highlight the contemporary voices and diversity of Los Angeles.
Puccia, the team's music director, said the trio hopes to advance to a full theatrical production of the musical, but also is working on a half-hour TV pilot version.
"My dream for this is to make a film out of it — this generation's High School Musical," he said in an audience talkback after the second performance.