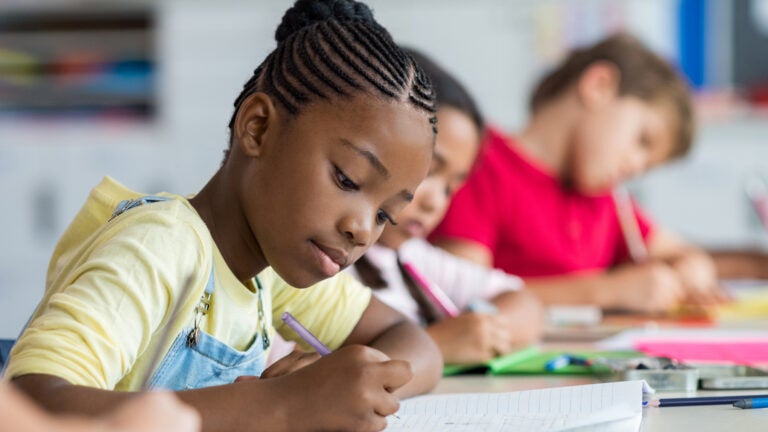 New 'Segregation Index' shows U.S. schools remain highly separated by race, ethnicity and economic status
USC and Stanford researchers say the index — a public resource for tracking segregation — signals an "urgent need" to address rising segregation in large school districts.
As the nation marks the 68th anniversary of the landmark Brown v. Board of Education decision by the U.S. Supreme Court, a new USC-Stanford University research collaboration shows American schools remain highly racially and economically segregated and that segregation is worsening in the nation's largest districts.
In large school districts, white-Black segregation has increased 35% and economic segregation has increased 47% over the past 30 years. That's according to the Segregation Index, a comprehensive new resource for tracking neighborhood and school segregation in the United States.
Researchers said most school segregation occurs between school districts. In other words, students are unevenly enrolled across school districts by race/ethnicity or economic status. For example, the Los Angeles Unified School District is 74% Latino and 11% white, while the neighboring Beverly Hills Unified School District is 9% Latino and 69% white.
However, "we found racial/ethnic and economic school segregation between schools, within the same school districts, has also increased over the past three decades in large districts," said Ann Owens, professor of sociology and public policy and associate director of the USC Price Center for Social Innovation.
"We know segregation leads to unequal educational opportunities and outcomes, so the rapid growth of segregation in large districts indicates that we need a renewed focus on reducing segregation and equalizing educational opportunity," said Sean Reardon, professor of poverty and inequality in education at Stanford and director of the Stanford Interdisciplinary Doctoral Training Program in Quantitative Education Policy Analysis.
Key findings on U.S. school segregation:
In large school districts, white-Black segregation between schools increased 35% and white-Asian segregation more than doubled from 1991 to 2020. White-Hispanic segregation was higher in 2020 than in 1991, peaking in the late 2000s.
In large school districts, economic segregation has increased 47% since 1991 — further separating poor students (those who are eligible for free lunch) from more affluent students (those ineligible for free lunch).
In 2020, the poverty rate in the average poor student's school was about 20 percentage points higher than in the average non-poor student's school within the same district.
LAUSD remains persistently segregated
Since 1991, LAUSD has been, on average, the 5th-most segregated large district in terms of white-Black segregation. The district is 6th for white-Hispanic segregation and 9th for white-Asian segregation.
White-Hispanic segregation was 15% higher in 2020 than 1991 among all schools inside LAUSD's geographic boundaries. However, excluding charter schools unaffiliated with LAUSD, the increase was 3%, showing that non-affiliated charter schools significantly contributed to racial segregation.
The poverty rate in the average poor student's school was 22 percentage points higher than in the average non-poor student's school in 1991; the gap increased to 24 points by 2019.
Addressing segregation 70 years after Brown v. Board
In the Brown v. Board ruling on May 17, 1954, the Supreme Court unanimously decided that racially segregated public schools violated the Equal Protection Clause of the Fourteenth Amendment and established that "separate but equal" schools were not only inherently unequal but unconstitutional. Decades later, education remains deeply unequal.
The creators of the Segregation Index acknowledge that educational policymakers can't control things like housing affordability, income inequality, the racial wealth gap, migration patterns or families' neighborhood choices, all of which contribute to school segregation. But they say school districts can implement enrollment policies to mitigate segregation, including voluntary integration programs, socioeconomic-based student assignment policies, and school choice policies that affirmatively promote integration.
Policymakers must also invest in public education so that schools attract families from all backgrounds and develop teachers and school leadership skilled at educating children in integrated spaces. Finally, state and national policies should hold the schooling system accountable for promoting equity through integration and resource distribution metrics, the researchers say.
Reducing school segregation is not easy, but it's critical, they add, because school segregation – along with neighborhood segregation – remains a key barrier to social mobility and equal opportunity.
"Our findings point to an urgent need to address rising segregation in large districts," said Owens. "We hope the Segregation Index will help urban, housing and education policymakers understand how their policy areas are intertwined so they can work toward integration solutions."
---
About the Segregation Index: The Segregation Index launched in May 2022 with new findings on school segregation. The index will be a comprehensive resource for tracking neighborhood and school segregation in the U.S., across every neighborhood and every school.
Additional data and resources are coming soon, including: longitudinal datasets on racial/ethnic and economic segregation between schools and neighborhoods at multiple levels of geography (e.g., national, metropolitan area, school district); research papers and briefs on key trends and findings; methodological explainers on interpreting measures of segregation; and code for researchers to create customize segregation estimates.
This work has been supported (in part) by Grant # 1911-19449 from the Russell Sage Foundation. Any opinions expressed are those of the principal investigator(s) alone and should not be construed as representing the opinions of the Foundation.