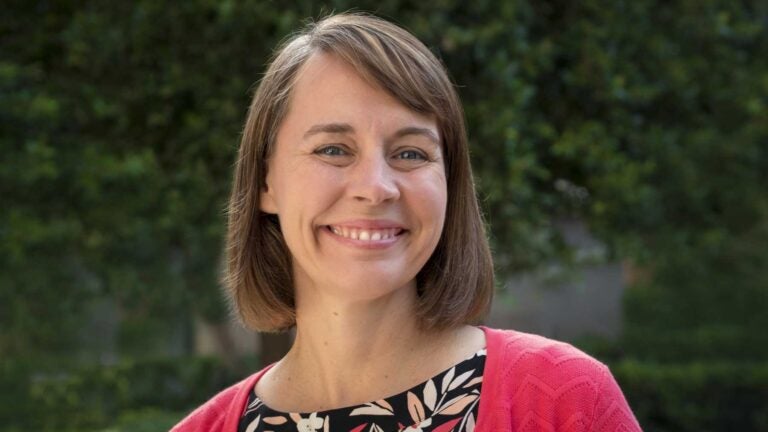 New head of student health named at USC
Sarah Van Orman will manage health services on the University Park and Health Sciences campuses and oversee clinical services at two student health centers
Sarah Van Orman, a nationally respected leader in college health, has joined USC as associate vice provost for student health and chief medical officer for student health. In her new role, Van Orman will manage all student health services on both the University Park and Health Sciences campuses. She will also develop a comprehensive public health approach to student wellness and care based on student and campus needs.
With Van Orman's arrival, Keck Medicine of USC will assume administrative oversight of clinical services at both student health centers, expanding students' access to the physicians, services and infrastructure of the world-class medical center. The new partnership will allow the student health centers to leverage the faculty expertise and organizational structure of Keck Medicine, while maintaining the student-centered services and college health focus for which they are known.
Van Orman, who is board-certified in both pediatrics and internal medicine, comes to USC after nearly a decade serving as executive director of University Health Services at the University of Wisconsin-Madison, where she oversaw all facets of the comprehensive college health program.
At UW-Madison, she led several initiatives to enhance student wellness, increase access to health services and address critical issues that impact college students nationwide, including high-risk alcohol use, sexual misconduct and assault, and mental health.
Recent data indicate significant drops in high-risk alcohol consumption among first-year students at UW, which Van Orman attributes to the collaborative efforts of numerous departments, such as Housing, UW Police, Division of Student Life, Wisconsin Union and University Communications, among others.
These issues, she said, are likely to be among her priority areas at USC as well.
"USC has high-performing students and a culture of supporting and engaging its students, while addressing concerns that are seen on many campuses." Van Orman said. "Nationally, we have seen mental health symptoms and diagnoses rates increasing for all young adults, in both high school and college, so stress management, reducing stigma, increasing access to mental health services and support for good mental health are important issues today."
Physical and mental well-being
Van Orman comes from a public health framework that works to improve physical health, mental health and wellness through both direct clinical services as well as through policies, systems and environmental approaches. An important emerging issue on college campuses is diversity and inclusion.
We are now understanding the impact of campus climate on physical and mental well-being.

Sarah Van Orman
"We are now understanding the impact of campus climate on physical and mental well-being," she said. "Things like racism and disparities in the student population are real public health issues."
She said she initially discovered her path in college health leadership by accident.
"I was a high school teacher with Teach for America between college and medical school, and I got in engaged in young adult health and found that schools and universities are exciting places to connect health to education," she said. "I thought I was going to be an adolescent medicine specialist working in a high school clinic, but I realized there is so much we can do as universities to develop good health in students at this time in their lives. It's so important to their success and students are amazing patients."
Van Orman earned her undergraduate degree in physics from Carleton College and her MD degree from the Mayo Clinic. Residency training was in combined internal medicine and pediatrics at the University of Chicago, and she earned a Master of Medical Management degree from Carnegie Mellon University. She previously served as president of the American College Health Association in 2014-15.