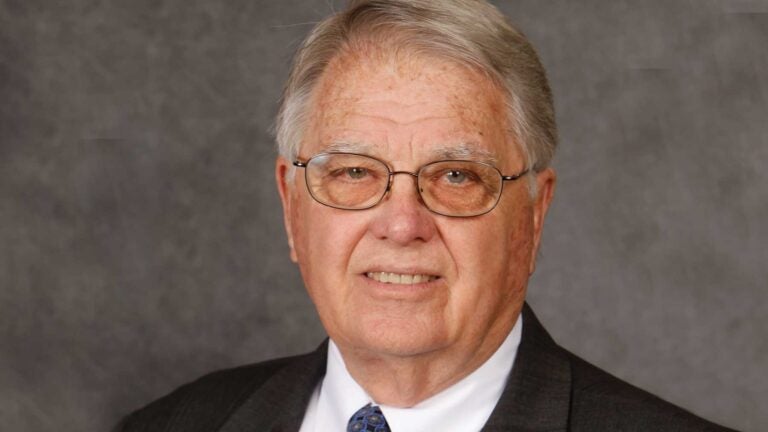 Center at USC promotes ethical decision-making across disciplines
Trustee Jerry Neely's endowment supports a center bringing together faculty from USC Marshall, USC Viterbi and USC Price
USC has established the Neely Center for Ethical Leadership and Decision Making, a first-of-its-kind multidisciplinary center at USC to examine ethical leadership and decision-making processes.
The center is jointly housed at the USC Marshall School of Business, the USC Viterbi School of Engineering and the USC Price School of Public Policy, and will be led by decision-analysis expert Ali Abbas. The center is supported by a generous endowment by USC Trustee Jerry Neely '58, the former chairman and CEO of Smith International Inc., an oil services company, who has served on the USC Board of Trustees since 1981.
"The USC Neely Center stands in testament to the extraordinary vision of its namesake," said USC President C. L. Max Nikias. "Throughout his distinguished career, Jerry Neely has inspired countless individuals in the world of business, and the university is exceptionally proud to partner with him in preparing our students to become ethical leaders, principled thinkers and effective decision makers. Thanks to Mr. Neely's generosity, USC students will be uniquely prepared to build meaningful, productive careers."
Said Neely: "At the Neely Center, we aim to inspire a new generation of individuals dedicated to informed and courageous decision-making in today's contemporary world. The center serves as an incubator of scholarly research for educational programs offered to a broad audience and purposeful outreach involving students and business associates, as well as public service efforts."
A strong foundation
The new center represents a merger of the USC Center for Interdisciplinary Decisions and Ethics (DECIDE) of the USC Viterbi and USC Price schools and the USC Neely Center for Ethical Leadership of USC Marshall.
USC Provost Michael Quick said it exemplifies the manner of "intellectual convergence" that the USC academic community prizes.
"Our students will benefit from the expertise of faculty from the Viterbi School of Engineering, the Sol Price School of Public Policy and the Marshall School of Business to help them become leaders in their future careers," he said. "No matter the employment path they take, our students will have a strong foundation of values and ethics because of the Neely Center."
As the new Neely Center's director, Abbas, who previously directed DECIDE, said its focus will be on personal, societal, public policy and business ethical decisions, and engineering ethics arising from the intersections of humans and technology.
"What is unique about the Neely Center is its multidisciplinary impact being housed in three schools at USC, as well as its focus on the ethical components of decision-making besides just the prudential component," Abbas said.
"USC has a wealth of faculty in various disciplines who are at the cutting-edge of research in decision-making and ethics, so we look forward to expanding the center and welcoming new researchers and leaders in these areas," Abbas added. "We will also work to empower students with the skills needed to making effective decisions in an ethically sensitive way. We are grateful for the support we have received from Jerry Neely, USC President Max Nikias, Provost Michael Quick, Dean (James G.) Ellis, Dean (Yannis C.) Yortsos and Dean (Jack H.) Knott, of the Marshall, Viterbi and Price Schools."
USC deans weigh in
Ellis applauded the center's establishment and said it would provide students with critical skills.
"The further integration of ethics into the lives of our future leaders is important as to how we educate these students. It began with their parents telling them what was right and what was wrong," Ellis said. "Through the lens of the Neely Center, we will give them more tools with which to conduct themselves as they leave and enter into their careers, knowing that they will always walk a fine line in decisions they make. We are encouraged by them and by the center's vision toward this end."
Yortsos said ethics and decision-making abilities are becoming even more important with the rise of technology.
"As technology advances exponentially fast, it empowers all our lives in ways never before imagined. At the core of technology is the serving of useful purposes," Yortsos said. "It is paramount, therefore, that we understand the importance of decision-making so that the purposes technology serves benefit society in all its dimensions, and helps to mitigate unintended consequences. The Neely Center is at the core of this effort both for the training of our students to make smart, legal and ethical decisions and to advance scholarship and solutions to important new challenges at the interface of technology with society and humanity."
Knott said the center will serve an important purpose, instilling ethical decision-making in future leaders.
"Effective, ethical decision-making is especially critical for leaders in the public and nonprofit sectors who must solve complex policy challenges while also engendering trust among the people they serve," Knott said. "The interdisciplinary research and methods used by the Neely Center for Ethical Leadership and Decision Making will provide cutting-edge scholarship and the education of leaders who place integrity and ethics at the center of their decision-making. The Price School is pleased to be a part of the Neely Center, whose work will undoubtedly advance effective governance, improve organizations and ultimately shape better communities."
Future plans
James O'Toole, founding director of the Neely Center for Ethical Leadership, will serve as emeritus director of the newly merged center.
"This represents a natural expansion of the original mission of the Neely Center for Ethical Leadership," O'Toole said.
The Neely Center for Ethical Leadership and Decision Making plans to hold a "Next Generation Ethics Conference" in spring 2018. It also recently launched a USC student competition that offers cash prizes for articles, presentations and videos that examine important ethical dilemmas. The center is also launching a corporate affiliates program and plans to offer a range of executive education courses. In addition, the center will host a summer school on decision-making and ethics, funded by the National Science Foundation, for PhD students across the country who are studying large-scale systems.
Abbas said the center will also work to instill leadership skills across society.
"Societal outreach is an important part of the center's mission and we are developing a range of outreach activities, including a partnership with the Los Angeles County Probation Department to teach decision skills and increase ethical awareness among teens," Abbas said.